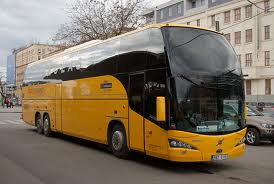 Bus service to be initiated between Birmingham and AJK
You can expect the unexpected from this regime, while everyone no matter literate, illiterate or even educated-yet-illiterate (perhay-likhay-jahil) agree that time is of the essence in today's fast moving world but time has very little significance to our government.
Therefore, it has decided to begun a bus service between Birmingham, UK and Azad Jammu Kashmir.
Covering approximately 9,058 KMs according to google maps, the bus service's ticket price will be 20,000 PKR. Even though the difference between the bus fare and the air-fare is that of earth and sky, but it is unlikely that anyone can sit for that long in a bus and further more, it is even more unlikely that anyone living abroad will have such long holidays that they are able to spend almost 5 or more days (based on google estimate) on a back straining journey.
While anyone that heard about this service was baffled at the proposal all set to begun its service from March 2012 however, AJK government said that AJK's transport authorities are hoping that the project will facilitate over 0.70 million Britain-based Kashmiri expatriates hailing from this district.
Four buses of international standards will be put on this route between Mirpur-Birmingham with up-to-date safety mechanism and the new transport policy will envisage zero tolerance for over-loading and overcharging of fares in the public transport.
This however is quite an enthusiastic attempt by the AJK government to help its people to be close to their homeland, especially those unable to afford air-travel, but its quite hard to see this suffice with such long back straining journey via Quetta and Tehran (Iran) to the UK.