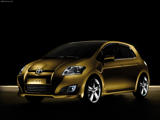 Auris is the first Toyota with a BMW diesel engine
It was reported that BMW and Toyota have entered in a partnership to share technology with each other. BMW will provide diesel engines to Toyota while the later would provide BMW with its hybrid technology.
According to the deal, BMW will supply some of their smaller diesel engines, the 1.6-liter and 2.0-liter four-bangers, and Autocar is reporting that the Auris will be the first Toyota to have one of those engines, all set to arrive in 2014 according to company insiders.
Moreover, currently, both the five- and three-door Auris is offered with three different diesel engines. The base 1.4 D-4D offers 90 horsepower and a 0 to 100 km/h (62 mph) sprint time of 12s, while the bigger 2.0-liter has 128 hp. At the top of the range sits an engine that we think is a bit too big for the car, the 2.2-liter 177 hp unit also fitted to the much larger Avensis.
The Auris should also benefit from an increased focus on fresh styling and enjoyable driving dynamics, to be prioritized under the Global Vision 2020 Vision plan announced by Toyota boss Akio Toyoda earlier this year.
The face-lifted Avensis is the first model influenced by this reorganization and is also the first to use a new design language featuring a so-called 'keen look' front end, the car's nose now looking more dynamic.