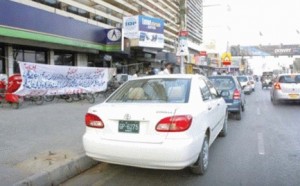 Government servants have begun buying official cars, 2006 Corolla for 330,000 PKR only
Now it seems that we were pretty childish to expect to government announcing a policy to actually fix the corrupt servants of the nation, but how juvenile a thought that was now we see.
Bureaucrats are now finally able to buy their cars, although only officers of level 20-22 are allowed at this moment but you will be surprised to know the asking price of a well maintained 2006 Toyota Corolla, its only 330,000 PKR.
The offer is not a fluke, under the recently announced policy, "compulsory monetization of transport facility to civil servants", bureaucrats will be able to buy their own cars at a depreciated price after it was learnt that in some cases, officials were in possession of as many as 4-5 government cars and causing losses in billions of rupees.
The 2006 Corolla's price as listed on Pakwheels is more than 1 million PKR depending on specs but through the depreciation method which calculates the value of an asset based on the wear and tear of it rather the market price. There is no standard depreciation formula though, and each organisation can formulate its own, as long as it keeps it consistent.
Under the new rules, the government has changed its rules of depreciation.
From an earlier policy of depreciating 15% in the first year, and 10% in subsequent years, the government has allowed for 15% depreciation for each year of the vehicle's life.
According to the new formula, therefore, a 1300cc car purchased in 2006 at Rs870,000 will have a depreciated value of Rs330,000 on January 1, 2012.
But this is just beginning, these bureaucrats will be not just be able to buy these cars on highly discounted price but also, under the monetization rules, they can pay it on monthly installments of only 25,000 PKR.
These government officials can also hire cars at a nominal rate of 3.6 PKR per kilometer, even though government had announced that official would be responsible for their own transport but later, a new policy was announced stating that "one 1300cc vehicle will be maintained for protocol/operational duties by the entitled officers."
Moreover, the secretaries of the divisions and ministries tasked to implement this policy are themselves found to be misusing 3 to 4 cars.