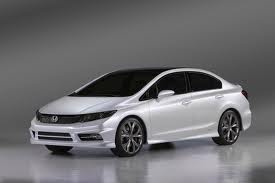 Honda gets busy to give 2012 Civic a face-lift
Honda have decided to give its 2012 Civic a new face before the end of 2012, just eight months after it was actually relaunched.
The face-lift however, to come by the end of 2012 as Honda told its dealer about the possible arrival time, is rare because new models aren't usually overhauled for at least three years but Honda executives say they're simply trying to stay ahead in an increasingly competitive small-car market.
Facelifts are being usually saved until at least three years into a model's life but since critics panned the 2012 Civic's poor quality and handling has actually forced Honda's hand into doing something, and knowing how the Japanese are working, we expect some technical improvements too, along with the "classic" revised front fascias and slightly modified interior designs.
"The previous Civic, which came out in 2005, was known for its sporty driving, high-quality interiors, lack of noise and excellent braking. The new one seems to have fallen apart in those areas", said the senior director of auto testing for Consumer Reports, David Champion.
Honda also recalled more than 1,000 of the 2012 Civics because a fuel line could leak due to a manufacturing error.
Sales of small cars in the American market are on the rise as people do not have to worry about payments or gas prices, and this is also why Honda has chose to give a facelift to its Civic as American Honda Executive Vice President John Mendel said, "It's about how do we get two or three laps ahead of the competition".
In the past, there was only Corolla-Civic race but today, there's a whole new range of cars available to buyers from Chevrolet, Hyundai and Ford with Honda's Civic trailing in the last spot in sales with Cruze being the market leader while Elantra is followed by Corolla.