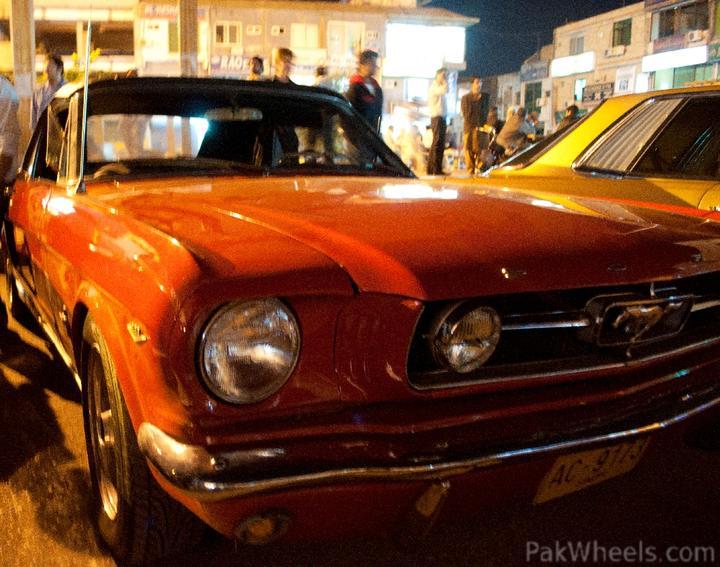 Good Old Karachi: This Is My Passion What Is Yours?
Going back to the old days, to the Karachi of yesteryear, I remember my passion in life and no it was not women (they came in a close second) but cars.
One of the things that have deteriorated is the type and the quality of cars available in Karachi. Gone are the days of the muscle cars with the V-8 engines and the sports cars from Japan and England, the replacement being Suzuki and Toyota. Not to belittle the Japanese quality and reliability, but the excitement is not there anymore.
Those old American muscle cars had the power and the brute force, but were not reliable and used to break down often. A big issue was getting spare parts and these had to be imported many a times and otherwise we had to use modified stock parts available.
Chevrolet was the king in those days and during the fifties and sixties, right up to the early seventies, the Chevy Belairs and then the Impalas were the most popular of all cars. The dodge darts came in during the early sixties and were fairly common, but the Chevy was the automobile of choice.
I remember the Zehri boys smoking the tires of their red Pontiac GTO convertible. Shehzad doing the same with his orange colored 1970 Ford Capri. The Pontiac Firebird Trans Am was the sought after car in the seventies. Zafar Zehri had a white one and Mir Ghulam Ali Talpur a blue one. One of my favorites was the green gold colored Plymouth Road Runner that belonged to Shehzad, who later sold it to Junaid Dada. Mohammed Ali Shehyaki had a metallic brown Chevrolet Camaro and so had Murtaza Jatoi. Hassan Ali Chaniho on his return from the US brought back with him a gold colored 1972 Pontiac Grand Prix.
The best collection of American cars was owned by Nazir Shaikh and we spent many an hour at his house discussing cars of all kinds. He was a mentor and Ustad to all of us kids and helped us to keep our cars going. I remember his 1957 Plymouth Fury, 1958 Ford Thunderbird convertible and 1959 Chevrolet Corvette convertible. Not to forget the 1967 Dodge Charger. My favorite from his collection was the 1970 gold Mercury Cougar. Rafi Kaatchelo had a 1972 yellow Cougar, which got wrecked in a car crash on Shaheed-e-Millat Road. I remember the blue Corvette at Jamalistan on 42nd street and Jam Saadat's 1972 Ford LTD a couple of blocks away. My cousin Saeed's 1956 Chevrolet Belair is still a well maintained classic.
Not to forget the exotics, Nabil Gabol had a Porsche Carrera and Subak Majeed an e-type Jaguar convertible.
Then came the time of the Japanese in the early eighties. Mir Shakil-ur-Rehman had the first Datsun 260-Z; an orange colored one with white striping. The next one was brought in by Imran of Indus Water Coolers. This was a beautiful metallic red and was the new (1986) Datsun 280-ZX. Najeeb Zarwani also bought a similar car later on in yellow. Junaid Dada used to have a souped up Datsun Sunny with piston carbs, that could blow the tires off any Japanese car. Jam Ashiq Ali had a yellow Toyota Crown with leaping black panthers on the sides. Mohammed Mir used to do pretty well with his Mazda 1500 and was willing to race all takers.
Like everything, things have changed; tastes, availability and affordability have all changed. You don't see too many interesting cars on Karachi roads these days, with the majority of the old ones having ended up in Shershah. I don't know where most of the people mentioned above are as we have all gone on with our lives and are following our respective destinies, but sometimes during free moments I sit back and think about the great times we had back in good old Karachi.
This article has been republished for the sake of knowledge for our readers to know how car scene in Karachi was before we knew it. Click here.