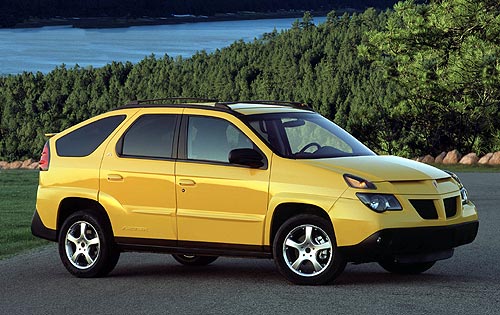 Tribute To The Fans of Motor Sports' We lost In Bahria's Race Accident
Recently, motorsports in Pakistan suffered an irrevocable loss of precious fans. Safety in such events wasn't highlighted by the mainstream media, anyways; a thought occurred to me about highlighting what we car guys have lost; cars, drivers and other events as a tribute to the fans of motor sports we lost that evening. Here Ill put into light a few of those cars, drivers and events that we loved the most or the cars that were ahead of others cars in terms of technology by a lot of years but somehow failed to make an impact at that time.
Pontiac Aztec was ugly, very ugly but it featured a Jet-like heads-up display, NASA designer-designed dashboard, a cooler mounted inside the rear gate (which also doubled as a picnic table), rear-mounted audio controls for parties. Almost all of the features offered on the Aztec were later offered on more attractive, more successful vehicles. Similarly Honda Insight was also 10 years ahead of its time, it led the Hybrid revolution in US, but left off I wonder why making room for Toyota Prius. What Chevy Volt is doing now it did it back then. Insight had a small gas engine and electric motors, just like modern hybrids – just like Volt and Prius. Now Honda is back with Insight knowing how right it was 10 years ago. And before all these so called new Hybrid technologies, some 112 years ago, in 1899, Ferdinand Porsche built the 1901 which had an electric motor and a generator for extending range, sound familiar?
The Dodge Viper was also killed, Amreeki people are into drag or burnouts, even though there are majority of American drivers in the International Motorsports Hall of fame, but just like Drag Racing over shadowed this fact, the Pontiac G8 was also over shadowed and sadly died.
Ford GT was also killed after its resurrection; it was a potential profit endeavor as you know that the AC Shelby Cobra's competitor was recently continued by Bill Thomas, Chevrolet Cheetah. Just like that, Ford revived the GT, which can actually have tall people sit in it. Jeremy Clarkson could not drive the original GT40 since he could not close its doors. Watch the review over at Youtube by top gear:

Mithun Chawkorborty is known as Ghareebon ka Amitabh Bachan remember? The Toyota MR2 Mk2 was ghareebo ki Ferrari 355, one of the most beautiful Ferrari's ever made. Sadly I won't be able to find that particular (2nd gen) MR2 in Pakistan, also the production of MR2 was stopped and yeah the Pontiac G8 was also ghareebo ki BMW M5, and it was actually pretty upto M5's face in comparison.
Trust me when I tell you that the all the good cars and racing we car lovers want – go away. For instance the Group B rally:
For instance Gilles Villenueve died within 5 years, why he was epic, check this:
Click here to see the full battle.
Senna's grave attracts more visitors then the graves of John F Kennedy, Marilyn Monroe and Elvis Presley combined. Michael Schumacher came to fame because many believe that there were no good drivers during his rise, he's the best statistically but look at him today, can't handle Hamilton, Vettel, etc because there are so many good drivers out there now. Senna similarly raced in the time of the best, Mansell, Piquet, Prost, etc etc.
And the greatest car company of all time, Lancia. So good that some industrialist has financed the original Lancia Stratos to be brought back just like Ford brought the GT back. Ferrari is actually developing it, 100% carbon copy of the Original 1972 model with today's Ferrari technology. And yeah, how can I forget the Lancia 037 which was the first car ever to have turbo charging as well as super charging at the same time and this is just one first, Lancia I think have the maximum number of firsts amongst any car maker but even with so many firsts, we lost Lancia, it was the most innovative company of all time.
Click here for Part 2.
I mean, if I had the money I'd finance all those dead cars of Group B to be brought back to life along with the folks. There are so many other legendary cars that were killed in prototype, concept stages before we could even know them, some were buried before completing their first production. Wonder how the world would have been if we had all those folks and cars still alive. Simply awesome!