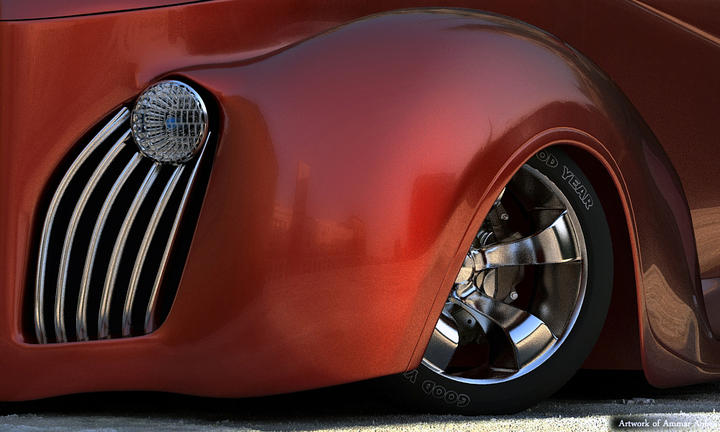 This lustrous Hot Rod, inspired from early models of Ford is designed by Ammar Abbas, 25 year old 3D modeler/animator/visualizer by profession, in his own time. He named this Hot Rod; Bullsrod. The attention to detail as evident in the renderings is awesome – which also earned him some well deserved attention in the 3D community. He won an ATI FirePro V3750 graphics accelerator when 3D World magazine showcased his Bulls Rod in their Image of the month segment.
Ammar who is also a member of PakWheels.com, gave an interview to American website dedicated to drag rods & classic cars as they were immensely impressed by his intricate work. Obviously, his work astonished anybody who caught a glimpse of it but for Ammar, mingling old cars with newer technologies is the ultimate party and yeah who doesn't want his car to look evil and angry. The name Bulls Rod came from the look of the car he wanted to create, the look of a bull, hardcore expression for the front coupled with the right the environment and body proportions was a complete win.
It took him one month to complete the design the Bulls Rod, he used 3DS Max for creating it, Photoshop and Mud Box for texturing the scene and finally rendered it in V-ray. The detailing of the interior took him three days alone; to have that magnificent look of leather on the seats and steering wheel, the rough cast finish on the wheels and the dash which looks just about real.
There are very few people in Pakistan who thrive for their passion, very few are able to bring out their vision to reality, Ammar produced his vision in the best form atleast. Although this design only exists in the hard drive of a computer, but I am glad to know that designing Hot Rod is his passion and we'll get to see more of his designs which he's currently working on.
Click on the following thumbs to view the large version as these small thumbs do not do justice to the intricate renderings.
Ammar's website [http://www.amm3d.co.nr/]