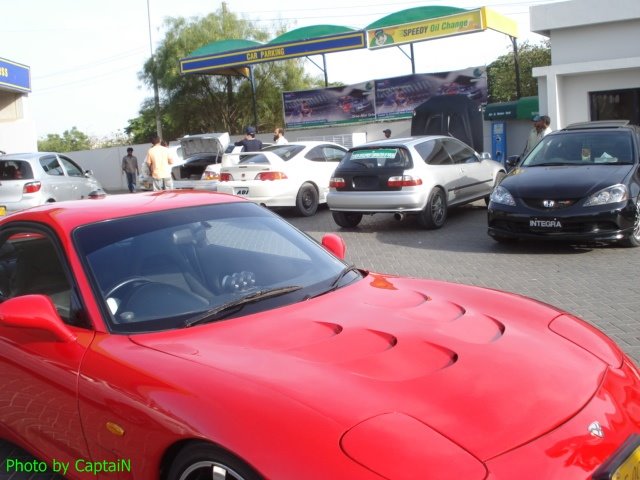 The Drag Racing Scene of Pakistan
Pakistan is a third world country but just like all other countries, drag racing is a popular sport and is getting more popular day by day. I liked it in the beginning but within few years – it developed into my passion, I left all the hobbies and only took interest in drag racing. The hunger for racing was huge, it brought an adrenalin rush so powerful and sedating that it cannot be described in words. In late 2007 I got my first digital camera and I started to take photos of every track gathering made videos of the races that happened just to keep memories.
Since I first got into this sport, there were few people who use to take part and supported it but as the time went by, the sport got popular among the masses and many people started to take part in it. In the late 90s and early 2000 drag racing was the only thing you hear amongst the motor sports lovers getting discussed. Karachi has hosted the most active drag racing scene among all the cities from the beginning of such sport in this Country. Mostly, folks began with Honda Civics and then they moved on the best race cars in the world e.g. Toyota Supra, Mitsubishi Lancer Evolution, Nissan Skyline GT-R, Subaru Imprezza STi, Mitsubishi FTO, Mazda Rx 7 etc. They have built these cars and tuned them to the next level. I have several friends in some international tuning garages like Rising sun performance, sumo power, RIPS New Zealand, Endless R , MLR , Mellon tuning , they all have admired and appreciated the way we have built our cars and race with the limited technical resources and fuel available.
Pakistan is gifted with talented people in each and every fie
ld, drag racing, tuning cars and stunts are no different for this matter. From Karachi to Khyber you will find the best of the best but the dilema is that government doesn't recognize drag racing as proper sport hence it is labeled as illegal street racing. Although rallying is supported by government so it is done in much safer environment. The drag racing scene in Karachi is done privately on roads which have no public transport and least number of people, from start till the end; just 400 meters. Guys who want to race gather first, race and then they go home. People who gather on Sundays and Saturday nights – drive rash and have nothing to do with drag racing or racers, hooligans are ruining the scene. When professionals race they make sure that the race is done safely; people are asked to leave the road open and stand at sides (which I know is not safe by any means but that is how it is without government support) but no matter how many precautions we take accidents are inevitable, when it is done with out proper arrangement. Some people saw this as an opportunity so they took initiative and started to arrange drag racing events privately, some events were supported by the government as well for example the TDCP car event. The only solution is to take it off from the streets by providing proper venues otherwise there is no end to street racing.
Firstly Car racing events don't happen in Pakistan but when they do, they have less then satisfactory safety arrangements for public e.g. TDCP event lahore, Hamara Karachi event, I was there to watch both of the events apart from the cars every thing was below par sadly. In TDCP event police was unable to control the crowd which resulted in a few dangerous situations and the story was unchanged at Hamara Karachi event. It is implicit that drag racing is a dangerous sport and people who race are risking their lives most certainly but people who come to watch these fast cars race also risk their lives in the same way because there is no proper venue, stands and safety features. Talking about drag racing and not discussing the accident that happened recently in Bahria town Rawalpindi would be a mistake. HPR arranged a drag racing event in conjunction with Bahria town Rawalpindi sponsored by PTCL, this was by far the best drag racing event ever organized in Pakistan. Sadly things went bad when the driver of 800bhp Supra lost control of his car and crashed straight into the people who were standing on the footpath. I was there, people were asked several times to get behind the banners and back off from the footpath, the cars which were about to race were considered the fastest RWD drag cars of Pakistan. Sadly the driver lost control and 5 innocent lives were lost, accident is the worst thing a driver could ever think of and killing people is really a big deal. This mishap has disgraced drag racing scene in Pakistan. The Pakistani media launched a fact less propaganda against racing with out determining the real cause of this accident. Many people have now started to think that people who race have no respect for human life and organizers should be accounted for. My personal view; if the authorities had coordinated with the organizers and given them support to install some sort of safety barriers or concrete slabs, then surely a tragedy could have been avoided, but its just one big 'if'.
The racing community is deeply sad and shocked by this incident, nobody races to kill – it is done for the sake of entertainment and sports. This is an eye opener for Government and authorities to recognize drag racing as proper sports in Pakistan just like hockey, cricket, and squash. They should build circuits, drag strips in some of the major cities to avoid accidents like these and provide grooming grounds for the talented. One day we shall all see that such events will happen at those drag strips with proper safety and racing arrangements, families will come without any fear to watch such events. Many people love car racing and they want to see fast cars, we have so much talent which just needs support and resources to be up there to compete. Who knows a Pakistani might come up and uphold Pakistan's name in international racing arena.