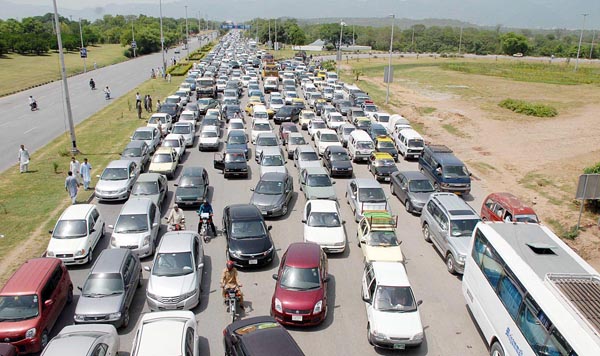 Headache Of Long Queues Under Faisal Avenue Flyover And Its Proposed Solution
Due to the construction of Metro Bus Service the whole Jinnah Avenue is now a signal free corridor which is good if you are travelling straight to the Secretariat but it can be annoying if you intend to take a U turn and you wish to go to the other side of Blue Area. For this you would need to either take the purpose built underpass near Kalsoom Plaza or you would need to use the round about under the Faisal Avenue Flyover.
During peak hours there are long queues under the flyover and a small U turn can take up a lot of time. I have personally observed this over the past few months and not only is it annoying for the commuters but it is also a headache for the traffic police.
What Can Be Done About It
If you look at the picture below which is a rendering of the flyover you will notice that there is ample room under the bridge for a dedicated passage of small cars. I say small cars because I am unaware of the actual height available to accommodate Jeeps or Shahzore but I am sure it can be looked into.
If we can use these spaces for a U turn on both sides under the bridge it will significantly reduce the traffic pressure on the round about and save commuters their valuable time during peak traffic hours.
I would appreciate if the said suggestion can be forwarded to CDA, SSP ICT Traffic Police or the relevant planning/execution bodies in Islamabad by fellow PakWheelers. Those living in twin cities, if you also have suffered the headache of traffic jams at the Faisal Avenue flyover, please share your experience and if you have any ideas how to improve the traffic situation.
Photo Courtesy: urbanpk