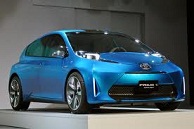 Indus Motors is testing two hybrid vehicles to introduce in Pakistan
According to Toyota international's website, there are currently six hybrid cars currently in the market by Toyota. Those are Camry, Highlander, and four different version of Toyota's most popular Hybrid, Prius.
Like usual, Indus Motors has not revealed which two hybrid cars are they testing in Pakistan, but it is highly unlikely that they will be either Camry or Highlander which leaves us with the Prius line of Hybrid vehicles.
The best options to bring into Pakistan are undoubtedly the Prius and the Aqua (also called Prius C), whereas the later gives an amazing 35 KM per liter, the Prius gives a mileage of 25-27 KM per liter.
Prius (Left), and Prius C (Right).
Since the removal of customs duty, sales tax and withholding tax, Indus Motors knew this beforehand and has imported and is currently testing out on our country's streets.
The sources said Indus Motors Pakistan, which was assembling Toyota cars, had imported two models hybrid cars which were under testing.
"As Toyota starts sale of hybrid cars sale, it will be a good alternative for the customers," the sources added.
There is no word yet when will it be introduced to public and at which price, but even the news alone gives us a sigh of relief as waiting in queues for CNG can soon be over.