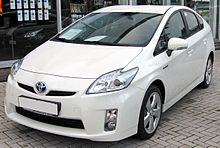 Hybrid vehicles exempted from customs duty, sales tax and withholding tax
In the latest development to switch consumers from CNG and provide a cheaper alternative to petrol, Ministry of Industries is now focusing on promoting Hybrid Vehicles in Pakistan.
For that matter, the government have taken steps that reflect the change that's coming to Pakistani automotive market.
Business Recorder reports that the government has reduced duty on import of hybrid cars by 25 percent in federal budget 2012; however, it is still unknown which party approached the government for this incentive.
"Import of the Hybrid Electric Vehicles (HEV) has been exempted from customs duty, sales tax and withholding tax which are in excess of 75 percent of the applicable tax rates," the sources told Business Recorder.
Depreciation in the duties and taxes, in case of old and used HEVs, shall be admissible at the rate of two percent per month subject to a maximum of 60 percent.
After Corolla and Ford Focus, Toyota Prius which is a hybrid car has followed as third best selling car globally despite the unintended acceleration issue which tarnished it's image a lot but things have become so far stable and sales are picking up pace once again to get it back to the top stop.
The decision to promote Hybrid vehicles in Pakistan is very welcoming as promoting use of hybrid vehicles in Pakistan can greatly help address the energy crisis of Pakistan as Toyota Prius delivers more mileage than a Suzuki Mehran on CNG does. Toyota Prius typically gives 25-27 km/litre on petrol and Toyota Aqua (also known as Prius C) gives average fuel efficiency of 35 km/litre.