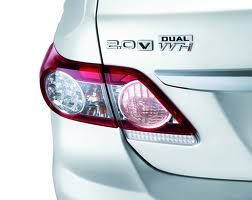 Indus Motors' new Corolla variants
Well it's been couple of days since the highly anticipated new models were introduced, namely GLi and Altis. Although these variants has been in the line up of previous models of Corolla, but the newer line up of Corolla had to endure these variants in their line up.
Last time when the first 2010 Altis was introduced, the entire car seemed fine to me but there was these two letters "SR" kept constantly bugging me since I was unable to comprehend their meaning and also they seemed like Mercedes Benz uses AMG for its awesome range of vehicles. But had I known the disappointment that was awaiting me, SR meant nothing but addition of almost 100,000 PKR for a Sun roof to be installed.
And come this year another new car by Indus Motors and another new stunt to show how technologically advanced their cars when they aren't. The engine is Dual VVT-I which is sort of like VTEC in Honda's engine so nothing to fancy about it.  Then the Altis is equipped with a special gauge which displays how much your car is consuming fuel on various speeds. It's called the eco-meter but I wonder why would anyone who buys this car in Pakistan worry about fuel economy?
But a similar device was installed in pre-facelift Corolla Altis which showed range of you can achieve which was calculated through the amount of fuel you had, but it didn't work in this Altis of a PW member.
Moving further, the rest of the tech is carried over to this face lifted model of Altis from the previous one, which are; Cruisetronic technology, Rain Sensors, Retractable Mirrors along with Backlit Optitron.
The price? Better not to inquire about that because Altis manual and Altis manual with sunroof will unbelievably cost Rs1,719,000 and Rs1,809,000, respectively whereas Altis automatic and Altis automatic with sunroof will cost Rs1,809,000 and Rs1,899,000, respectively.
In the current market, I am a huge supporter of buying used cars, because you'll find better build quality alongwith better and more advanced features and also some value for money as well. Click here to find out the cars that'll come in the range of 1.5 million PKR to 2.0 million PKR so you can make a better decision for your next car.