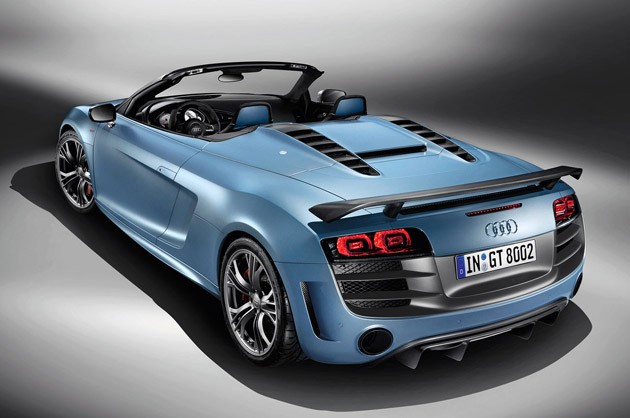 Audi R8 GT Spyder full details released
Audi first introduced the R8 featuring a V8 engine and deemed it too slow so it gave it a newer, bigger faster engine, V10 but still it wasn't fast enough, especially the Spyder R8. So Audi decided to build a limited version where engineers focused on weight reduction. Carbon Fiber Reinforced Plastic has been used to cut down atleast 85 KGs from the convertible. The CFR has been used for new cover for the soft top, the rear spoiler and the rear bumper. The biggest weight savers are the seats, which shed nearly 70 pounds.
The R8 GT as it is being called, is visually a bit different from the actual Spyder with the help of a dual-lip front spoiler, carbon fiber winglets on the front bumper, round tailpipes, a larger rear diffuser and dark LED taillights. Power output is same as the coupe, with the 5.2-liter V10 producing 560 horsepower and 398 pound-feet of torque. Audi claims a 0-100 kilometer per hour (62 miles per hour) time of just 3.8 seconds and a top speed of 197 mph.
Since this a special version of the R8 V10 Spyder, like the coupe GT version, the Spyder GT's production figure will be kept limited to 333 units which means the price will be quite hefty and 207,800 Euro tag in Germany translates to over US $ 300,000, means it is going to be expensive.