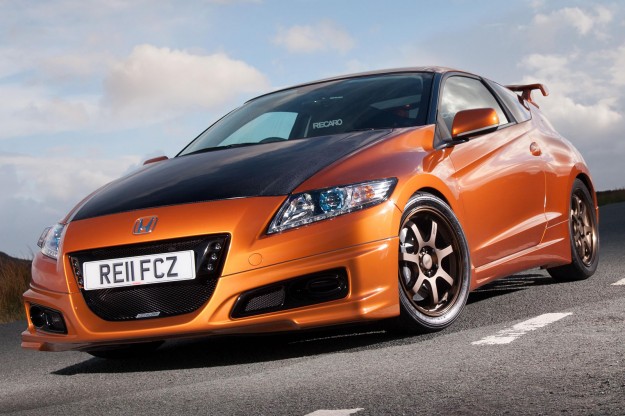 Mugen Honda CR-Z is faster than Honda Civic Type-R
Mugen has released the first few photos of Honda CR-Z which is going to be officially revealed between June 30 and July 3 at the Goodwood Festival of Speed in England. However, images have been released over the internet and is said that the car will be faster than the Civic Type-R.
Although nothing has been officially announced but early testing of the Mugean CR-Z hatchback revealed that the pocket rocket will accelerate from 0-100 KM/H in just 6.6 seconds and with almost 15% weight being reduced, deducting 50 KG from the car's overall weight. It won't take a rocket scientist now to acknowledge that it is going to be faster than the Civic.
This little hot hatch has been upgraded with a supercharger, although not official but recent leaks suggests that the supercharger has lifted the gross output from the 1.5 liter inline-4's output to 184 hp and 123 lb-ft of torque. Coupled with the Honda's IMA (Integerated Motor Assist) which hasn't been modified, the Mugen CR-Z should produce a net output of 197 hp and 181 lb-ft. Whereas a stock CR-Z produces 125 hp and 165 lb-ft.
The possible fuel consumption Colin Whittamore from Mugen Euro said,
"We've retained the three driving modes from the standard car and economy ranges from 50-plus-mpg (below 4.7L/100k) in 'eco' mode to mid-30mpg (7.8L/100km) when tapping into the supercharged power in a special 'Mugen' mode".
The Mugen special will also be equipped with various performance-oriented components, including uprated suspension and brakes, and a number of lightweight parts such as a carbon fiber bonnet and forged alloy wheels. The car also gets a wide-body bodykit and dramatic front and rear spoilers.
It is however a concept vehicle but separate parts might be engineered and put on for sale in the aftermarket. Rumors suggest that the whole car may also see a limited production run also available in international markets.