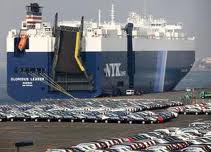 Local auto dealers tampering odometers of cars
It isn't a surprising revelation for most of us as auto dealers have always been famous for malpractices and theft. Today though, the situation has become so widespread that it is estimated that approximately 50 percent of auto dealers in the city are involved in this unprofessional practice just to add even more hefty sums to their already huge profits on imported used cars.
The report which is published by The News International, says that the entire reason why meter-reversing goes unnoticed is that buyers don't demand the auction-papers that agencies in Japan release with the car and which car the exact mileage and other vital data.
Rather than bringing along a mechanic to inspect the car, all you need to do is understand the auction-paper and that mechanic's presence is pointless.
The News International also got hold of the charges that one mechanic famous for reversing odometers charges which are; " Rs 1,000 to Rs 1,500 for below 1500cc vehicles and Rs 3,000 to Rs 4,000 for above 1500cc vehicles. Sources added that actual beneficiaries of this malpractice are showroom owners who increase the prices of the cars after reversing the meters by 20,000 kms to 25,000 kms."
Buyers should be made aware that they shouldn't buy imported cars which don't have auction-papers, and without completely looking and understanding them as they detail all that's either good or bad with the vehicle.