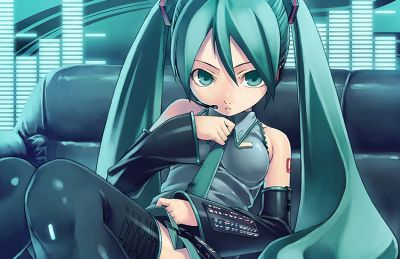 Meet the new salewoman for Toyota Corolla
In Pakistan, Toyota don't sell – people with money just buy it because if you're out to buy a new sedan then Corolla is your only option, the other option, which is the Civic or the City has its own buyer's demography. In a way, both the companies in Pakistan live in a secret alliance.
The countries where market is not monopolized and healthy competition exists, automakers have to introduce innovative and creative ideas to gain popularity for the brand and attention towards its products.
Meet Hatsune Miku, a female character developed by Crypton Future Media. Toyota has teamed up with the busty pop princess with ankle-length aqua-colored pig-tails to sale Corolla. This is the first time an automaker has teamed up with a 3-d character (digital avatar) to sell a car.
Hatsune Miku is just like a karaoke and more like the famous Crazy Frog act, Ms. Miku can perform any song requested by the customer. Her voice is the product of running real voices through Vocaloid, voice synthesizer software. She has built block buster career which is evident from the sell out crowd in her 2010 concert tour.
Although Hatsune Miku has little or no fame outside of Japan, but her appearance in Toyota's advertisement for the 11th generation of Corolla might give her and Corolla the heads up in foreign countries.