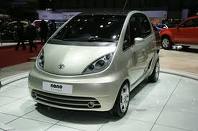 Tata Nano is coming to Pakistan
The world's cheapest car will be assembled and sold in Pakistan. International Multi Group of Companies (IMGC Global) has been engaged in talks with their Indian counter parts to introduce the car down here. IMGC Global's Chairman, Shaikh Amjad has told that an initial investment of $ 10 million will be made and an existing plant will be used to assemble the car in coordination with Tata group.
The resurrection of the peace talks between the two countries has given a lot of faith to businessmen of India and Pakistan. India's trade secretary on his recent visit to Pakistan has said that soon Pakistani traders will be allowed to set up offices in India.
Although the increase of contact between the businessmen of both the nations comes as a good sign however, the price of Pakistani market is yet to be decided for the Nano but finally, we'll be having a better alternative for the 40-year-old Mehran.