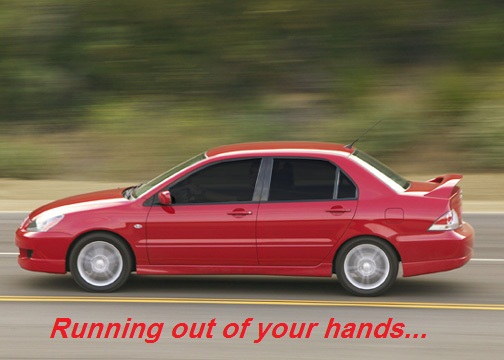 A Mint Condition 2004 Mitsubishi Lancer For Under 500K… But There's A Catch!
It was a bad day.
There was nothing good about the previous 24 hours. I had slept poorly twisting and turning in my bed all night; blanket-on made it too hot, blanket-off made me a prime target for those tiny bloodsucking vampires which somehow manage to pass through into my life-proof bedroom every monsoon. The morning started perversely as well, with myself half asleep adding salt instead of sugar in my coffee. I hadn't finished my morning cigarette when the utility bills started to pour in one-by-one, each dwarfing the otherwise reasonable paycheque I had received the previous day. My mind was still tied in the calculations trying to justify living in Pak Sar Zameen when the bell rang. Unannounced guests had arrived from the maternal side of my family – 8 people in total : 3 noisy kids, 4 aunties and an uncle-cum-driver. Several torturous hours later I managed to exhale a sigh of relief, only to be interrupted midway by a loud blast from the transformer next to my house.
Yes, it was a bad day.
I stepped outside into the terrace to beat the heat and kill time by browsing Pakwheels used car section. And it was continuation of the bad day there as well – Mehran Cultus Mehran Cultus Mehran Cultus Cultus Mehran Mehran Mehran Lancer Mehr..wait what? WHAT?! A Lancer?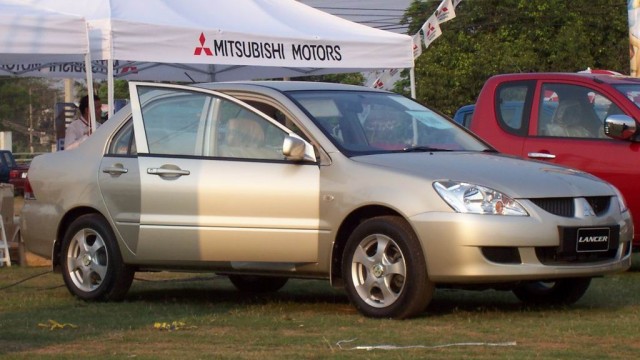 The filters I had applied in my search could not have allowed for a 2004 Lancer to sneak in – it would cost at least twice the higher slab of my price filter. What is this then? Is this an error? Is it a fake ad? I tapped on it hurriedly (something I never do – I like taking my time to do things). The ad opened and everything about it said it was legitimate…except the price. I skimmed through the details in the ad once again to find a catch – tikli missing, chassis tampered, duplicate file, rolled over – but nothing. Nothing was wrong with this car. Was this my break? Was the curse finally lifting? Could it be a divine compensation of the horrendous day I was having? I quickly dialed the number provided.
The caller tune was simple, not the usual 'pakk gaiyan ambiyan, raatan huyian lambian' – a good sign. After 6 or 7 rings, someone picked up the phone on the other end with a sophisticated "Assalam o alaikum" – another good sign. The phone call lasted only a couple of minutes and by the time I had put my phone down, I was convinced I shall go, make the payment and bring the car along. There was just a small hiccup – the car was out on errands, and was to arrive only after a couple of hours. At the end of two anxious hours which I spent daydreaming about the look on my younger brother's face when I replace his Cultus with a Cherry Red 1.6 Liter Sedan, I picked up a friend (who'd drive the car back), and set out for the seller's house. I pulled up at a market near his house and called him. He answered and in the politest of manner, dropped the bomb on me – "There is someone already inspecting the car, I'll call you as soon as they leave."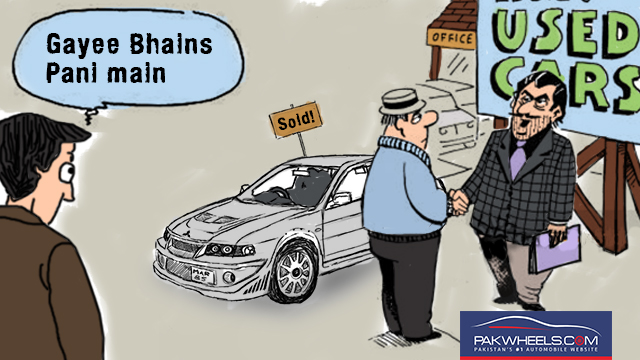 Now I knew anyone in his sane mind wouldn't miss this car for under 5 lakh rupees, and it would've been wise to leave right away. But as they say "hope dies the last", so I waited. I waited 15 minutes when the seller called and informed me that the car was sold. His tone was apologetic – which wasn't required, it was his property. But it was nice of him. I drove back home silently with my friend trying to cheer me up justifying the twists of fate with the usual "iss mai koi behtari ho gi".
It was indeed a bad day.
The point of narrating this whole 'aap beeti', which initially I wanted to have published in Akhbaar-e-Jahan under "3 aurtain 3 kahaniyan", is somewhat interesting.
You see, we all come across these steal-of-a-deal opportunities in our lives. Be it a rich Kuwaiti kid selling his xBox 360 for quarter of the price so he can justify the purchase of a PS4, to someone needy selling his bike for half its worth to send his daughter's admission. From that ravishing Princess in your final university year shyly asking you, yes YOU unshaven-underdressed-backbencher of all, to make a move before her family gets her engaged to her phuppo ka baita, to someone selling a Red Lancer 4 lakh rupees less than its market worth. And missing on any of those opportunities does something strange to you.
It sets impossible standards.
It sets you off on a dark and twisted path of searching for something, or someone, equally great and that almost never happens.
Opportunities like these are an act of chance, and the odds are very slim – as slim as winning a Sorteo Extraordinario de Navidad jackpot, as slim as spending a whole day without loadshedding in Punjab. Hence the wait for an equally good opportunity is long and tiring. It usually ends in frustration, and out of this frustration not only do we end up settling for something far inferior in similar price, but also miss absolutely fair deals passing by.
In my case I started looking for Lancers for under 500,000. And it was exhausting..skimming through countless pages on Pakwheels, visiting every single showroom on Jail Road, waiting for the Sunday newspaper as if it was my Matriculation result – all in vain. And it angered me.
Then one day I found myself standing next to a beat up vehicle. The owner was asking 590,000 no negotiations. As I knocked the body, I am pretty sure I saw a chunk of filler putty fall off from the footboard. I looked inside and the originally off-white interior was botched with dried stains of everything I wouldn't dare to imagine. The trunk carpet board looked clean though..but as soon as I lifted it, I could see the ground underneath – there was a 6 inch rusted hole in the trunk.
It was that moment when it struck me. What was I doing? Why was I doing it? What is this ishq-e-laahasil? Why had I infatuated myself with a Lancer – it was never my first choice of cars in Pakistan, hell it wasn't even on the list.
I wanted to upgrade my youngest brother's cultus – something with better drive than a cultus, a little more road respect and preferably a boot. I had made a list and the list consisted of Indus Corolla and SX8 Honda City. Then I stumbled upon this too-good-to-be-true advertisement and it wrongly placed Lancers in my budget.
I used "wrongly" on purpose. You see, the price of a decent 2004 Lancer is not 500,000. It goes easily above 800,000. Just because there is one person who sold it for 500,000, one person who bought it for 500,000 and one person who missed it for 500,000 doesn't mean that the price of these cars has dropped to half.
That is exactly why in every buying/selling thread on Pakwheels, we come across smarty pants claiming "Overpriced! my uncle's bhabhi's dhobi bought a similar car for half of what you're asking" – Habibi, your uncle's bhabi's dhobi was an outlier. My dhobi has 13 kids – that doesn't grant anyone with a wife the power, or inspiration to run his marital life following suit.
Related: Common Mistakes In Buying And Selling Cars On PakWheels
And that brings us to the conclusion – missed chances, steal-of-a-deal opportunities and one-off incidents do not define the market price of a car. Keeping that in mind can save us from innumerable frustrating nights, pointless trips to the car market, and more importantly, buying something we don't want in the first place.
Later when I checked, I had missed at least a dozen perfectly fine Indus Corollas and Honda City's posted in the week I wasted in pursuit of a mythical Lancer at a fairytale price.
Please do not make the same mistake. Do not base your car search on that one deal you somehow missed. Please do not carve your life in the shadow of the one that got away.