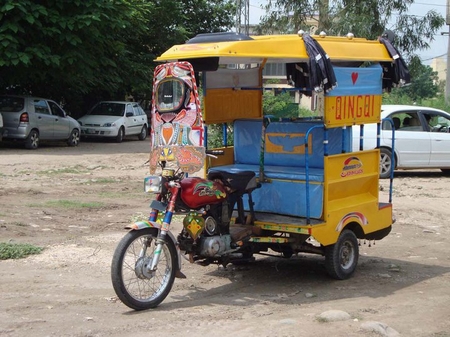 Qingqis unbanned, transport dept. to regulate them instead
Sindh High Court had unbanned the decision to pull Qingqis off the road as they are, quite fraknly, too dangerous with drivers lacking of any driving sense in the traffic which eventually becomes a giant mess.
But while the ban distributed people in two parties: those against the ban and in support of it, the people against the ban agree with everything we have said above but they only stood against as the ban on Qingqis would render more then 40,000 people income-less and in such an economy and overall Country's condition, that isn't a good bet.
However, now the Sindh Transport Department has agreed to regularize Qingqis and have therefore been working with NED University's transport department.
Taha Faruqi, provincial transport department secretary, said while speaking with Express Tribune, "We are working with a team of NED university transport department to conduct a study to devise a plan to modify Qingqis so that they can be regularized."
He further added, "The Qingqis will not carry more than five people and will have to follow standard sizes of tyres, height, seat designs, brakes and body balance."
The study by NED University will be completed by October 14 and work towards implementing the study will begin after Eid. The study will mainly focus on the design and how it should be modified to make it a safe means of public transport.
Only government registered and authorized Qingqi manufacturers will be allowed to modify the the Qingqis.
All Karachi Qingqi Rickshaw Welfare Association has appreciated the decision as they have reiterated their willingness to work with the government to improve the safety of Qingqis and regularize them.
The transport department also said that they were working on to regularize and make them a safe transport and the traffic police banned the Qingqis on their own.