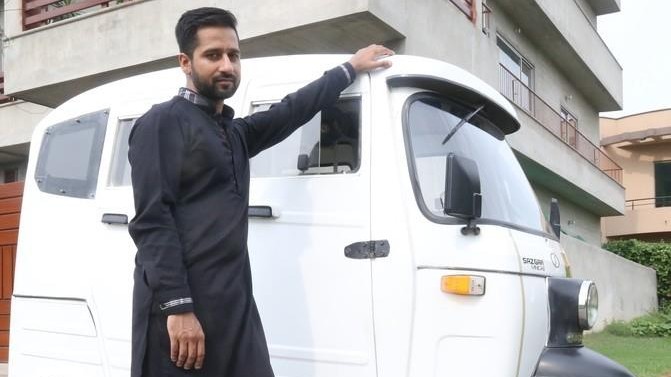 Riksha As A Personal Vehicle: Guy From Lahore Breaks The Riksha Stereotypes
We have perceived rikshas as a public transport vehicle but India is lucky enough to have Tata Nano but Pakistan doesn't, but that does not mean that there isn't a need for such small and cheap family vehicle. That's when Humair Tanveer broke the stereotypes and bought himself a riksha.
Humair, a young accountant from Lahore has had some fair amount of fame on the social media when his story was first circulated by Armaghan Saqib.
"I could not afford to buy a new car so I decided to buy a riksha for my personal and family use for 2 lac rupees. People think that a riksha is not a suitble family vehicle because it is not a status symbol of any kind. This is not right thinking. You should do what is possible and comfortable for you.

This is custom built riksha with doors, music system, fan and very comfortable seats just like a car. And compared to motor bike, it is way more comfortable especially in rainy season.

I am a manager in accounts department of a company and I did not let the status issue come on my way to use riksha as a personal vehicle.

When you are going to buy a riksha for personal use?
So he now uses his riksha to go to his office and then uses it for his family as well. It is equipped with doors, entertainment systems, fan and comfortable seats. It is a better idea than taking your family on a motorcycle.
Why would someone use a rickshaw as a personal vehicle? Well, the answer is quite simple and logical. Cheapest car, if bought new, costs somewhere around Rs. 6,25,000 in this tough economy which is a Suzuki Mehran, and compared to the riksha, it is almost the same equipped but the saving makes the riksha look like the winner. And then there is a thought of maintaining the car. The motorcycle isn't such a great option frankly when you have a family as well to move about.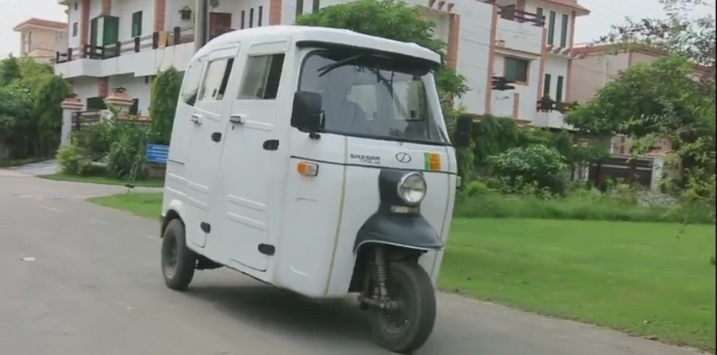 When it comes to rickshaw, it ranges somewhere around Rs. 200,000 and gives you better space, there are 9 seater rikshas also available but for personal used, the 3-seater and 6-seater rikshas are the better choice of course. It is fuel efficient as well, has low maintenance cost and can be driven easily on the roads and streets of Pakistan. Come to think of Humair's idea, it's quite brilliant actually.
If you're thinking about a used car, that will be a Mehran in under two lac and the car wouldn't be as such a in great condition plus the additional costs of bringing it the condition you want it to be.
Related: How To Buy A Used Car In Pakistan: A Guide For Dummies
Humair Tanveer with his pictures, videos and stories has certainly been able to break the stereotype of using a rickshaw as personal vehicle that can, not only be quite economical but also much more comfortable and safe than any other low budget vehicle such as motor bike or scooter.
You can watch the video here.