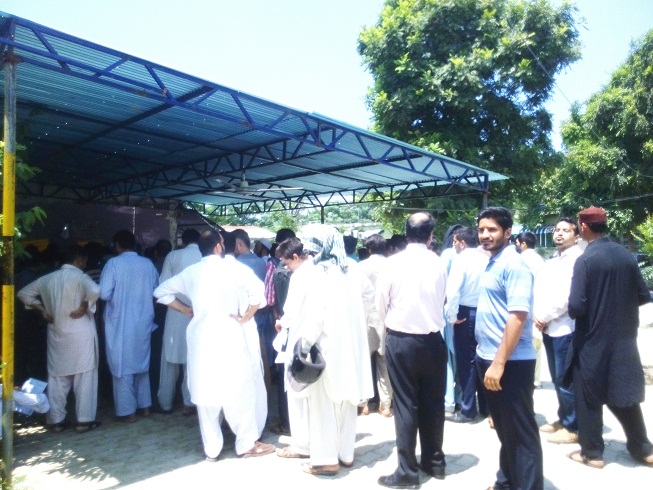 What You Need To Know About The License Renewal Process At Islamabad Traffic Police Office
Unlike most of the government institutions, the Islamabad Traffic Police has a reputation of being very professional in what they do. From being uncompromising at implementing the rules without succumbing to any pressure like the traffic police all over the country operates, to being really caring towards the issues of the citizens by doing whatever is within their capacity to alleviate those problems and coming up with effective solutions for them. Personnel of ITP pushing the cars which have broken down in the middle of traffic to devising ways for reducing congestion at the most problematic points are common sights in the capital city.
Maybe that is the reason why our expectations from them are also very high, and unlike the usual modus operandi of all traffic offices within the country, the processes at ITP license wing are expected to be smooth and user friendly. Although they have tried to be better in this area also, many aspects are left which create hurdles which are easily avoidable, and our intent is to highlight them so that those in the positions of authority can take notice or at least the citizens are aware of what to prepare for before taking up this challenge.
This post is related to the renewal of driving license only, so that you are not faced with any ambiguities while at the premises of the ITP license office where not many would be able to facilitate.
1. Things you need to take along:
a. The original expired license
b. Photocopy of your valid CNIC
Well it would seem like a pretty obvious list but it's not, since after reaching the authority's premises you would expect that there would be at least a kiosk available for photocopying stuff, but there is none. And the nearest location where you would need to go would be the F-8 markaz which has the district courts and a serious dearth of parking space (you have to experience it to know the extent of how big an issue the parking is). While performing this feat, you will waste "valuable" time which could have secured you a better spot in the long queues which await you at the license office.
2. Knowing which queue is yours, its counter number 2 for the case of renewal.
a. When you enter the premises, there would be windows on the left with queues and many windows ahead with even longer queues, and nobody around to guide which one you should dare to endure. The official sitting alone on the information counter has several duties ranging from delivering the licenses which have been made after verifying the slips, selling the traffic regulation books, guiding everyone that has any type of query regarding anything that has to do with ITP etc. He would be able to give the crowd standing in front of him some clues, but not exact details. You would leave the counter with a certain degree of doubt about what to do, try it.
b. Without any hesitation, stand behind the longest line visible which would be called the bank line as the people at the window, which you would be meeting in a few hours if you are lucky, are not personnel from the bank rather they are from ITP who would check your license and let you know the actual amount applicable in your case. The rates are also available on the website but you can never be sure if those are up to date and no list is displayed at the premises.
c. But hold your horses as this first step is also the most excruciating and needs to be called the fitness test, as you would need to wait for a very long time in a queue that moves slower than ants, under direct sunlight with no fans in this extremely hot and humid weather. There is a shady shed with fans tied from steel wires to it but that is only sufficient for the lucky ones closer to the window. You would not start from there would you; people even arrive in groups of two so that one can keep the turn in the queue while the other recovers by leaving that torture spot and taking a break in some shade.
d. When you see people gathering in front of the window who are not in the queue, do not suspect that they are trying to barge in the line, those are the ones who have deposited the amount and now are waiting for the slips to be received from the banking staff also sitting somewhere in that office behind the ITP personnel who are at the front. The slips arrive at any moment and any volunteer standing at the front of the queue starts shouting the names of lucky winners like a qasid outside a district court.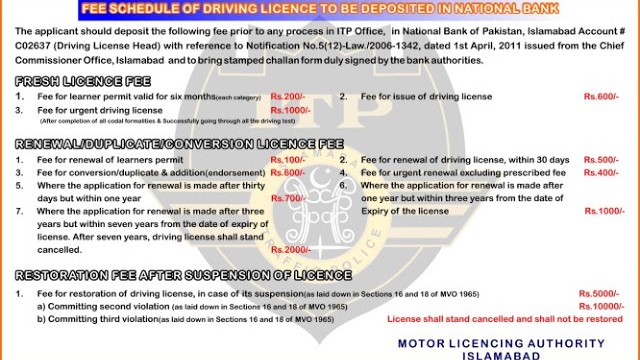 3. After this feat, which should be called the fitness test as anyone who can stand in lines for more than an hour under direct sunlight and no proper ventilation must be fit enough to drive a car right ? No. ITP still has to make sure you are medically fit so proceed to the medical counter which is located towards the gate you entered from, some interesting order of placing offices right ?
a. Here after you have entered your name in some list by standing in a queue outside this room through a window, and entering it after this step which could have been easily avoided by those who made this process, you will be asked about your eyesight, blood group and you will stand against a wall on which someone has drawn some rough marks depicting the height from the ground.
b. But the most interesting step is that a picture would be taken on spot and the in house doctor would sign that "I certify that to the best of knowledge and belief, the applicant (named) XYZ is the person herein above described that the attached photograph is a responsible correct likeness". Whether this is a check on the quality of the camera being used is for us to ponder upon since the question of "responsible correct likeness" would have made sense if people brought some old photographs and attached them on the form, instead of it being taken right there are printed on the form by them also.
c. And how can we forget the very first question on the form i.e. "what is the applicant", the most appropriate answer to which would be "irritated" as per me. You can come up with your own though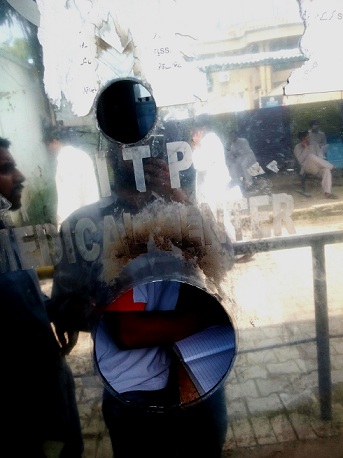 4. After getting a filled, signed and stamped medical form from this room and grasping your bank slip firmly in your hand, move to room number five where there would be a queue outside a window of this room, do not stand outside it as its not yet time for this queue. Once inside, you will see a notice attached to their tables informing about the office timings, yup "now" is really the best time to give people about this valuable piece of information after they have covered the major obstacles and reached the easier destination.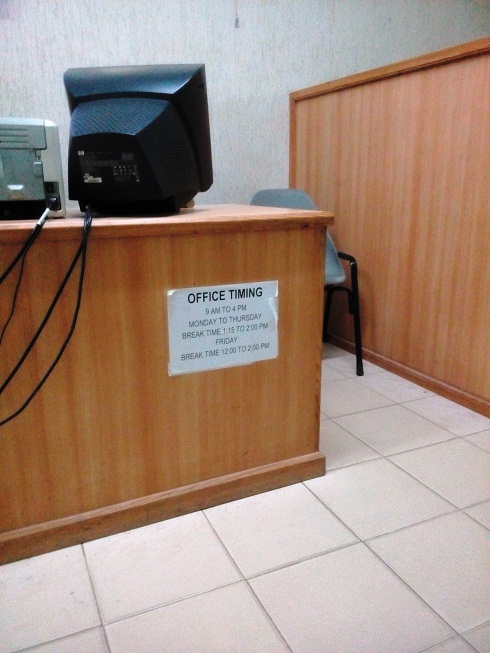 a. In this room, you will see people seated and also standing around while some officials of ITP busy on their counters. Now do not be deceived that there would be a system of calling people as per some order based on some number which you got during the printing of the medical form or bank challan, as this would lead you to wasting your time while sitting on some seat anywhere in the area. What you need to do is to remain as close to the officials as possible, as one of them would stand as per his will and announce that the forms be given to him. You need to be ready for this sporting event as the order of collection would determine the order of processing.
b. At some point in time, you have to get your photograph and thumb impression taken as the previous one was for the medical form. Otherwise when it's your turn with the official who took the forms, he would look at you with a shocked look and inquire about the reasons for your failure to get your photo and thumb impression taken. The fact that there was no one to inform the people about it does not hold much relevance to them.
c. The actual steps of data entry and completing the forms in their system will happen now and you will be handed a printout on which you would have to sign after verifying the details.
d. Now is the time to go out of the room and stand in the queue in front of the window of this same room, quite an interesting way of making the process even longer isn't it ? Coming out of a room to stand in a queue outside it.
e. Here you will submit all the forms collected till this point, your old original license and a copy of your ID card.
f. In case you applied for the urgent license and paid extra for it, you can wait for some hours to collect it on the same evening from the window outside the office premises by inquiring several times, or else you would be given a receipt and told a date to try your luck.
5. Congratulations, you just endured what the ITP had to throw at you since you are a law abiding citizen who wants a valid license with him at all times.
Since fee being charged is not a subsidized amount like twenty five rupees; several hundred rupees from several hundred people a day just for this card are enough to offer them a respectful experience at this office. A few humble suggestions from us for improvement are given below:
1. Knowing what to do is the most important need for the people when they reach the office. The whole crowd of confused people wandering inside trying to get the attention of officials, who are preoccupied with other tasks, just to get some hints can be avoided and some order introduced if simple step by step illustrations are posted at the counters. Increasing the number of officials at the information counter would help reduce this mess a lot, working smart would be better than working hard wouldn't it ?
2. The process of collecting the fee and issuing receipts is the longest and most hectic when there is absolutely no need for limiting it to just that window in this universe of ours, especially at this day and time we can pay the bills for even most of the utility services which land in the government exchequer through online options, or at least the latest method of paying through retailers present in every nook and corner of the country. All that is needed is the intent; the rest is pretty simple and would even be done by the vendors offering the service. If national identity cards which are an even more sensitive document are now being renewed by NADRA online, fee collection for one city's driving license should be a lot easier.
3. Even if going to that step seems like a far cry, extending that dangling tin shade shouldn't be such a big hassle, or providing a simple token which determines the turn of each applicant so that they can sit on the benches available in the premises till it is their turn instead of waiting for hours in a snail paced line. The same token number can be followed in order of priority for all the next steps instead of a haphazard queue made in each room with people jumping on the opportunity to skip the turns of others.
4. Instead of a requirement to come again to the traffic office for collecting the license, it can be mailed to the address as the cost is negligible to what is being charged for the license. Even the fee they are charging for NADRA verification i.e. Rs.49 is more then what it would cost to mail the license to the citizen, in case providing any convenience is intended.
5. The premises looks like the remains of bunkers that were in use during world war two, later just painted halfheartedly to eliminate the signs of ammunition or explosives. A bit of renovation would not hurt neither would cost too much given the amount being charged for this service.
Just as we were sharing these guidelines, another gift from the ITP's license branch has been received i.e. it would be closed for two working days this week i.e. Thursday and Wednesday the 12th and 13th of August on account of up gradation of computers, making us wonder why two whole working days are required to be wasted on an activity that could have easily been taken care of during the two already off days of this office i.e. Saturday and Sunday.
But again, paiwasta reh shajar say umeed e bahar rakh!