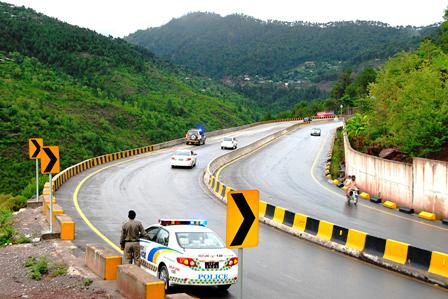 Separate Highway and Motorway Police driving license a must to drive on motorways
It seems that the government itself doesn't trust the standards of passing out new drivers with licenses by the traffic police system and instead of fixing the mess, the Government has decided that the National Highway and Motorway Police will issue separate driving license.
This additional hassle of going through lines and maintaining two driving license by the Pakistani Government instead of ironing out the incompetence of its department, you will be mandatory to have on NH & MP license if you ever want to set foot on the motorways.
Speaking at an annual award ceremony, which was presided by our President, IG Zulfiqar Cheema said that the new licenses are of international standards and will begin issuing from March 15 after a very strict road test and only those who have cleared this will be allowed to drive on the motorways. Adding further that the NADRA has been taken onboard with this initiative.
Our President spoke about the reason why these new licenses are being issued (other then the one we've mentioned above) which we've quoted directly for your pleasure:
Earlier, President Mamnoon Hussain said: "The government has set in motion its vision of expanding national and international trade corridors to establish linkages to existing and new markets, and only a secure road infrastructure can make it possible."

"The government is committed to strengthening the road network and ensuring safety and convenient mobility of people," he said and praised the NH&MP for educating the masses which had resulted in reduction in accidents.
So we're guessing you will need both licenses as one will not accept the license of the other, a conflict may come out of this perhaps. Or maybe you need to have the traffic police license before applying to get NH & MP license.
Whatever the case, corruption has eaten the system inside out, you can't just go and follow the ridiculous process of getting the license honestly as they will fail you at each step because you are not following the corruption which has become the system. Today, yes today we saw a poor Chinese guy bullied around the Clifton License office because he chose to follow the process.
So dear  Mr. President, we trust that NH & MP has done a mighty fine job patrolling our highways and motorways and either they should be the sole license issuing authority or just the traffic police. This is a waste of money for a government who doesn't have it to spend and the public who can't either.