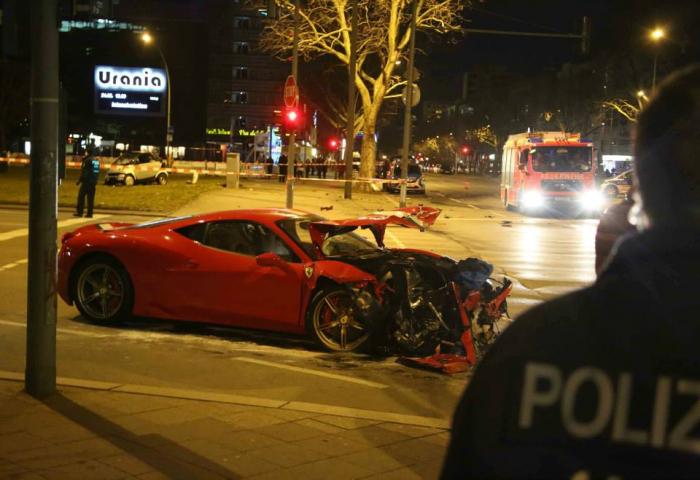 SmartForTwo proves to be smart after crash with a Ferrari 458 Speciale
Seems like we will keep on reading and seeing these exotic car crashes. We have reported numerous expensive car crashes in the recent past. Anyways the good news is that in all these crashes mostly, the occupant survived except few serious crashes which took precious lives.
Germany is a hub for a lot of hot cars, one reason being the motherland of manufacturing. This is one reason many high end cars like BMW, Mercedes, Audi first hit the roads of Germany. Nürburgring is a famous test track for most of prototypes while Autobahn is a high speed roadway with no apparent speed limit.  Now few days ago a  Ferrari 458 Speciale for which deliveries just started few weeks ago crashed in capital city of Germany, Berlin. Not on a high speed highway/ motorway but in a busy metro city.
A Ferrari T-Boned into a Smart for Two at an intersection. Initial media reports suggest that Smart ran a red light while Ferrari was cruising at a very high speed in the other direction. Smart flipped over and turtles several times before coming into static position.
The driver and passenger in Smart were injured while Ferrari driver was unhurt. Looking at the damage one get really amazed to see the damage on both cars involved in crash and be surprised that no one was killed.
The Ferrari 458 Speciale which is powered by a mid mount (rear) 4.5 Liter V8 with base price of $320K is totaled and will be written off due to front damage. I have no doubt in saying the cost of front bumper, hood and two headlights is way more than the price of Smart. The Smart looks in much better shape in this crash comparing with the Ferrari and we have to say it  was SMART. Again SMART has a backing of another BIG name "Mercedes Benz". National Highway Traffic Safety Administration (NHTSA), a US government automotive safety agency has given Smart; 4 stars on roll over, 4 stars on frontal crash and 5 stars on side impact; with an overall 4 star safety rating.
Here is the video from the crash scene:

FERRARI 458 vs Smart by f1589661886
(Photo Credits: Original Owner as Watermarked)