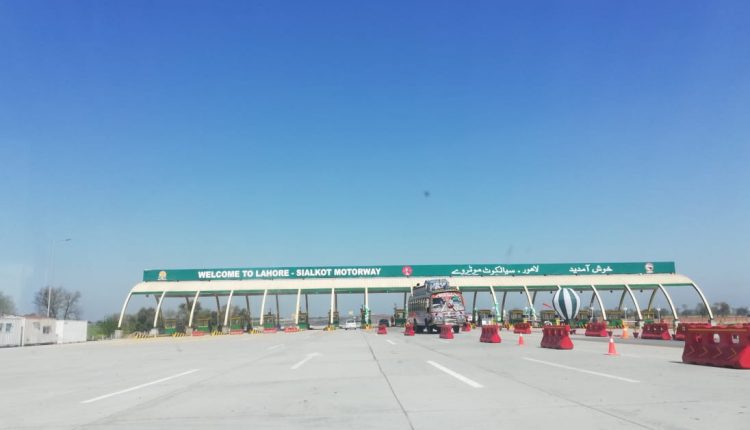 In the latest road infrastructure development, the Sialkot – Lahore Motorway (M-11) is almost completed and will be officially opened for the commuters on 30th March 2020 that will reduce the travel time to just 50 minutes.
As per the details, the newly built Sialkot – Lahore Motorway is 91.5 km long that connects Sialkot to Lahore through the eastern parts of Punjab. The project is a four-lane motorway which will be completed at Rs.44 billion consists of the following features:
9 Interchanges
8 Flyovers
20 Bridges
18 Underpasses
The new road is believed to reduce the travel time from Lahore to Sialkot and vice versa to just around 50 minutes. The old route used for traveling between the two cities is GT Road that passes through Komoke, Muridke, Gujranwala and Daska before finally reaching to Sialkot.
The new four-lane Lahore –Sialkot Motorway will also run parallel to GT Road and will also connect cities including Kamonke, Daska, Sambrial before finally ending in Sialkot.
It is worth mentioning here that currently the motorway is only open 22 km from Kala Shah Kaku until Muridke interchange. The remaining road is kept closed for the commuters due to the completion of the remaining construction work.
According to an official, the project also includes the establishment of as many as 3 industrial zones and 2 universities along the route of Sialkot – Lahore Motorway. Moreover, the motorway is linked to the Kala Shah Kaku interchange of Lahore – Islamabad Motorway (M-2).
The other approach from Lahore is through Ring Road that also connects with the newly-built motorway. From the western side, the SLM connects the following adjoining areas:
Kala Shah Kaku
Muridke
Eimanabad
Kamonke
Daska
Wazirabad
The eastern bound exits of the motorway connect the following areas through interchanges:
Mehmood Booti
Kala Khatai
Narowal
Wahndo
Pasrur
Sialkot
The construction of Sialkot – Lahore Motorway (M-11) will be utilized as an efficient mode of travel between the two cities. The old GT Road route takes about 3 hours and will now be reduced to just around 40 minutes. As a result, millions of rupees will be ultimately saved which were being spent on fuel.
Also, the route will ensure fast-paced business shipments. The project will help in speeding up the economic development process in Pakistan as Sialkot is a key manufacturing city of the country in terms of exporting sports goods and surgical equipment.
Sialkot also accounts for 15% of Pakistan's annual exports.
Share your opinion on the newly built motorway in the feedback section and stay tuned to PakWheels for more similar updates.