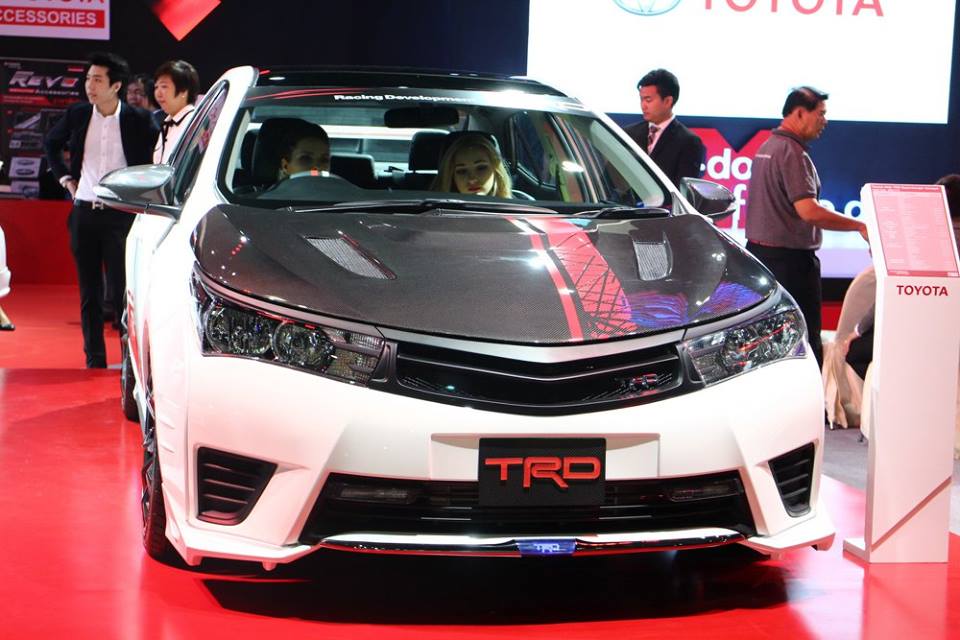 The Supercharged Toyota Corolla Concept
Most of you already know about how AMG is an in-house tuning company for Mercedes, they take ordinary Mercedes and make them extra-ordinary by fitting them with powerful snarling V8 engines, carbon fibre accessories and the whole nine yards. In the same way TRD (Toyota Racing Development) is an in-house tuning company for Toyota and here is their latest creation, the Toyota Corolla Altis TRD Supercharger Concept.
This is not your average Toyota Corolla, from its name we're sure you've guessed that it comes with a supercharged engine. Specifically a 1.6 litre supercharged engine pushing 191bhp. That's 80bhp more than the standard 1.6 and with that the car has gone on a serious diet. Behind the mad styling and flared wheel arches you have carbon fibre on a Corolla! The hood and door mirrors are made from lightweight carbon fibre as well as various other accents along the exterior as well as the interior. This combined with the power gain ought to make for some great performance and it doesn't stop there. You get a full aero kit that includes a front and rear splitter, uprated suspension with racing coilovers and much larger and better TRD brake pads housed behind 18 inch alloys. Though thankfully they haven't felt the need to strip out every creature comfort from the interior, you still get all the standard features you find on a normal corolla and even some new ones that include wireless charging for your phone and a great sound system. There's been no word on whether this car will actually reach production line but if it does, it's unlikely well see it here in Pakistan but you never know. If they do decide to offer it here at a reasonable price people here would jump at a chance of owning the TRD supercharged Corolla.
RELATED: How A Supercharger Works
What do you think about this concept car. Do you think Toyota should put it through to production or more importantly bring it to Pakistan, be sure to let us know with a comment down below.