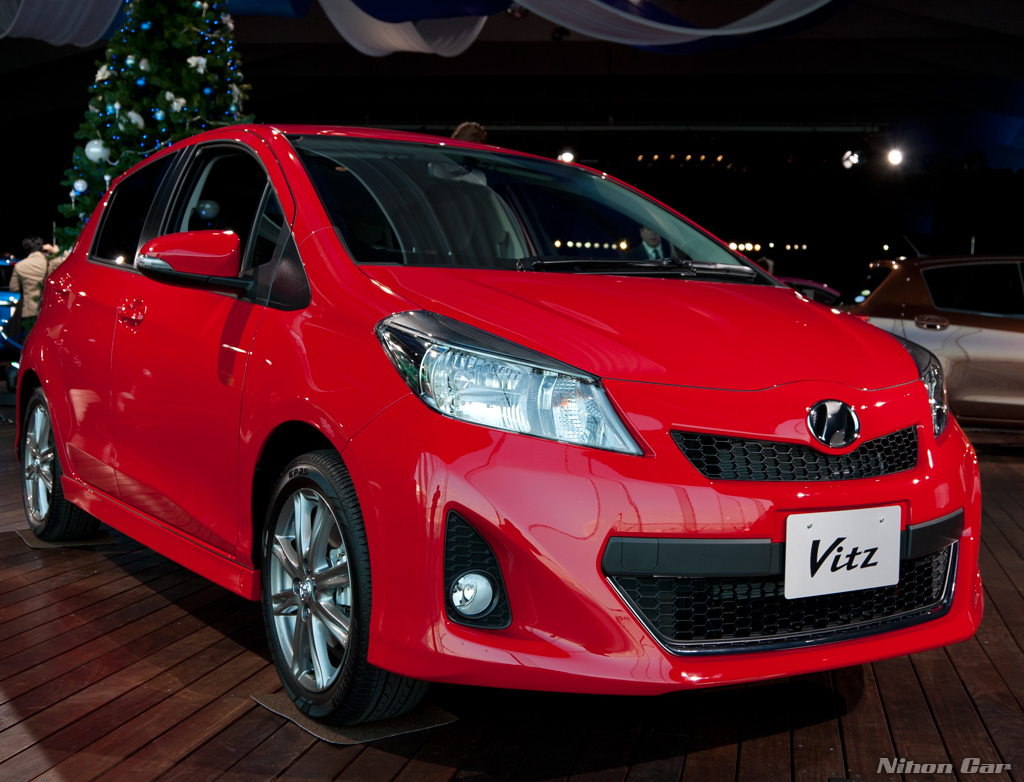 Toyota Launches All-New Designed Vitz In Japan
Since the imports were allowed in Pakistan, Yaris as its known as Vitz in Pakistan enjoyed great success, and why wouldn't it. Was a great looking hatch back under everyone's budget but things changed when the dollar and yen prices sky rocketed.  However, Vitz has not just enjoyed success in Pakistan but around the globe as well, Vitz was introduced in more then 70 countries and region including European countries where it achieved cumulative sales of more then 3.5 million units.
Unlike Pakistanis which enjoy no car based on their needs made by our auto assemblers but the Japanese do. This new Generation of Vitz was developed around a new ideology of compact car to meet the growing, diversified need of compact cars' consumers. The 3rd generation Vitz(Yaris) has features which most of us Pakistani think that only high-end German cars would only have but their wrong, the new Vitz has features sharper styling as well as a compact exterior but roomy, refined interior; abundant utility; and outstanding fuel efficiency of 26.5 km/L—made possible by the Toyota Stop & Start idling-stop system which is a new idling-stop function, mounts a 1.3-liter engine on a two-wheel drive model to achieve class-leading fuel efficiency of 26.5 km/L. The engine restarts in just 0.35 seconds to ensure smooth and immediate acceleration from a stop.
The exterior is designed to look angrier, infact as more and more researches told that people want their car to look masculine and angry, Toyota followed and announced that its cars will look emotional. Well the new Vitz definitely looks angry and masculine; however Toyota says that the new Vitz has been redesigned under the key concepts of agility and sophistication. The cars new exterior design is high on aero-dynamics which also helps to achieve high-fuel economy and stability on high-speed cruising.
The new Vitz with the 1.3 Liter 1NR-FE engine with Dual VVT-I mated with a Super CVT-I (Super Continuously Variable Transmission-intelligent) transmission attains impressive fuel economy of 24 KM /L (2WD Models). The 4-wheel drive models also have Super CVT-I for higher fuel economy and smooth cruising.
Also, a multi-information display within the instrument cluster shows information including fuel efficiency, average fuel efficiency and possible cruising distance. Moreover, an Eco Driving Indicator that turns on when the accelerator is operated in an environmentally friendly manner supports eco-driving.
EBD (electronic brake-force distribution) and ABS are standard on all models.
Sounds like a high-end car doesn't it? Well we aren't even done yet with its features. Another pretty amazing feature is special plastic barrier on the passenger seat which prevents hand bags and other items from falling off the seat, you can also use it to keep an umbrella or hook up shopping bags on the top of the barrier.
And the new Vitz also becomes the world's first vehicle to have a UV-reducing glass in the front-doors, the glass reduces UV-light by 99%, providing the same level of UV-protection as wearing gloves. The head-lights also turn on or off or adjust themselves according to exterior brightness. The new Vitz also comes with a color rear-view monitor that enhances visibility when parking along with an HDD navigation system and steering mounted audio-system control switches.
The new Vitz is available in 4 grades, (1) Jewela grades features exclusive body and interior colors, and interior ornamentation, (2) F grade is what you can call the economy class, and specifications are designed to meet the wide range of needs of price, fuel efficiency and comfort. (3) The U grade is for folks interested in leather-covered accessories like steering-wheels, gear-knob and heated-seats that warm shoulders and back come as standard equipment. (4) RS grade is something we all will love to have; RS grade will have sporty functions such as 5-speed manual transmission or seven-speed Sports Sequential Shiftmatic transmission with paddle-shifters. It will also have sporty accessories like sport seats, steering wheel wrapped in leather with dimple stitching and exclusive designs for the front and rear including bumpers and a roof spoiler.
Considering the high prices of dollar and yen, even the F grade will cost a lot making it out of reach for the folks it's targeted for. Just sayin!