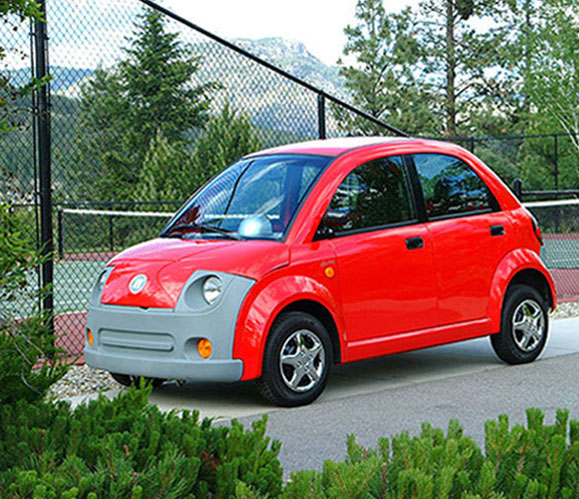 Neighborhood Vehicle All Set To Be Manufactured Here
But there's a problem, albeit a bit complicated one but I've decided not to take part in it anyways. Neighborhood vehicle are basically small electric vehicles or EVs as their known other wise. They have small range which is why they're known as Neighborhood vehicles. Given its range, these small EVs are dedicated for universities, industrial parks, towns or airports, more like the small car of the house assigned with duties for fetching kids or groceries, etc.
These EVs are smart as well, for example; these cars are charged by household electric sockets, and it can also generate 10KW electricity for your house as well by reverse charging with the help of device called vehicle to grid.
In 2007, as the news also came on PW, as it happened that Karakoram Motors have bought Dynasty Electric Car of Canada and subsequently shifted all their plant equipment and machines to KM's assembly plant in Karachi. KM has been able to export one unit to UK for marketing purpose and observed good response.
The car (basic model) if launched in Pakistan may cost around 800,000 PKR but this price is just the converted amount of the actual price quoted on the Dynasty Motor's website, the price of locally assembled car is yet to be determined.
But as I told you that there's a problem, in November, the company's officials approached the Government to allow them to import parts for 0% duty and assured that the rest of the 70% parts are to be built here and that it has also worked out its profit to come in 4 million $ after selling to its international buyers the first year. AIDP (Auto Industry Development Plan) says in its chapter 7 that that new technology and environment -friendly products are now need of the country and will be given more incentives and priority to the entrant in this field. However, Chairman PAAPAM, Aamir Allahwala said that the electric car should be treated as same as a normal car and that the association welcomes new technology(Yeah right!) but since both type of cars are same except their power sources, hence they should all be treated as same. Also, local assemblers said that since there is no history of electric cars in Pakistan, maintenance of such cars would be difficult.
But seriously sir, practice makes a man perfect, and if a Mazda RX8 can be brought here then why not something for which the whole world is going crazy after?
They further added that with a brief history of two years, the product can be unsound and unsafe for general public and that its presence is unsuitable for roads in the presence of fast moving vehicles.
Seriously, its alot safer then the Rickshaw anyways, KM bought Dynasty Motors 3 years ago whereas Dynasty produced the first car in April of 2001 and the first Electric Vehicle was built by Ferdinand Porsche some 100 years ago. And mind you that Porsche 1901 was built on the same concept which today's Chevrolet Volt is following by the way.
The assemblers of course as most of would know will go against anything that can give the people a newer better option, and they're monopoly is the sole reason why Government has relaxed its Entrant Policy specifically for the Chinese Auto makers so why give a damn about what these local monopolists think?
Being innovative today is the step towards the future, experience and history builds on with innovation.