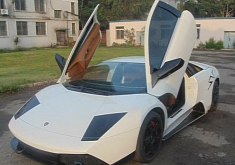 Chinese company makes a copy of Lamborghini Murcielago
China is worldwide infamous for copying mostly expensive designer items, and than producing them in mass quantities for people who can't afford the expensive originals. It is not well received throughout the world and several companies have taken the Chinese companies, which produce the counterfeit products to Chinese courts which without any element of surprise, sided with their own.
Quite recently, a Chinese estate development company copied a whole town from Austria which is in UN's Heritage Sites and build it brick by brick in China.
Since Lamborghinis are quite expensive in China, in fact all exotic are expensive, a company in China has decided to build copies of Lamborghini Murcielago. Come to think of it, if China can produce an exact of an entire town, this is quite a piece of cake to them.
Using a Toyota's 2.2 liter 3S engine to push the Chinese Murcielago SV from 0 to 100 km/h in just 9 seconds towards a top speed of about 200 km/h (125 mph). And if you like, for an extra fees, the company will even fit a V6, V8 or even V12 engines, subject to extra fees of course.
The price of original Lamborghini Gallardo starts at 3.5 million and rises to 4.9 million whereas the new Aventador is for 6.45 million RMB but this copy, you can get for only 420,000 RMB or about €52,000 at today's exchange rate. You'll have to pay half up front and put up with a 5 month wait if you want one.