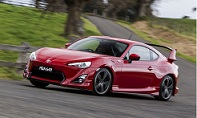 Toyota GT 86 receives a new body kit for improved aerodynamics
The car which has created thunderous hype this year has received a new aero upgrades which have proven to improve handling and stability in wind-tunnel testing. This new aggressively designed kit will be offered on GT 86 as factory option.
The kit is designed to reduce drag and increase downforce, all while maintaining the sports car's slippery 0.27 drag coefficient.
The complete kit consists of a new front bumper, side sills, a rear bumper skirt and a large rear spoiler, and most probably, similar upgrades will follow on Scion FR-S and the Subaru BRZ which are basically same cars with different tags and engines as per the requirement of the respective automaker.
Toyota has shown a number of performance upgrades for the GT 86 developed by its in-house tuner TRD and its motorsports partner Gazoo Racing. So far these have just been concepts, but the release of this new aero kit for public sale shows the automaker is open to offering genuine performance upgrades for the GT 86 and likely the FR-S too.
Some upgrades previewed in the past as concepts include reworked suspension, a high-flow exhaust system, light alloy wheels, sporty bucket seats and performance gauges. We've also seen a combination supercharger and turbocharger kit, which boosts the output of the FR-S' 2.0-liter engine from a stock 200 horsepower to more than 320 horsepower.