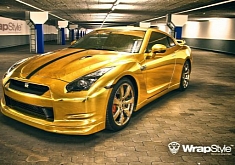 Nissan GT-R wrapped in Gold chrome
The days of paint are numbered and vinyl wraps will be taking over the cars completely in few years because of their obvious advantages over normal paint. In a wrap, you can take it off whenever you want and the when you're selling, the new buyer have no reasons to cry or believe that the car was involved in a accident and therefore, it was given a new paint instead of an owner just wanting to make their car look cool.
We have been seeing many cars in shiny, ostentatious wraps, mainly chrome and this GT-R wrapped in Gold Chrome by WrapStyle, a company based in Poland, for a customer in Dubai.
Hate it or like it, whats done is done as money doesn't guarantees good taste and this GT-R is no exception. Even the wheels and the windows have a gold tint to them, but we would have loved the wrap to be underpinned by a cool body with a huge splitter and a lowered suspension.