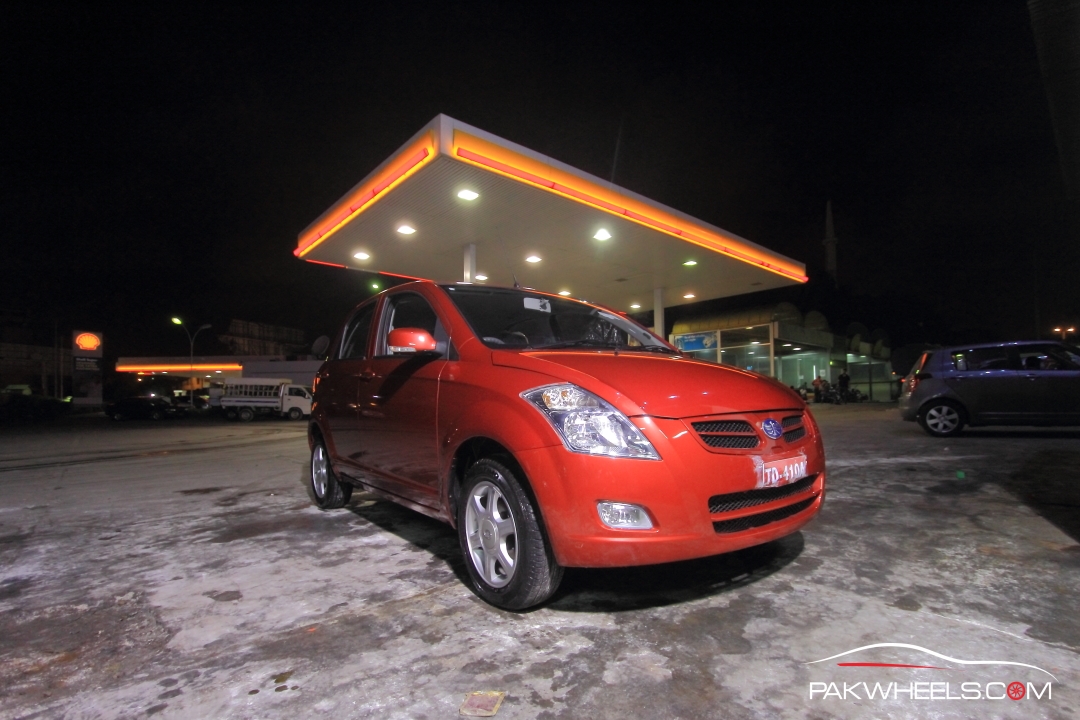 Driven: FAW V2 – The newest addition to the FAW line of passenger vehicles
INTRODUCTION
In Pakistan, people mostly select local new cars on three basis, 1. Resale, 2. Affordability and availability of spare parts  and 3. Reliability. In a market like this Al-Haj FAW Motors Pakistan (AHFM) – a joint venture between FAW Group, China and Al-Haj Group, Pakistan – has made a bold move by introducing a car for the commoners.
As promised at the time when we reviewed the Sirius S80 Grand back in July that we will be bringing an in-depth review of FAW's upcoming 1.3L hatchback, and here we are.
Editor's Note: We were approached by AHFM that they will soon be sending the test drive vehicles to dealers for public test drives and we should come and test drive the car before it goes public. We were given the Press Car so that we could test drive it for as long as we want. We drove it for about 350 kilometers over the period of 4 days to write this review.
Here's the FAW's V2 – the latest addition to AHFM's vehicle lineup for the Pakistani market. As we all know that FAW is a Chinese state-owned brand and the vehicles that FAW manufactures are mostly based on the platforms provided by major automakers of the world such as Toyota, GM, and etcetera because the automakers have to transfer their technology in order to sell their vehicles in China.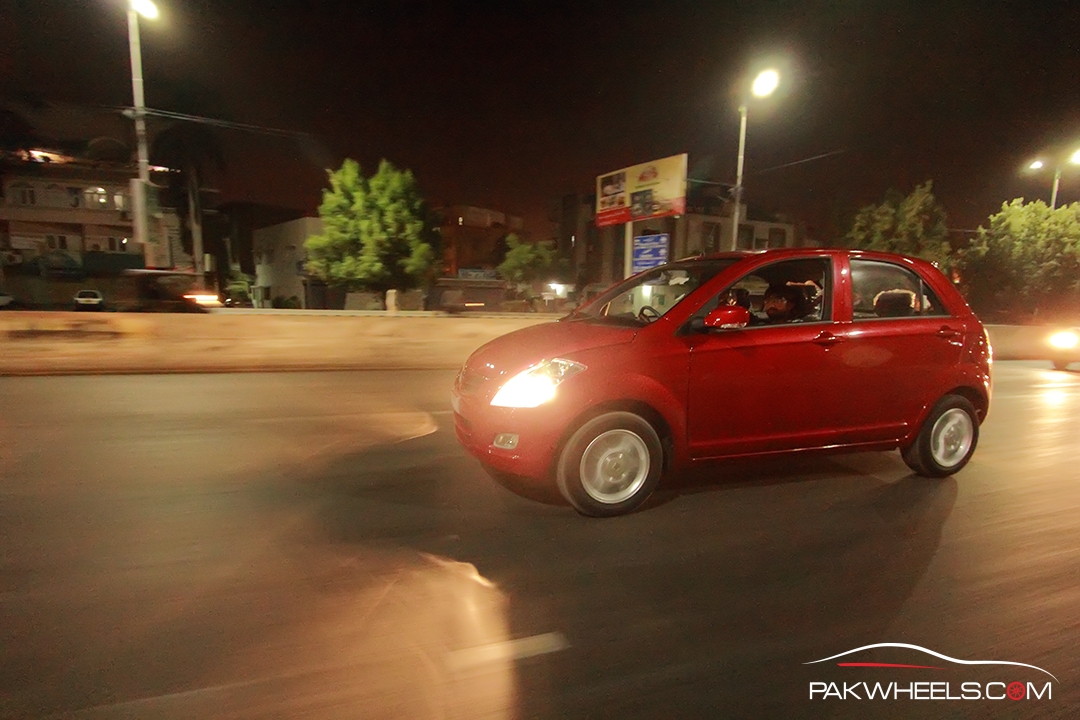 Similarly, the FAW V2 is based on the first generation Toyota Vitz/Yaris platform and is powered by a Euro-4 1.3L VCT-i (Variable Cam Timing) which is same as Toyota's VVT-i with a different name.
Without wasting words on the information you are aware of already, I will walk you through the different aspects of the vehicle.
EXTERIOR
In the department of looks and styling the V2 is just right. The car blends into the traffic pretty well and it doesn't look odd, like many Japanese Imported Cars look, which I think is good, but you may think differently. The looks are modern and we are used to seeing cars with similar looks. If you are into curves then the V2 will not disappoint you. It has curves, a lot of them.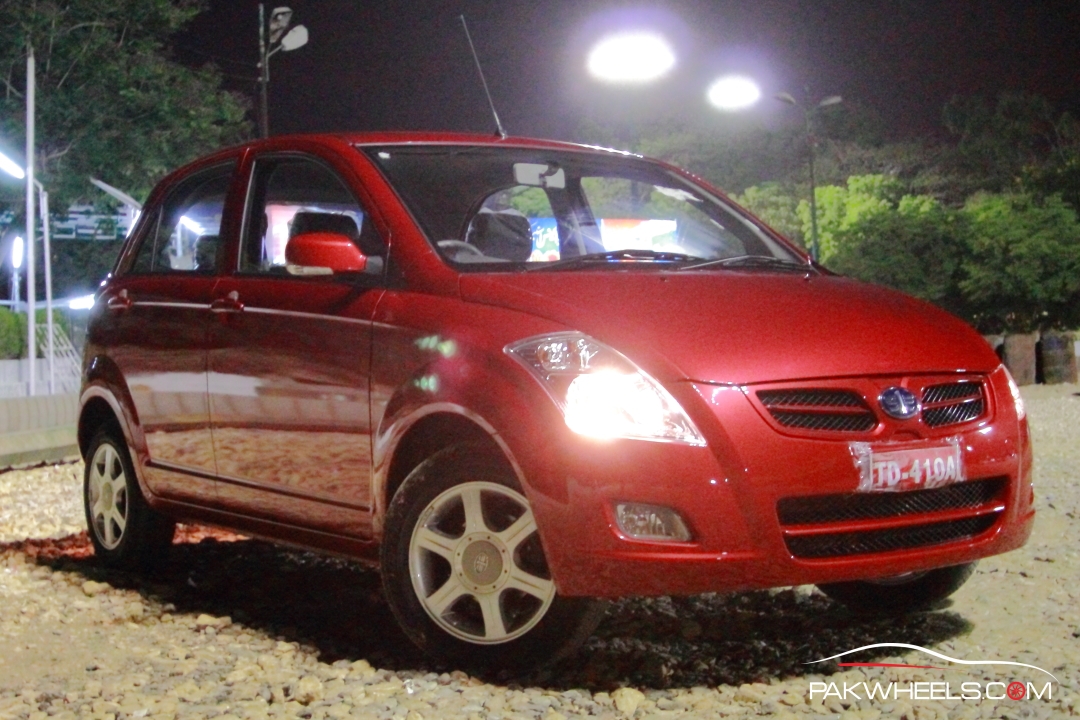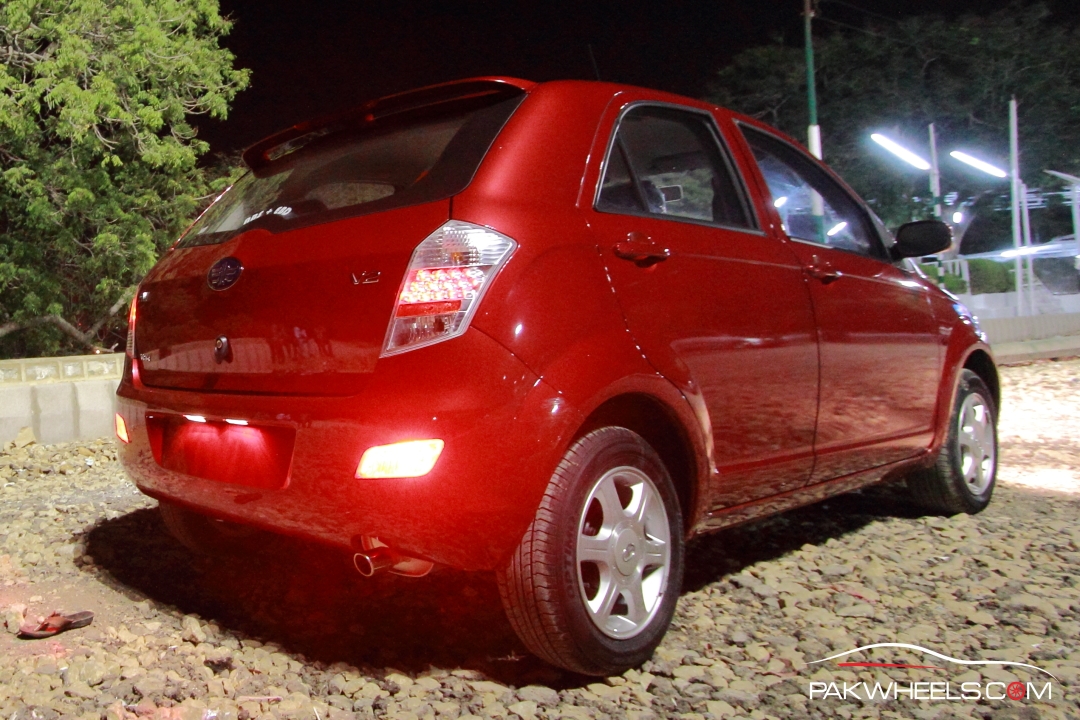 The headlamp houses the parking lamps and turn signals in it. The headlamps are adjustable, which means you can adjust the spread of the lights while sitting at your steering wheel with a small adjuster knob. There is a set of fog lamps in the bumper which is color coded and so is the front grill. Similarly, the rear lamps, which uses LEDs in them, have a single unit setup and they house the reverse lights and turn signals in it. The V2 also has rear fog lamps in the bumper, which is nice if you travel on the motorway often in the season of fog. The fog lamps compensate for the missing rear screen wiper which the V2 does not have.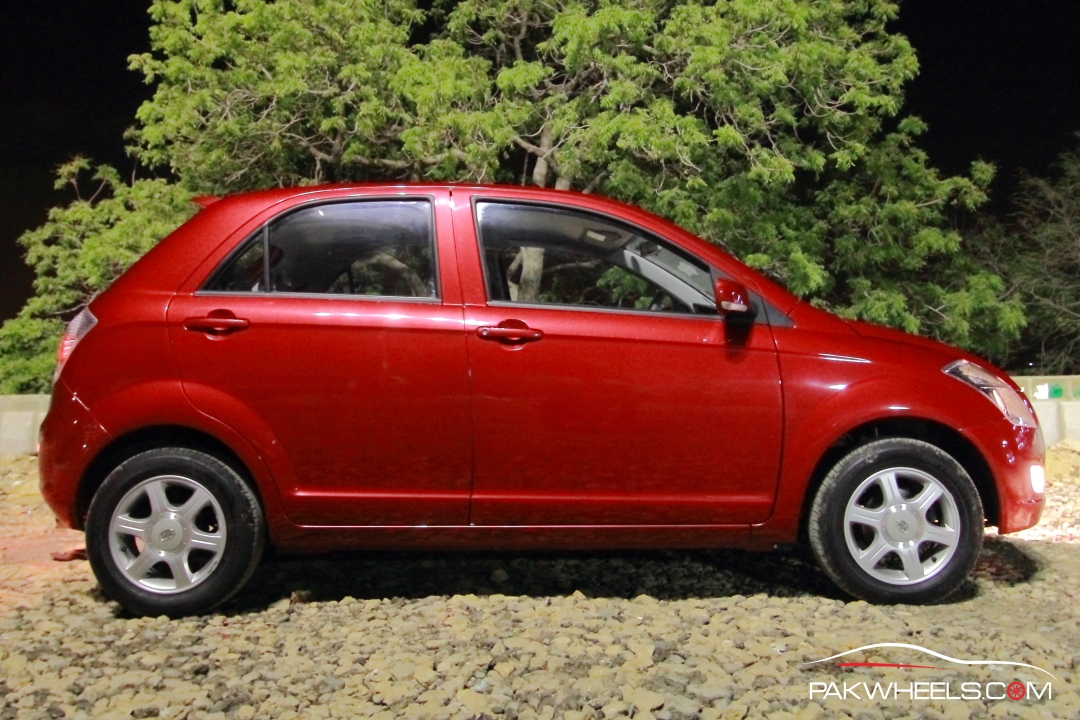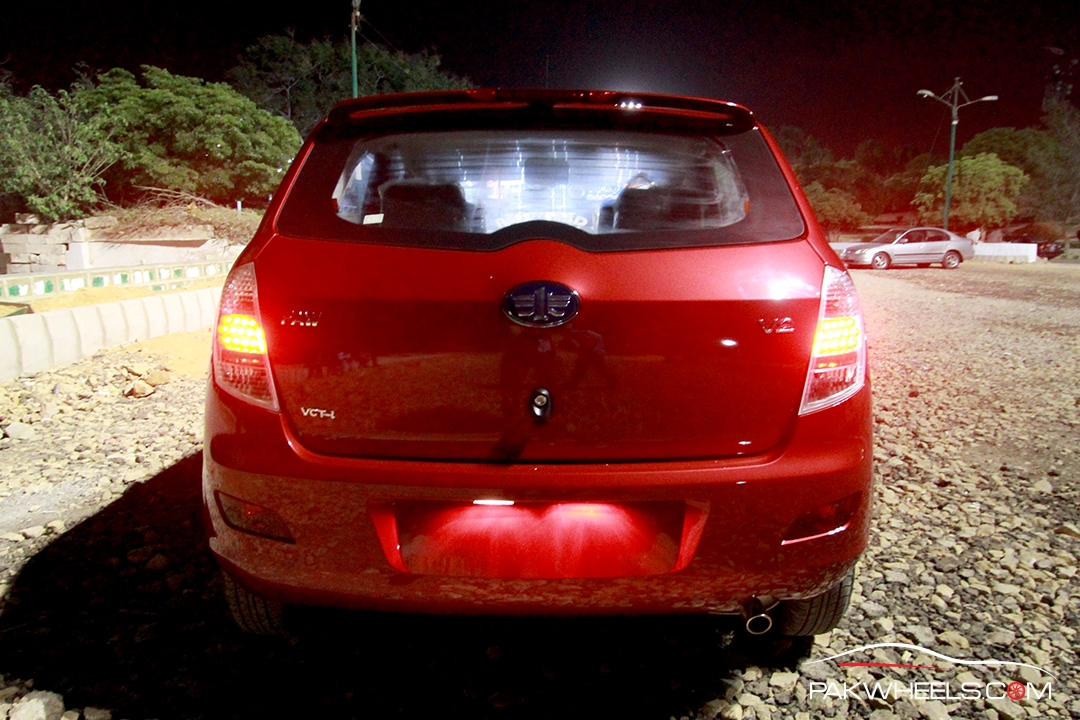 The door handles and the side view mirrors are color coded. The side view mirrors are powered and have integrated turn signals in them. V2 also has 14 inches, 6-spoke aluminum alloy wheels as standard.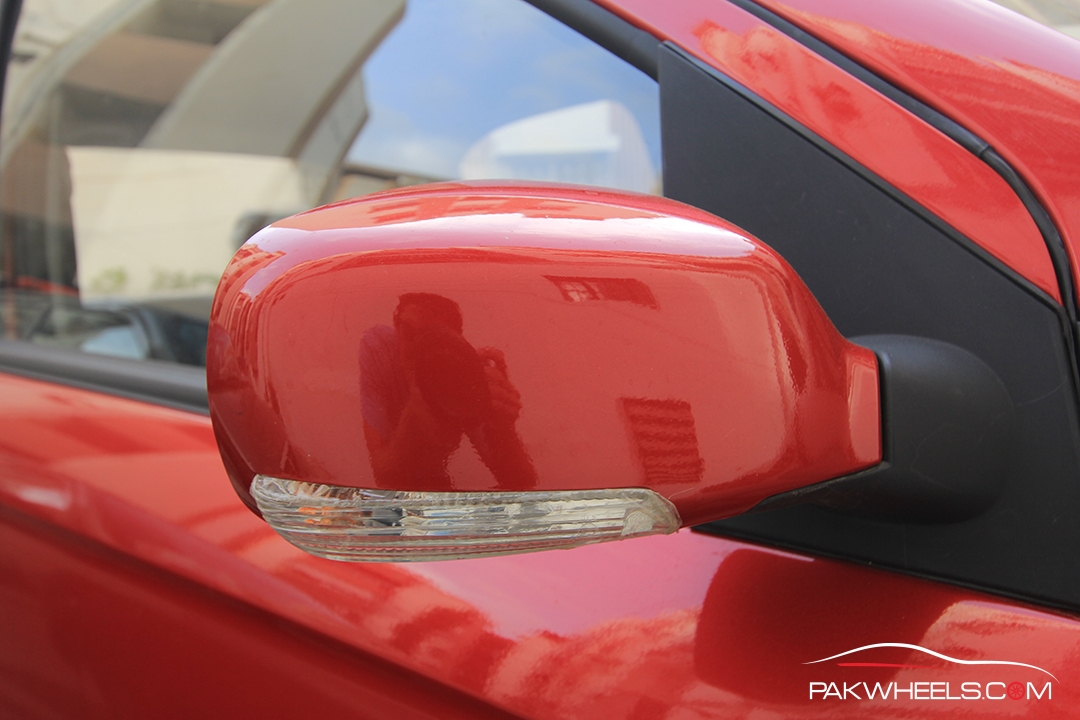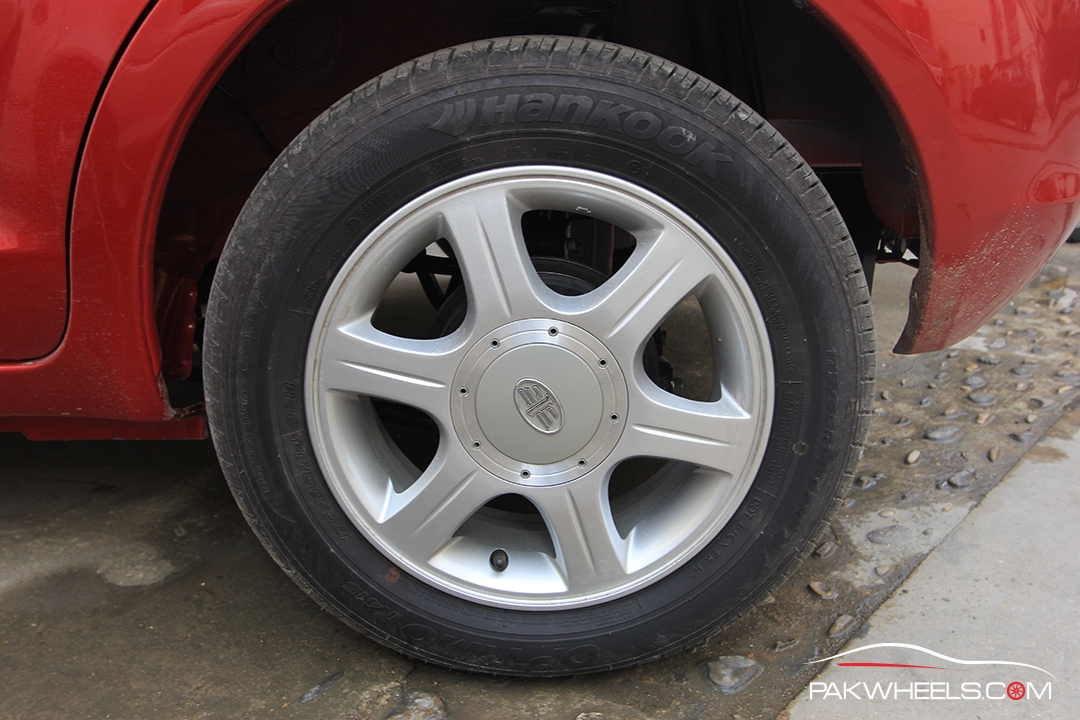 The door rubbers were flimsy. They were loose in their respective channels and seemed prone to get damaged easily. If we come to the quality of exterior then the paint job is pretty neat with no blemishes or anything. The fitting of bumper and the alignment of other body parts was up to the mark.
INTERIOR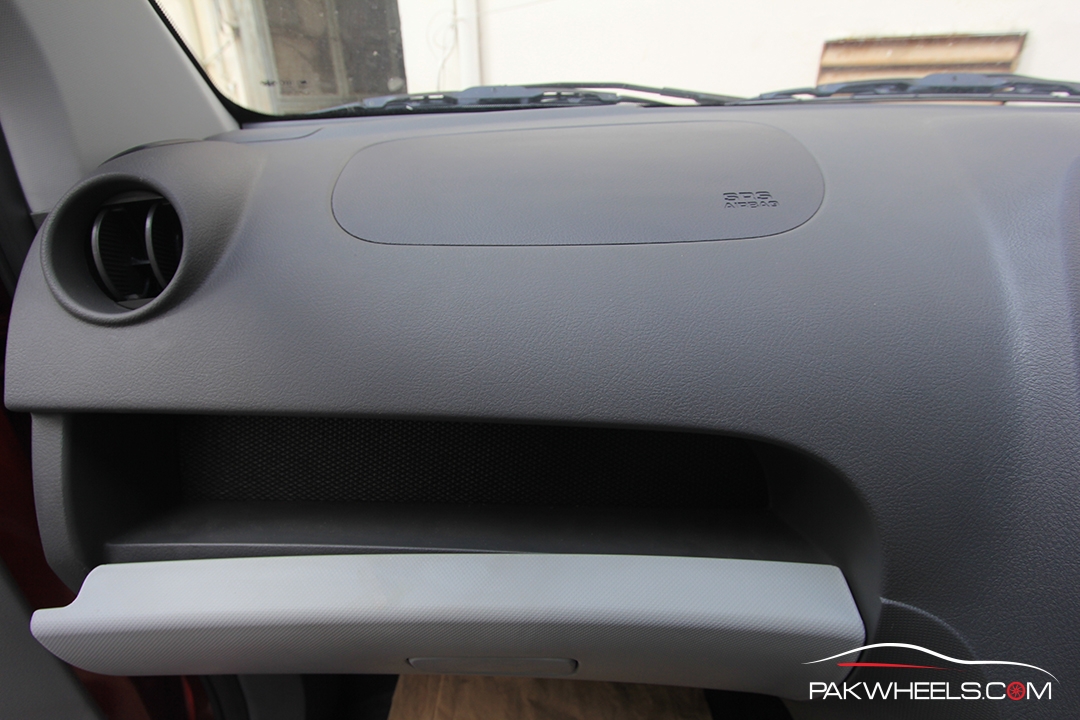 As much as we liked the exterior of the car, the interior told us you cannot have everything in this world. The two-tone silver and gray interior of the car speaks the language of Plastic. The plastic used looked mediocre and the interior fittings were not perfect. The glove box required an extra effort to close. Closing it completely with one hand was impossible if you are sitting at the driver's seat. You need to use both hands at the edges if you want to close it properly. Pressing the horn on the steering wheel also required us to exert some amount of pressure on it otherwise it would only make a clunky sound of plastics touching with no sound of a horn anywhere.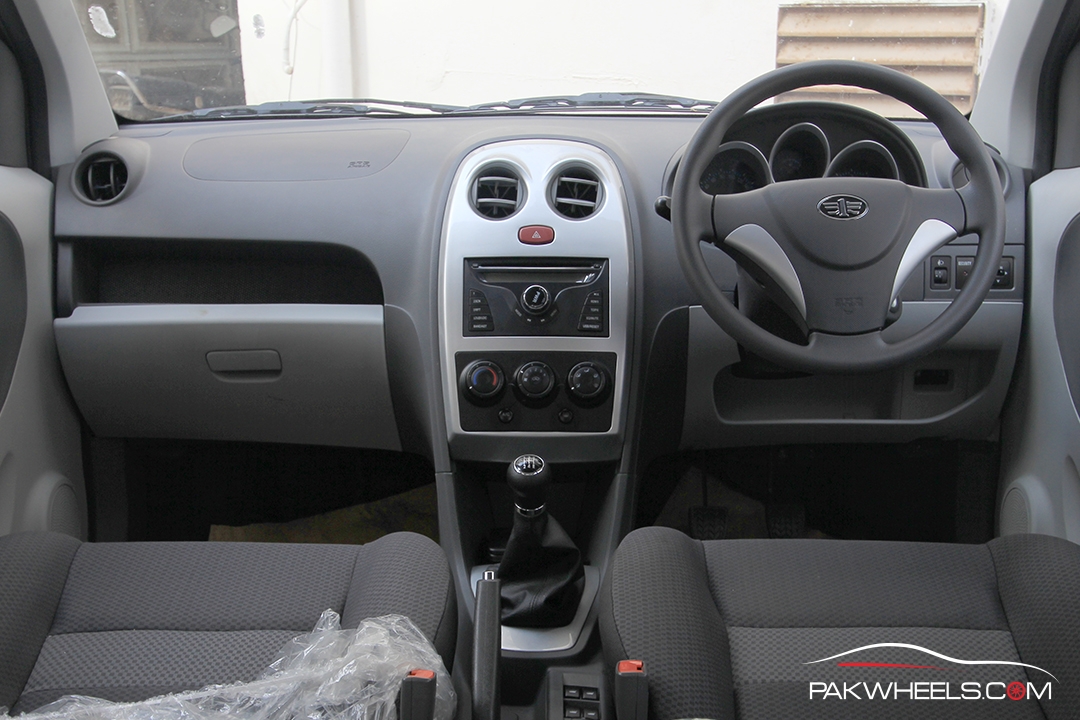 There was no interior noise on bumpy roads, as you would expect from any new car. The wind noise at high speeds was prominent, it seemed like a fitting issue rather than a manufacturing fault in our car. The 4-speed blower made considerable noise when you set it at speeds of 3 and above.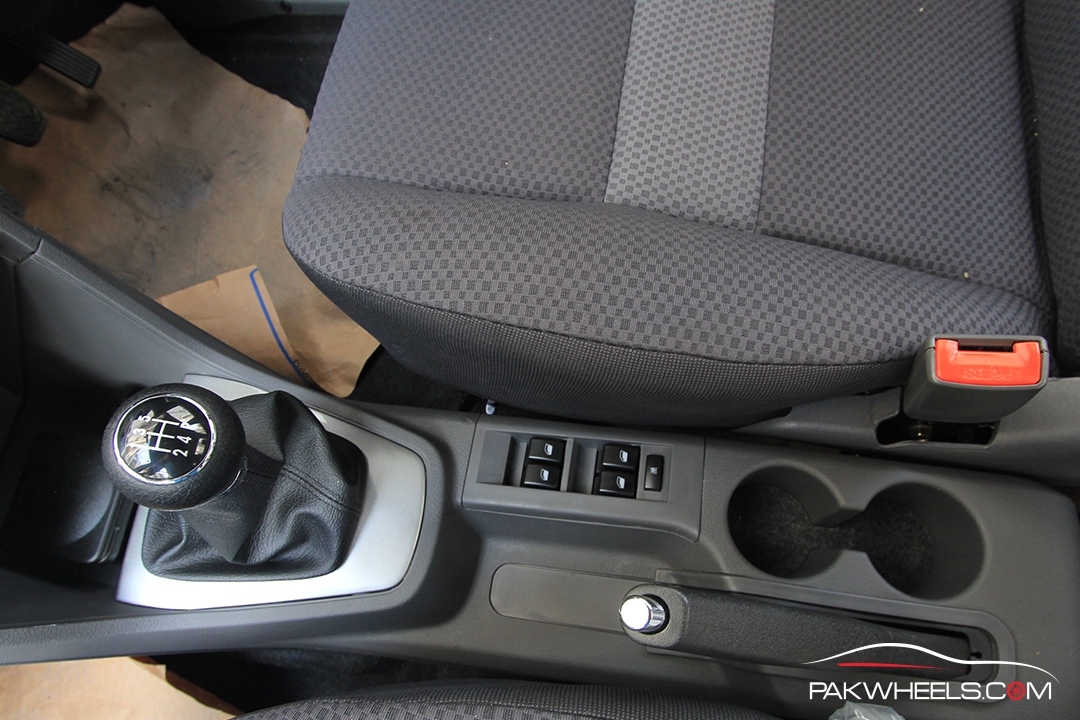 The position of main power window control is practical. It sits just beside the handbrake lever making one main control useful for both the driver and front passenger. There are independent controls for rear passengers, as there should be. There was a slight delay in response time of power windows. It takes a little practice to adjust them according to your will.
The cluster has a tachometer, an odometer, one trip meter and the usual fuel and temperature gauges. The placement of fuel and temperature gauges made them very hard to read in the daylight, however there was no problem reading them in the night. The overall cluster looked better in the daylight than at the night which is opposite of what normally happens due to its plain green conventional lights like we used to have back in the 90s.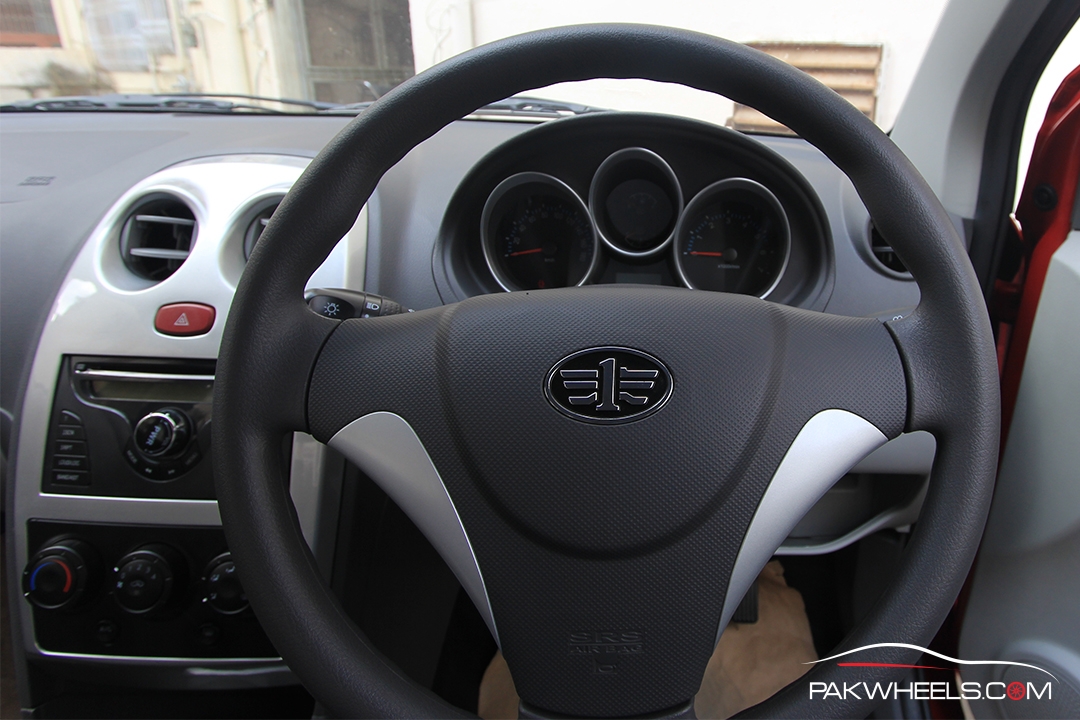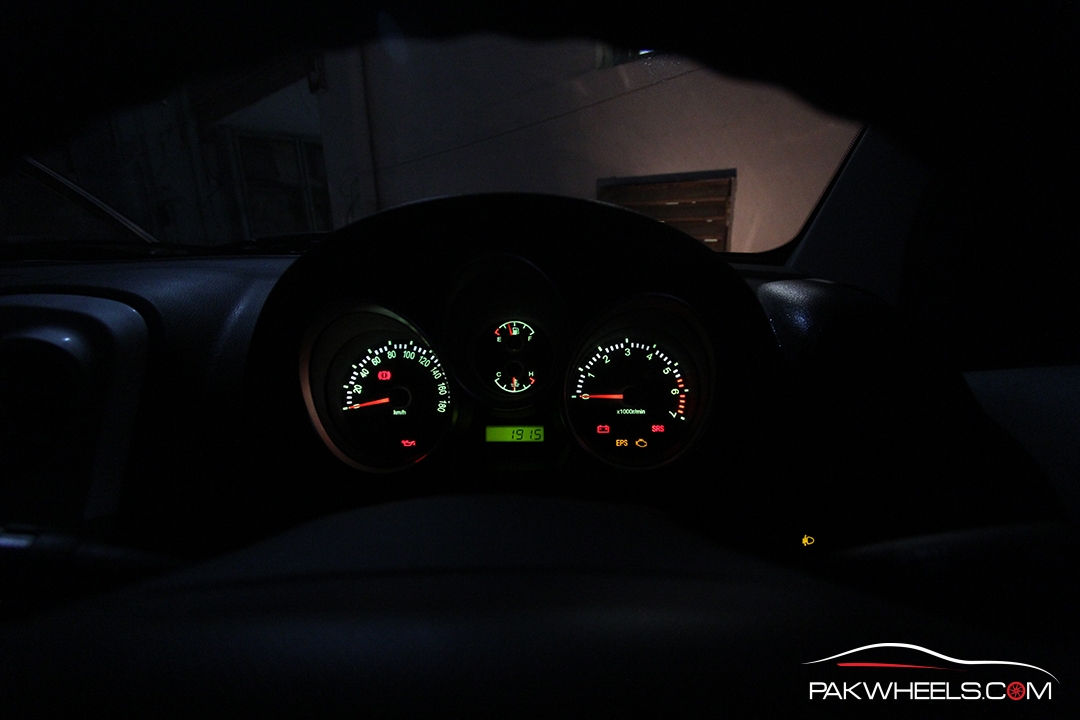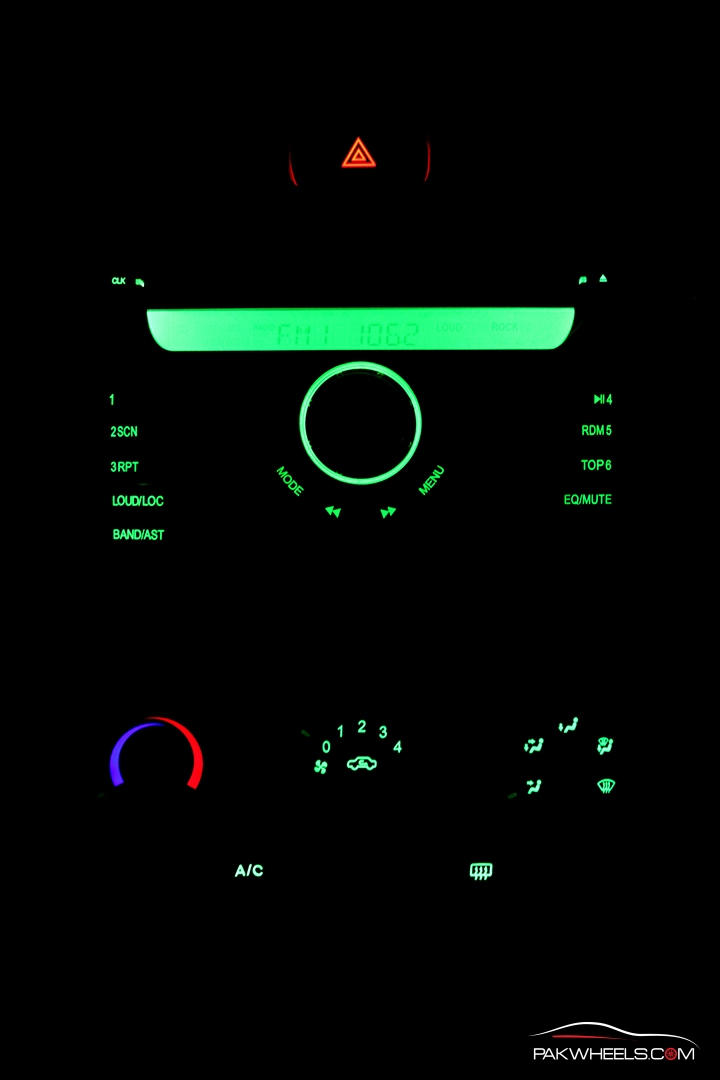 The rest of the interior lightings were of bright green color. Although the preference of color is very subjective but we find these lights very ugly.
In the department of in-car entertainment, you have a USB and MP3 player with a set of speakers at the front. You wouldn't like it if you are an audiophile, but it gets the job done.
The lights and wiper assembly is opposite, which means there is a 100% chance that you would turn on the wipers if you are trying to give a left turn signal, unless you drive a German.
It has fabric seats and ample cushioning, which provides a very comfortable sitting position, as well as expansive leg space, but I will cover that in the comfort section below.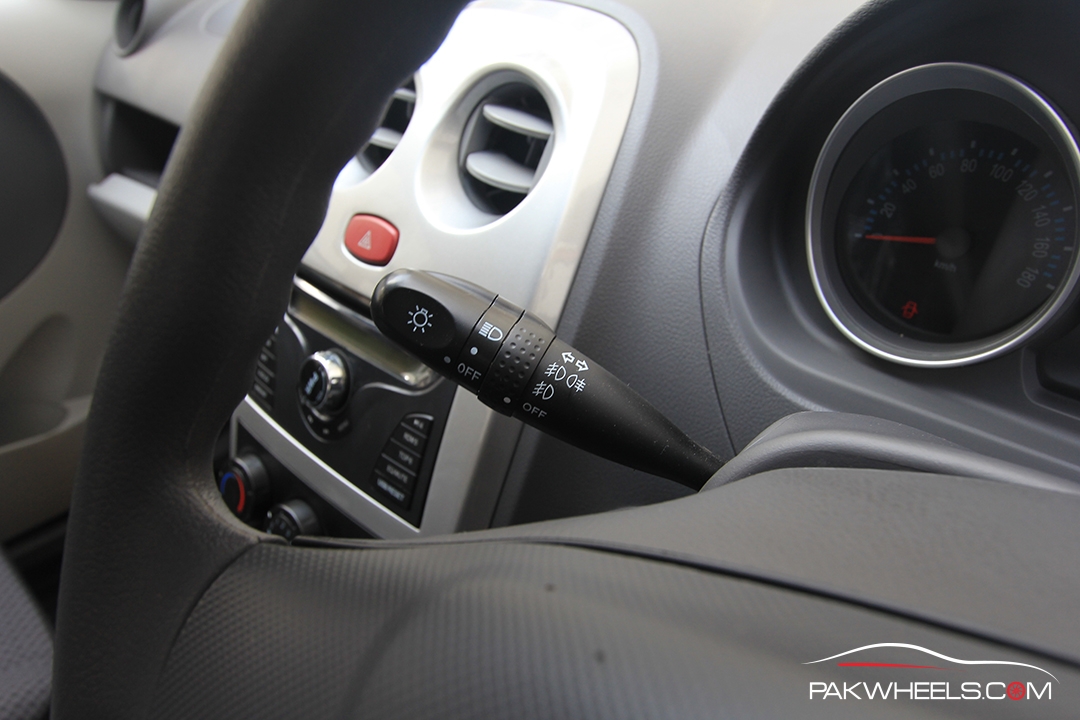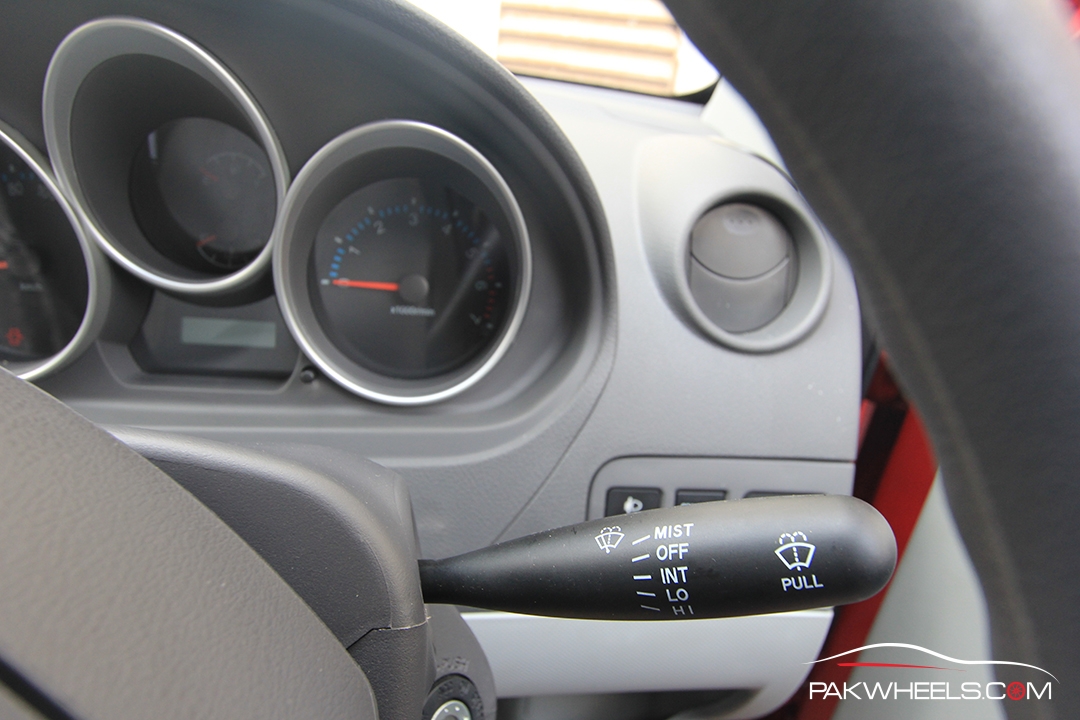 PERFORMANCE
When I found out that the car is based on the first generation Vitz I was already sold on the performance of this car. I have driven a Vitz 2003 1.0L in the past. It had an automatic transmission. It never felt underpowered even on CNG with 5 people on board, so I was confident and the V2 will not disappoint me.
I was not disappointed. The car was an absolute treat to drive. The 1.3L (1298cc – tax benefit) engine produces 90 horsepower at 6,000 revs and 120 Nm of torque at 4,400 revs; couple that with a 5-speed manual and an electronic throttle and you got yourself a nice pocket-rocket given the weight of the vehicle.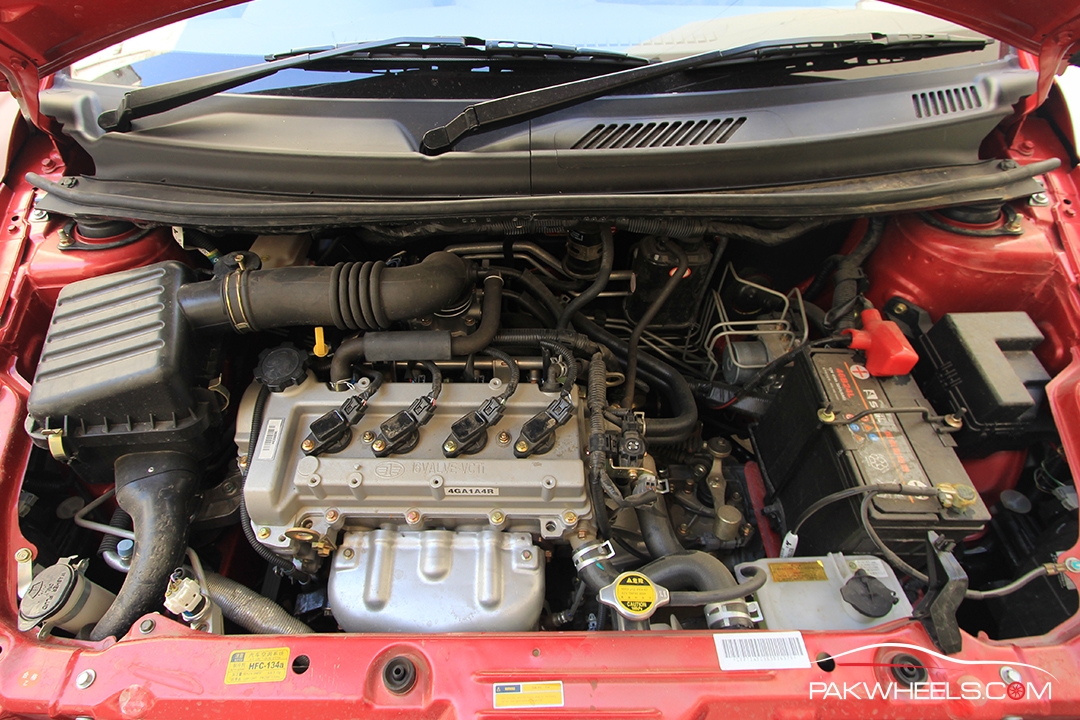 Acceleration was smooth and the car did not hesitate even once when I floored it. The throttle was responsive, as it should be given the drive-by-wire technology is there instead of the mechanical one. Although it felt a bit short on low-end torque, but it is expected from any car which has a 1.8L or smaller engine so it's not a quirk but merely a feeling.
The brakes were not as effective as I was hoping, given that I was mentally comparing it with Vitz, but they were not that bad. You have to exert a little force on the pedal for them to work normally. Maybe it was the EBD (Electronic Brake-force Distribution) working with a different configuration but I had to press the pedal hard. The ABS worked flawlessly and under heavy braking it let me easily maneuver and steer the car without locking up the wheels. We found the handling and road grip to be very good.
We managed to get a 12.5 KM/liter in city driving conditions with a normal foot on the pedal. When we put the pedal to the metal (beware: there is no fuel-cut at redline so do at your own risk) it gave us an economy of 8.75 KM/liter, which I think is pretty good considering the car was running with AC on all the times.
The performance of the AC was decent too. Even in the scorching heat of Karachi it was performing well above our expectations, the only gripe about the AC was the noise of the blower.
COMFORT
Comfort wise the V2 is pretty solid given its competition. The interior is roomy, in fact very roomy. We did not feel cramped inside the vehicle. The car provides enough leg-room and head-room at both front and at rear to seat four 6-feet tall adults without any of them complaining. It's the roomiest in its class. Although the car is designed as a 4-seater; seating 5 adults in the car is not painful.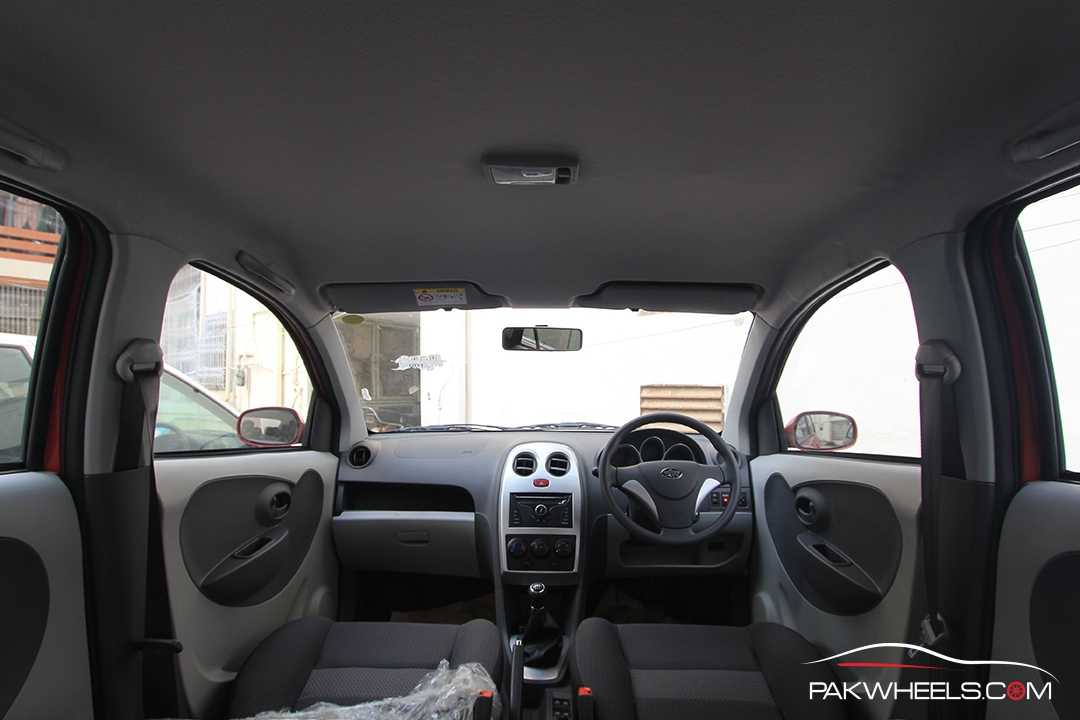 When it comes to buying a car, we tend to look at how the car's suspension takes the damaged, always under-construction and bumpy metal roads of Pakistan. Also, having a high ground clearance is a must if you happen to visit your village every once in a while. Surprisingly, the V2's suspension is slightly altered for that. The car handles bumps and ditches quite well while maintaining the ride comfort. You do not get any sudden jerk if you hit any potholes. Also, on metal roads the suspension does not rattle at both low and high speeds (15kmph and 30kmph respectively).
The V2 has responsive handling, thanks to its EPS (Electronic Power Steering) which makes it an easy to maneuver car in city traffic, and a small turning radius, which is the reason why we didn't get stressed out while taking the car into the congested areas of Karachi.
SAFETY
While many do not consider this an important aspect while purchasing a vehicle in Pakistan, which is evident from the fact that Suzuki Mehran used to have seatbelts as an optional accessory a few years back, we consider this very important.
If you are like us, who consider safety as a paramount aspect while buying a vehicle, V2 is a car for you. It has front and rear seatbelts, dual (driver and passenger) airbags, ABS (Antilock Braking System), EBD (Electronic Brake-force Distribution) as standard along with many other safety features which you can read in the attached spec-sheet.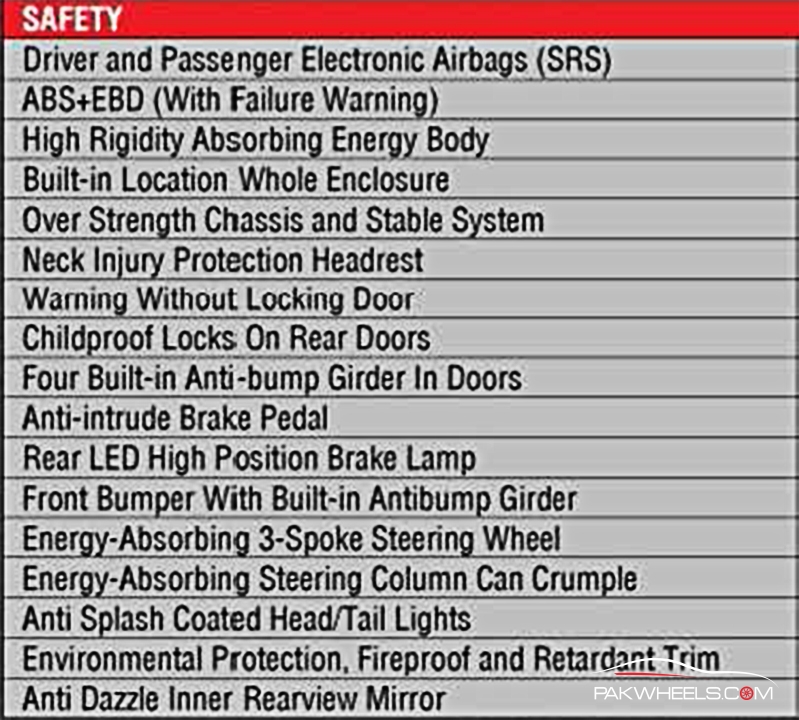 VERDICT
If you are the kind of person who selects car on the basis of resale value then this car is not for you as FAW has just introduced its first passenger car in the market and it would take some time for them to gain confidence and build resale of the brand.
However, if you are the kind of person who wants a feature rich car, gives importance to value for money and changes car after every 4-5 years then you may want to give this car a thought while selecting your next vehicle.
The V2 has a price tag of Rs. 1,049,000/- ex-factory and you don't have to pay the advance income tax on it as it is a CBU (Complete Build Up) or imported unit.
If we compare that with its main competition Suzuki Cultus – which costs roughly Rs. 1,064,000 (including advance tax and metallic color charges), is almost a 20 year old technology with a 1000cc engine and does not even offer power-steering, and Suzuki WagonR VXL – which costs roughly Rs. 1,119,000 (including advance tax and metallic color charges) is also 1000cc and doesn't even offer allow rims in that kind of price, then I think V2 is a better option, considering FAW has a nationwide dealer network, is offering 2 years or 50,000 KM warranty and you can use parts from first generation Vitz for engine and suspension if you do not want to use 3S facility.
Many would compare it with Suzuki Swift due the features and configuration of the car but in my opinion Swift is overall a better car than V2. Keep in mind that Suzuki Swift roughly costs 1,382,000 including advance income tax and is not a direct competition to the FAW V2 given its price bracket.
If FAW can offer a stripped-down variant of V2 with a 1000cc engine at a price of Rs. 800,000 or less then I think it can easily fill the gap that Suzuki Alto has left in the market, as the replacement from Suzuki – The WagonR – is not very popular amongst the users of Suzuki Alto.
If I were to summarize my verdict in only few sentences I would say that the FAW V2 is a solid contender in the local market for new cars, which is primarily dominated by Suzuki. It has modern looks and technology. It comes with a 2 years or 50,000 kilometers warranty (whichever comes first) and is backed by a nationwide 3S dealership network.
If you have any further questions about the FAW V2, hit us in the comments section below and we would gladly answer as many questions as we can.
GALLERY