Suzuki Celerio, an urban car, which was first unveiled by Suzuki in 'Auto Expo 2014' in India. It made its first appearance in Europe in 2014 in 'Geneva Motor Show'. Celerio is a 4-door front wheel drive hatchback and known as a budget-focused city car. Suzuki launched Celerio considering the growing need for a fuel-efficient family car. Globally, Celerio is in direct competition with Honda Brio, Chevrolet Beat, Ford Figo, and Nissan Micra Active.
Exterior
Suzuki Celerio has a curvy exterior. In fact, its exterior styling is termed as CICO-Curve in Curve out styling. The car has a sleek, vibrant, and aerodynamically better exterior. Celerio has sporty alloy wheels, which give it a distinct look at the road. Front fog lamps, ORVM-Turn indicators, and refined exterior are few of the salient features of Suzuki Celerio. This car is available globally in different colors that include Glistening Grey, Pearl Arctic White, Sunshine Ray, Silky Silver, Blazing Red, and Cerulean Blue.
Following are the dimensions of the Suzuki Celerio: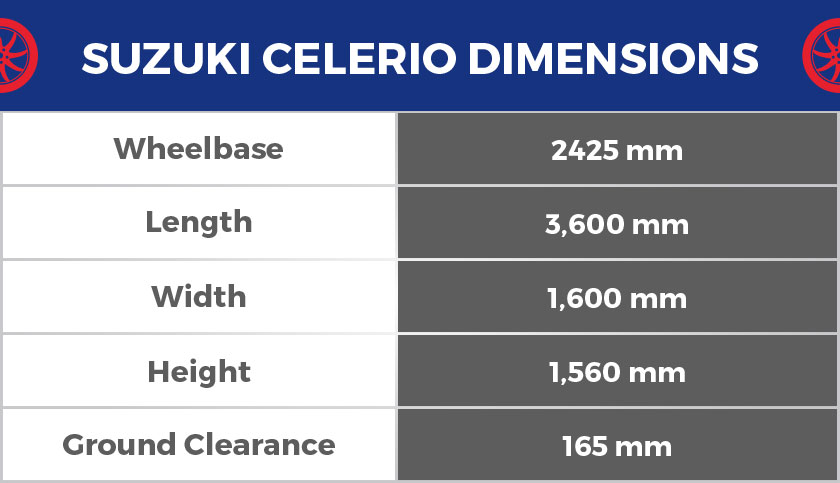 Interior
Celerio has a large and spacious interior. Spacious headroom, legroom, shoulder room, and a large boot space make the interior quite comfortable. The steering of Celerio adjusts only for height (not for reach), which might cause inconvenience for some drivers. The sweptback dashboard is quite straightforward. Although the interior design is simple and user-friendly, but the quality of the interior is quite ordinary , especially of the Indian version.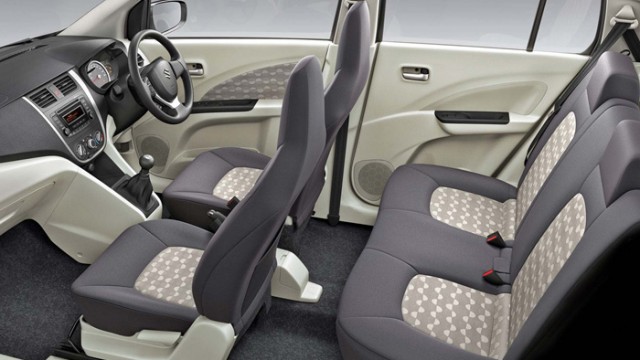 Engine
Celerio is powered by 1.0-liter three-cylinder petrol engine, which is also known as the K-next engine. It produces 67 BHP @ 6000 rpm & 90 Nm of torque @ 3500 rpm, which might sound a bit feeble but it is enough for Celerio. The car comes with 5-speed manual and 5 speed AMT (automated manual transmission). AMT technology, named as EZ drive by Suzuki, lets the driver change the manual gears without using the clutch pedal.
Suzuki claims that Celerio gives a fuel economy of 23.1 KM/L.