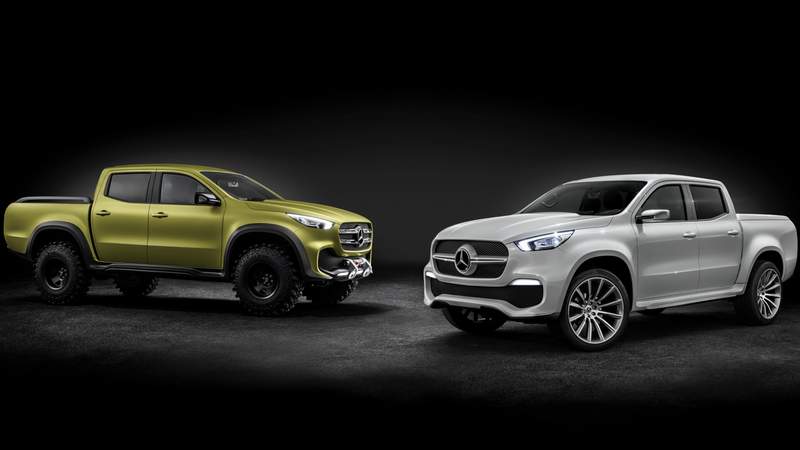 Mercedes-Benz: X-Class Pick Up Truck – A Concept
Well, few things do not go together, like for example, fire and water. Same goes when we think about Mercedes and a Pick Up truck. If you visualize a pickup truck in your mind, you will frame it for its workaholic attitude, an off-road, all weather, all terrain shabby looking rugged vehicle running around construction sites, carrying heavy loads. Mercedes has been involved for many years as far as freight-line trucks and buses, but a pickup truck was never on cards up till now. Back in 1970, Mercedes made a few small truck looking vehicles made to order, which were based on Mercedes-Benz 220 D sedan chassis. The idea was taken after the success of UTE in Australian market, which is essentially a car minus two rear doors, but with loading bed. Mercedes 220D Pickup was more of a car with open back end for haulage and was restricted to the paved road use only. The truck was not a success and therefore its production was discontinued.
Pickup trucks and SUV's market has increased many folds over the last few years due to their utility. New midsize pickup trucks in markets are now more refined inside and out,  with improved comfort, better handling, safety and buyer taking them over cars due to being multipurpose vehicles. By 2025, the mid-size Pickup truck market will swell to around 2.8 Million units, which is a huge number. German premium luxury brands have taken over cross overs and sports utility vehicles segment by storm but something in the form of Pick-Up Truck was lacking. Mercedes, a car brand name known for its luxury and refinement was working on one such vehicle since quite a while.
Today Mercedes revealed the "Concept" of the upcoming truck at Stockholm. The production model will be the end product of a Daimler and Renault/Nissan joint venture, as it is basically based on Nissan Navara truck platform. Mercedes joined hands with Nissan, which has around 80 years of knowledge in building pickup trucking. As of now, Mercedes will be the first German premium car brand which has jumped into this vehicle segment. Mercedes will name the upcoming truck a "X Class" and will market with a slogan "A New Kind Of Tough" .
CEO of Mercedes Benz, Dieter Zetsche said: "With the Mercedes-Benz pickup, we will close one of the last gaps in our portfolio."
The concept X class was showcased in two flavors on the stage today, named as "Powerful Adventurer" and "Stylish Explorer". As can be seen in the picture and names suggest, the truck with the yellowish exterior paint is designed for off-road adventure with huge off-road tires and winch on the front and increased ground clearance. While the concept in white is more of stylish; the exterior is with beautiful wheels and huge rectangular LED taillight integrated around the tailgate. On front, both concept models truly depict the current Mercedes line up. The production model will most likely be the mix of the two concepts just released.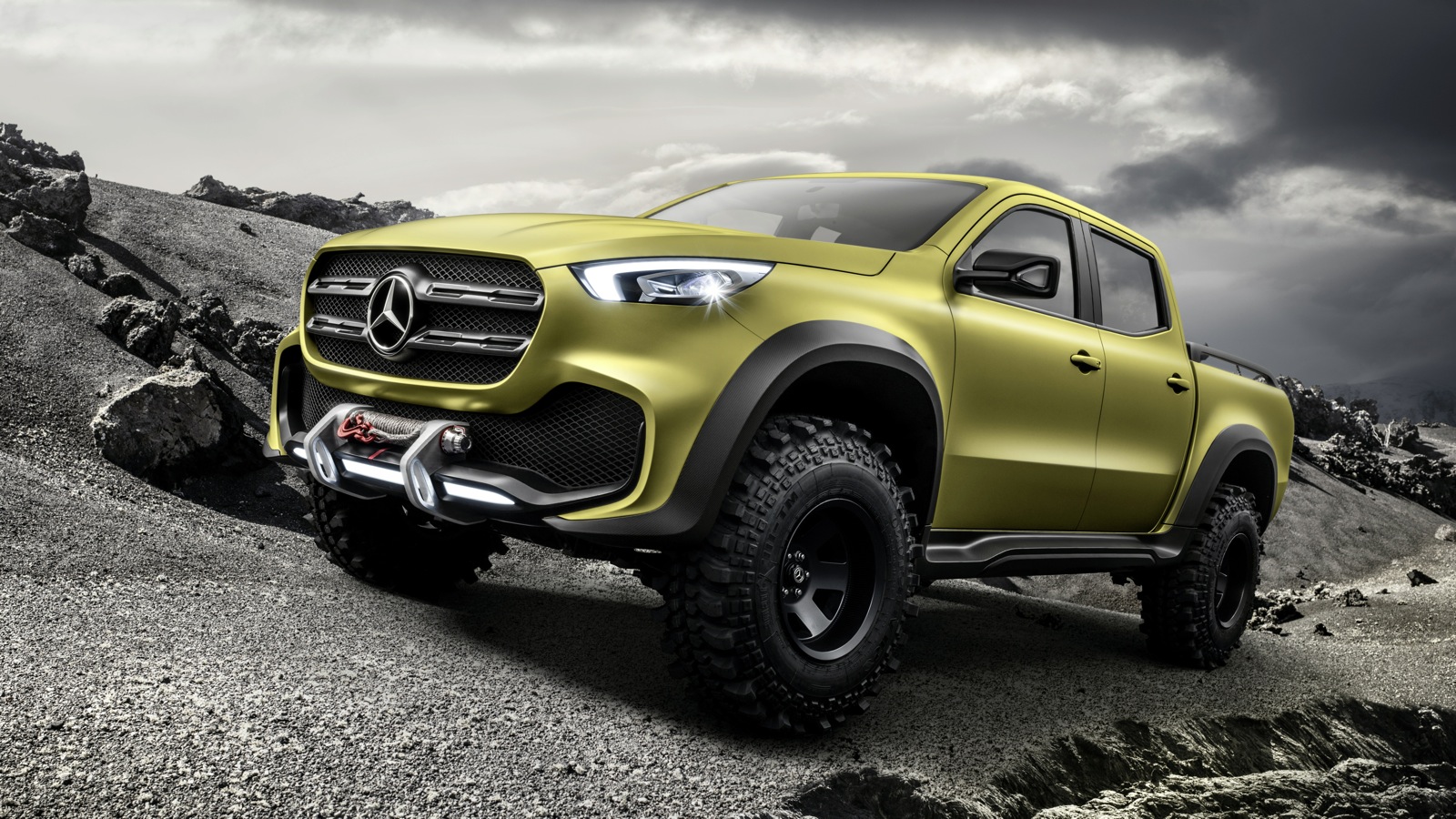 As mentioned earlier, the X-Class will be built on the same platform as the current Nissan NP300 Navara. Although in terms of size and architecture, it will be a Nissan pickup truck yet we all know Mercedes has its brand identity and it will be applied here as well; and X class will not look like an ordinary truck. On the exterior and Interior, expect premium materials, technologically advanced equipment as far as safety and infotainment are concerned. The interior images of the concept reveal the same and like exterior, the interior is also following the current dashboard design of the other Mercedes products. Mercedes did not share any details on the engine line up but it is expected to release a number of engine options, both in diesel and petrol. All the variants will be all time 4-wheel drive and will be able to carry a load of 1.1 Tons [1100 Kg's] and towing capacity of 3.5 Tons [3500 Kg's]. According to Mercedes, there will be dynamic rear axle with spring dampers to cater for on and off-road driving comfort. Well I don't doubt Mercedes' Off-road capabilities as we all know how good the G Class SUV is; so rest assured, we might see a little bit of that DNA in this upcoming pickup truck, although it will still be a Nissan platform.
As per Mercedes, the X class will hit the showrooms by the end of next year [2017] with target market of Australia, Brazil, Argentina, South Africa and Europe. Production will be carried out on Nissan's or Mercedes' own assembly lines depending on region of sale/market. Mercedes has no plans to bring the X Class to US soil, which is the biggest pickup truck market in the world, and is extensively dominated by Ford, GM and Dodge. The success of X class against the iconic midsize pickup trucks from Toyota, Nissan and Mitsubishi [which will now operate under Nissan alliance] in the subject markets with their long history and reliability, is still a question, and we will only know it after 3 to 4 years from now.
From Mercedes, we can easily expect a price point little higher than the competition; so as a potential buyer, will you go for a Luxury brand name or choose one from the established players? Do you think a Pickup truck from all-time rivals "Audi or BMW" can be a reality?  Let's wait for the production model of "X-Class", which will definitely not be as flashy as the concept just released.
Nissan Nevera 300
X-Class Concept Reveal Video Below: