United Motors is all set to launch a brand new 800cc car and a 1000 cc pickup in Pakistan. The company is the 2nd largest bike selling brand in the country, and now, with venturing into the car manufacturing domain, it will surely diversify the local auto industry.
According to our sources, United Auto Industries will be launching the first variant of the new car in first six months (H1) of 2018.
Our sources have also revealed that United Motors (Pvt) Ltd has teamed up with a Chinese automaker to produce these two new vehicles for the Pakistani consumers. The company is building its own production plant in Lahore which is near to completion and I think this step is promising for local automobile market. The company will market its products with local brand name "UNITED".
United Auto Industries is aiming to attract consumers who buy 800cc cars like Suzuki Mehran with its new hatchback. On the other hand, the United pickup will be an addition to an already highly competitive under-1000cc loaders/pickups segment.
Also Check Out: Cars for Sale in Islamabad
United Motors is also looking for interested 3S dealership candidates for their new vehicles.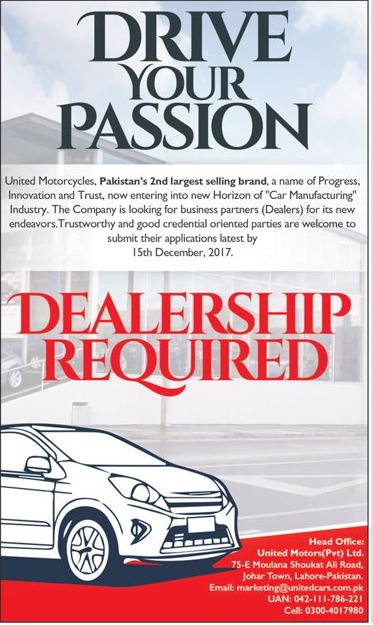 In my opinion, the launch of the locally manufactured car will bring about significant change in the local car market; more options will be available to people to choose from. And keeping in view the progress of company's bike sale and production, it is safe to assume that the car too would do well for the company. Let us wait and see how consumers receive this new car and the new pickup.
Share your thoughts in the comment section below.