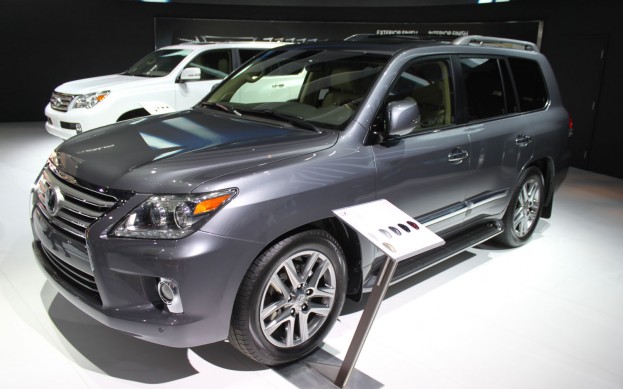 2013 Lexus LX570 facelift revealed at Detroit Auto Show
While most of the models revealed at the 2012 Detroit Auto Show gained a lot of negative comments by the auto-media when it came to their looks. Foreign (to the US) manufacturers also use Detroit Auto Show as a proving ground for their upcoming models and the Japanese did reveal quite a few concepts and production models, the worst of them of all was the Toyota NS4 concept said to show how the next generation of Prius will look like.
There were more revelations in the later days of the show with Nissan Pathfinder, Toyota Prius C, Acura RDX and the LX 570. The most luxurious 4×4 produced by Toyota's weapon against German luxury automakers, Lexus.
Toyota revealed the Land Cruiser facelift quite recently and now, the beefed up version of the Land Cruiser, called the LX 570 is here now with refreshed front and rear bumper fascias, while the new front grille is patterned after Lexus' new familial grille. The front clip now includes new LED daytime running lights, as well as a new headlight design.
Under the hood, as its name suggests, there is a 5.7-liter V-8 engine pumping out 383 horsepower and 403 pound-feet of torque. The power is sent through a six-speed automatic transmission and a full-time four-wheel drive system, which sends 40 percent of the power to the front and 60 to the rear.
Also, a new feature called Turn Assist can brake inside wheels during tight turns to decrease the its turning radius. When the terrain gets tough, the Lexus gets a Range Rover-like Multi-Terrain Select feature that allows drivers to tune the LX's suspension and traction control systems for the terrain at hand.
Moreover, now you can do some off-roading while being connected to the internet as the new LX 570 has ability to connect a smart phone and view and upload comments to social media website Facebook, as well as book restaurants, buy movie tickets and even listen to internet radio but that just proves that this isn't for your off-road dreams as mobile reception is very rare.
The updated LX570 keeps its eight-seat layout as part of the upgrade. However, it gets a fresh-faced look that dips into the growing Lexus "L finesse" design language, as seen on the new GS sedan, including a new-look grille flanked in redesigned headlights that include LED daytime running lights for the first time.