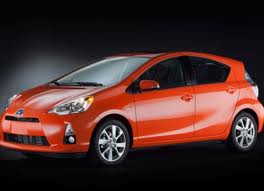 2012 Toyota Prius C revealed at Detroit Auto Show
American automakers are continuously pouring the Detroit Auto Show with their latest concept cars and next generation of models one reveal at a time and the Japanese do not lag behind either, the Honda revealed the, of what seems to be NSX concept, only uglier and now Toyota has revealed one of the most popular models in the America, the Prius.
The new car adds as a fourth member to the expanding family of Prius hybrid vehicles and for the time ever, takes the base price for a Toyota hybrid below $20,000.
While the car is considerably smaller than the traditional Prius 2012 mid-size hatchback, Toyota expects its combined EPA gas-mileage rating to remain the same, 50 miles per gallon.
The company is highlighting the Prius C's EPA city rating, which is 53 mpg, the highest achieved by any non-plug-in car sold in the U.S while the highway rating is 46 mpg, producing a combined 50-mpg rating. (The comparable figures for the 2012 Toyota Prius are 51 mpg city, 48 mpg highway.)
Toyota calls the 2013 Prius C a subcompact; it is 19 inches shorter than the standard Prius hatchback, 2 inches narrower, almost 2 inches lower, and uses a 1.5-liter Atkinson Cycle gasoline engine producing 73 horsepower, along with a 45-kilowatt (60-hp) electric motor-generator. Total maximum power output of the combined system is 99 horsepower.
As in all new Prius models, the driver can select among Normal, Eco, and EV drive modes. Toyota says the Prius C can cover less than 1 mile in electric mode, at speeds up to 25 mph.