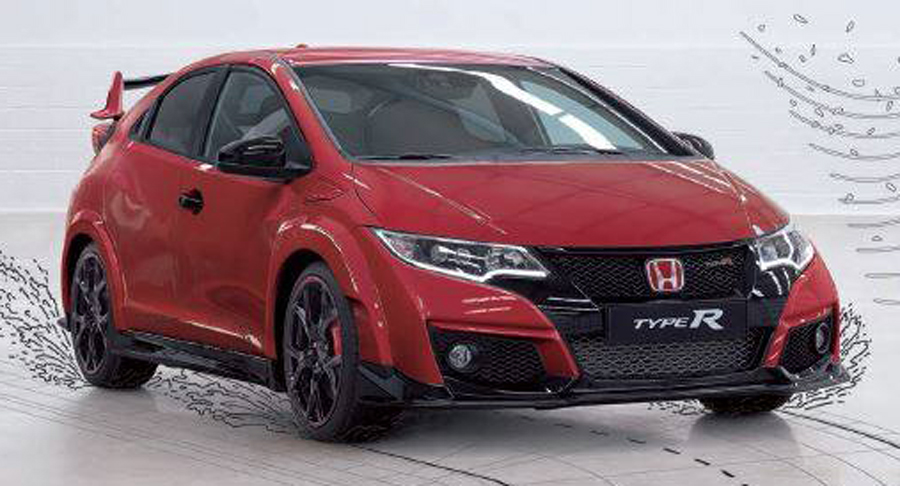 2016 Honda Civic Type R – This Is It
Geneva Motor Show is Europe's most prestigious and oldest international motor show. Many European car manufacturers as well as other manufacturers bring their new models on the stands there. We will be updating our readers as the show kicks off today. There are many cars under discussion among automotive enthusiasts which will appear on the stands but there is one car which can be said as an eye candy. This is the 2016 Honda Civic Type R hatchback.
The upcoming British built Type R caught testing under wraps many times in the recent months. Honda announced that the new Civic Type R can become the fastest front-wheel-drive production car around the Nurburgring. The Type R badge and an aggressive body style will automatically give you a  hint that there is something special in there. It will be powered by Honda's newly developed 2.0L i-VTEC  Turbocharged Engine with around an expected output of 280 hp. Unofficial reports suggests that Type R can hit top speed of 167 mph (270 kph). 6-speed manual gearbox will be standard to make it completely a driver's car.  With a press of a "+R" button , it will change the engine responsiveness by use of sophisticated computer systems which will upgrade the torque mapping to more aggressive settings and will increase the steering response as well as the firmness using the Adaptive Damper System in a split second. Being a FWD , torque steer is also an issue. To cater to this problem, Honda is introducing  'steer axis' mechanical system which will minimize the  torque steer and improves front end traction in the Civic Type R
The production model is ready for official reveal to public on March 5th but someone have got a few pictures which is now the most trending topic among the Honda lovers. It's defiantly an aggressive looking hatch but some features specially the rear tail light design is not as distinct and appealing as seen previously on the prototypes and the development mules caught while testing. One of the images is of a marketing pamphlet showing Civic Type R next to the face-lifted Euro Spec Civic hatch as well as Civic Tourer.
Honda is bringing the new Civic Type R into an already tough and very competitive segment of hot hatches such as the all time favorite Volkswagen Golf R, the new Ford Focus RS and the Renaultsport Megane Trophy-R. Lets see what Honda brings in with the new Type R for European markets. Honda says it has already taken pre-orders for over 100 units in the UK alone. No news on price as of yet.
What do you think of the 2016 Honda Civic Type R? Let us know in the comments.