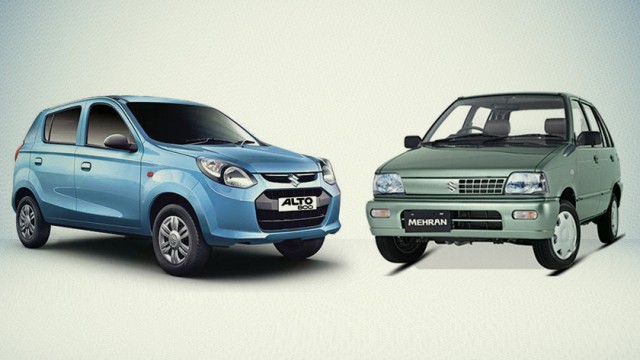 Maruti Suzuki has product portfolio of about 17 vehicles ranging from Gypsy and Omni to S-Cross and Baleno, whereas Pak Suzuki sells 11 products from Suzuki Ravi to Suzuki Ciaz.
Prices of some of the vehicles offered by both companies are:
Motor Vehicle
Maruti Suzuki
Pak Suzuki
 
Standard Variant
INR
PKR (Approx)
PKR
Alto/Mehran
331,000
530,000
802,000
51%
Swift
599,000
959,000
1,327,000
38%
Wagon R
415,000
665,000
1,054,000
58%
Ciaz
773,000
1,237,000
1,859,000
50%
Celerio/Cultus
404,000
647,000
1,124,000
74%
Omni/Bolan Van
261,000
418,000
730,000
75%
(Yes, I know I haven't added Vitara in the table, which is primarily due to the fact that Maruti is offering Grand Vitara and its offshoot. Both -Indian and Pakistani Vitara- are animals of different breed)
This analysis highlights the percentage of the price that Pakistani commuters are paying extra to the company due to lack of proper price control mechanism and absence of healthy competition in the automobile market.
The financial and operational performance of both the companies are summarized as follows:
Maruti Suzuki (June 2016)
Pak Suzuki (Dec 15)
INR
PKR (Approx)
PKR
Net Sales – Overall
563 Billion
901 Billion
84.54 Billion
Production Volume – Motor Vehicle
1,429,248 units
133,952 units
Profit  After Tax (Before:Dep)
73.93 Billion
118.3 Billion
6.8 Billion
Net Profit per unit (Approx)
83,000
44,000
Surplus Cash at year end
58.5 Billion
93.6 Billion
15 Billion
Total Assets
391.9 Billion
627 Billion
37.452 Billion
Why is MS earning more profit than PS though MS is charging less to its customer? The answer is MR is 88.64% is more efficient than PS in terms of per unit profit earned. There are two main approaches to increase your per unit profit and improve your efficiency:
Decrease your production cost
Increasing your product sale price
The first approach, decrease in production cost, is usually associated with production and other cost factors. While controlling your production cost without affecting its quality is, no doubt, a challenging task.
How to control your production cost?
There are different strategies and techniques that are applied in industries across the globe. Like Ford Motors is moving their small cars assembling plant to Mexico to lower labor cost and taxes.
MS achieved it by:
Using vision of its Board of Directors by not compromising on their quality, maintaining compliance with international standards and focusing more on Research & Development and making innovations and introducing new products
Highly skilled and experienced human resources which are supplied by their renowned universities and college; and
Favorable government policies like the recent initiative "Make in India" taken by Indian PM Narendra Modi.
MS's product price is also competitive in India, that locally manufactured vehicles are much cheaper than imported vehicles; hence the entry of foreign vehicles is reduced if not completely blocked.
The 'favorable govt policies' is comparatively very easy for an organization to achieve if there is a low competitive market. In such cases, govt loosens rules and regulation to control the prices.
The primary reason for PS's net gain of Rs. 44,000 per unit is due to its higher sale price rather than high efficiency. Suzuki Mehran and Cultus are a major contributor to PS turnover. There is no direct competitive vehicle available in the market to compete both of these hatchbacks, and there is a massive absence of an automobile regulatory body to monitor product costing and sale price. As a result, local auto manufacturers are taking the easy way out to generate more profits by increasing the price of their products.
Do PS not aware of reducing their cost to gain profit? Yes, they are but they achieve it by compromising on product quality. There is a glaring reality of no innovation and R&D by any auto manufacturer to support this claim. If you are still confused as what I am implying then consider the example of Suzuki Mehran, which is a car of 90′, not 2017.
So why apart from the absence of any regulatory body, are Pakistani consumers still deprived of modern vehicles? Part of its answer lies in sales figures and their close relationship with big turnovers. Since India is highly populated than Pakistan, which means higher customer demands and higher production. It would not be true to say that PK should increase their production up to 1.4 million per annum. But keeping in view Pak-Suzuki' market share, production capacity and the status of the only auto manufacturer to offer under 1,000cc cars in Pakistan, they should try to achieve an optimum level of production to benefit themselves as well as consumers.