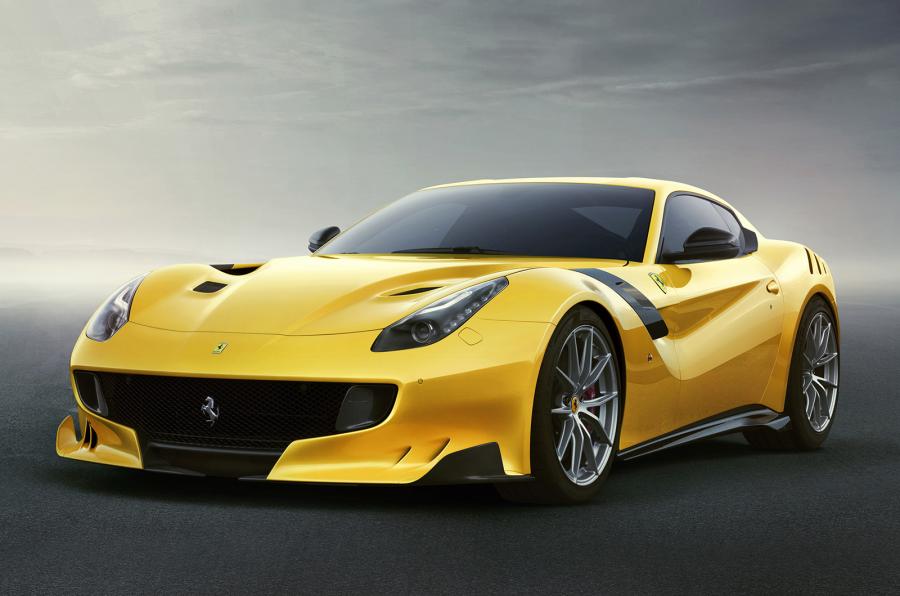 Ferrari Unveils The All New Track Focused F12tdf
We knew it was coming and its finally here. Ferrari has finally taken the wraps off its flagship track focused FR supercar. the F12 Berlinetta and it's called F12tdf. You take one look at the tdf and you know that it's built to dominate a race track. 'tdf' sounds like its some 'turbo diesel Ferrari' but we assure you, its not.
The F12tdf pays homage to the legendary Tour de France road races that Ferrari won between the 1950s and 1960s. Ferrari said:
"Its the ultimate expression of the concept of an extreme road car that is equally at home on the track"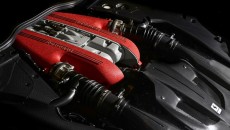 To give you an idea of just how powerful the tdf is, here are some headline figures. The car's 6.3 liter NA V12 has been tweaked and upgraded with race-inspired mechanical tappets and variable-geometry intake trumpets; that's technology you find on Ferrari's F1 cars. Long story short, its engine produces a massive 770 bhp and 520 lb-ft of torque. And 80% of which is available at just 2500 rpm. All this means, it can now reach a top speed of 211 mph and do 0-100 km/h in just 2.9 seconds, which is partly due to the revised dual-clutch automatic transmission, which now features 6pc shorter gear ratios that deliver 30pc faster upshifts and 40pc faster downshifts. The brakes are taken straight from the Ferrari LaFerrari making the F12tdf stop from 100km/h to 0 km/h in just 30.5 meters. New 20-inch lightweight alloys will allow greater lateral acceleration through corners.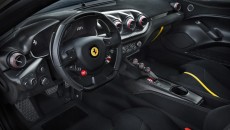 And it isn't just the internals that have received massive upgrades. On the exterior you now get a brand new bodykit that features a longer and higher rear spoiler, larger air vents to channel air flow along the sides of the car and a redesigned rear diffuser. The car is now able to generate up to 30pc more downforce compared to the standard F12. F12tdf is 112 kg lighter because of all that carbon fiber. Inside the F12tdf all the luxuries you found on the standard F12 are now gone. The door panels are carbon fiber, the cabin is Alcantara instead of leather, aluminum plates replace the floor mats and even the glove box has been removed in place of knee padding – all of this to remind you of the track focused nature of the F12tdf.
"The F12tdf is a concentration of technical innovations which involve all those areas central to Ferrari's DNA: engine, aerodynamics and vehicle dynamics. Performance is second to none, it is an extremely agile and powerful car which could also be driven by less expert drivers."
The F12tdf is able to lap the Ferrari's Fiorano test track in only 1min 21sec. That's 2 seconds quicker than the standard F12 and just around 1.3 seconds slower than the 950bhp LaFerrari. Only 799 examples of the F12tdf will ever see the daylight making it extremely rare and while pricing hasn't been announced yet, expect it to be around the half a million USD mark.