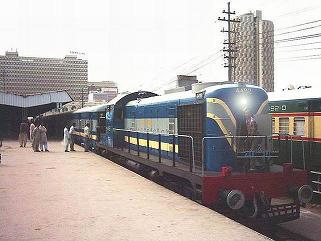 Implementation of Karachi urban transport master plan 2030 has been initiated
The whole country, especially urban cities of Pakistan need a mass-transit system – and it needs it now, more than ever. One of the fastest growing urban centers of the country is Karachi whose current population is 18.9 million and is estimated to be 31.6 million by the year 2035 and such a high growth will have its repercussions on various issues, most notably though, is the problem of transport and increase in population means increase in transport problems which already is in quite a predicament state alongside our national railway system.
For that very reason, Japan international Cooperation Agency (JICA) had began a survey which has been just completed, to study Karachi's transport problem where JICA's team leader Minoru Shibuya stated that 56% of the population here travels by those transports which are inadequate for them and are also in poor physical state whereas it also laid emphasis on the removal of encroachments on roadsides to improve the flow of traffic. Moreover, Mr. Shibuya added that the metropolis required bus rapid transit system which can in the time ahead be converted into mass rapid transit system.
Leader of JICA study team, Minoru Shibuya said that it was the time to realize that Karachi city must have a 'good transport system' for which JICA would assist the government of Pakistan. "We are here to implement MTS with the assistance of Japanese government. The first phase is to conduct study and develop a transportation master plan for the project", he said and added that the second phase would be the implementation.
Minoru Shibuya said that the Government of Japan would go on assisting Pakistan, Sindh and Karachi governments for developing a decent transportation system for Karachiites.
The project would facilitate for the development of Karachi Urban Transport Master Plan (KUTMP) for year 2030, besides validation and screening for project, already identified under the Karachi Special Development Package 2020, Transport Section.
While these suggestions may sound familiar to you but JICA is going to offer a soft loan and cooperation to Karachi Circular Railways and to assure us of its cooperation, implementation of urban transport master plan 2030 has been initiated. It said that this has been started by the World Bank in collaboration with the government of Pakistan, Japan, and government of Sindh in view of the difficulties people face in the transport sector.