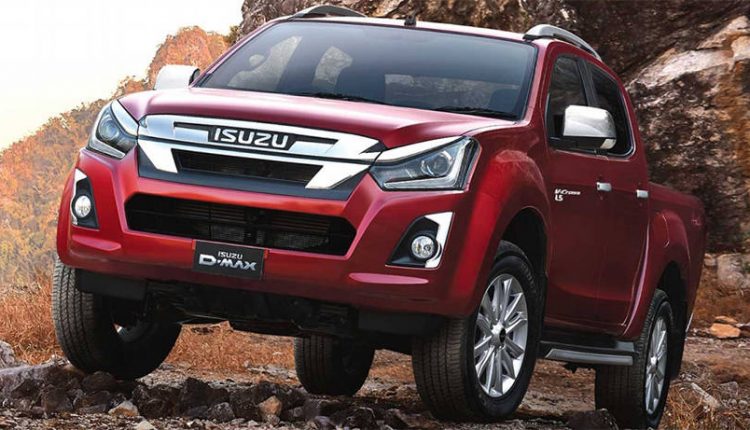 Isuzu D-Max Prices Increased Up to Rs860,000
Gandhara Industries have introduced massive hike in prices of Isuzu D-Max 4×4 Double Cabin cars up to Rs860,000. In a notification, the company said the new prices are inclusive of 17% General Sales Tax (GST).
Revised Prices of Isuzu D-Max:
The notification stated that the revised price of Isuzu D-Max Hi-Lander 4×4 Double Cabin Standard is Rs57,00,000, comparing to its old price of Rs53,00,000.
Meanwhile, the D-Max V-Cross 3.0 Manual Diesel variant will now cost Rs6,600,000, after seeing a jump of Rs800,000 from its old rate of Rs58,00,000. Moreover, the D-Max V-Cross Automatic Diesel has seen biggest jump of Rs860,000, as its new price is Rs6,960,000, as compared to its old price of Rs6,100,000.
It is important to mention that these revised prices are ex-factory prices.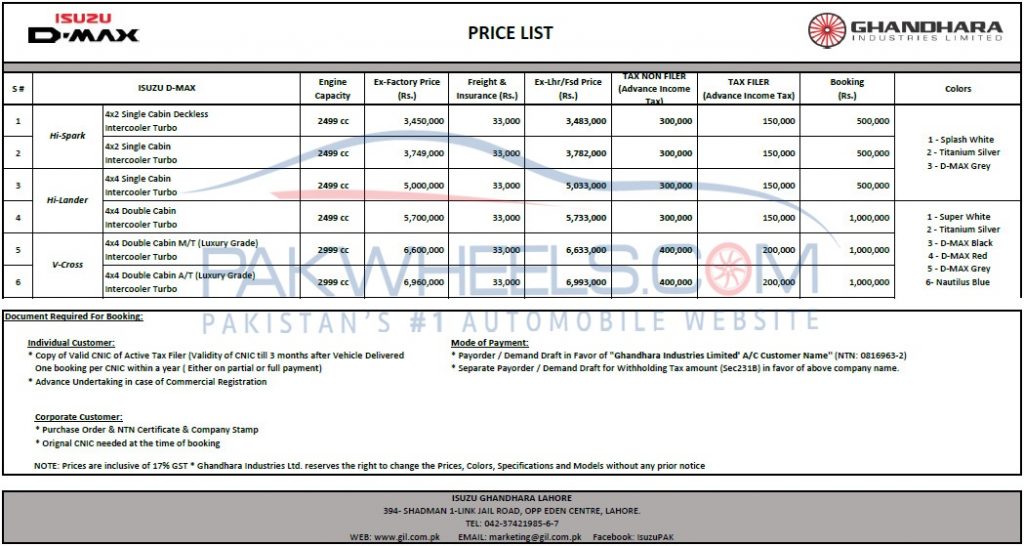 Taxes on Isuzu D-Max Under Budget 2019-20: 
 Earlier Under 2020-21 budget, the government had imposed 7.5% FED on locally manufactured 4×4 double cabin cars, while 25% FED has been imposed on imported ones. 
During his budget speech, Federal Minister of Industries and Production Hammad Azhar said these vehicles are originally for goods transport and commercial purposes. "However, some people are using this vehicle as a status symbol in Pakistan," he said, adding this is the reason government has applied new taxes on these vehicles. 
Price Hikes In Other Cars: 
The other local car manufacturers including Honda Atlas, Toyota Indus Motors and Pak Suzuki have hiked their prices in last few months. Pak Suzuki Motors increased the price of base model of Alto VX by Rs63,000 last month.
Meanwhile,
Toyota Indus Motors Company (IMC) introduced insane price hikes up to Rs48,00,000 for its different models last month. 
According to a notification, the company increased the price of Lexus LC200 VX A/T (Diesel), which now costs Rs51,370,000, comparing to its old price of Rs46,500,000. Meanwhile, LC200 VX A/T (Gasoline) saw jump of Rs4,650,000 and now costs Rs52,650,000 from Rs48,00,000.
Meanwhile, the price of Prado 4.0 Petrol A/T was increased by Rs3,010,000 and costs Rs41,410,000 from old price of Rs38,400,000. Prado's 3.0 Diesel Turbo A/T now costs Rs39,270,000, after seeing increase of Rs2,570,000.
Furthermore, Honda Atlas Pakistan increased the car prices up to Rs100,000 last week. The notification read that new price of Turbo RS will be Rs4,699,000 with increase of Rs100,000 from old price of Rs4,599,000. Furthermore, Turbo Oriel now costs Rs4,449,000, comparing to its old price of Rs4,349,000.
Meanwhile, the prices of 1.8L VT SR CVT and 1.8L VTI CVT had seen a jump of Rs80,000. Both variants now cost Rs3,979,000 and Rs3,729,000 respectively.
Furthermore, the company had increased the rate of 1.3L MT to Rs2,449,000, with a jump of 60,000 from previous price of Rs2,389,000.