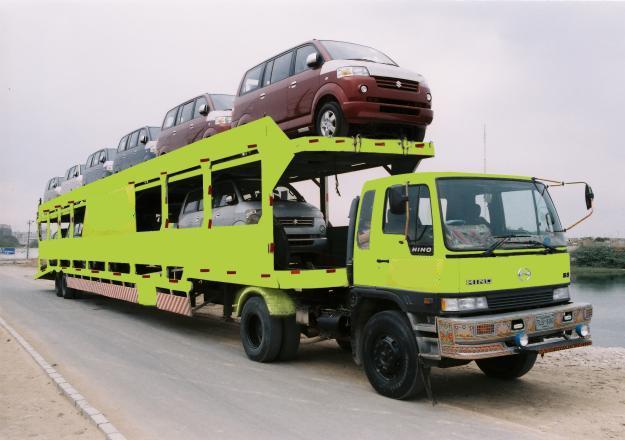 Local Automakers Continue To Ripoff Customers With Exorbitant Freight Charges
Fuel prices have seen a 6-year lowest mark in 2015. Petrol once at 114 rupees a liter is now priced at a humble figure of 70 rupees a litre. While this good news is bound to make the mango man happy, we ought to look for the compensation which should reach the consumers because of this global price reduction. We would like to shed some light on the exorbitant freight charges local assemblers have been charging us for long. Freight / destination charges include the transportation cost and insurance charges from the factory to the destination, which vary on the basis of distance from the assembling setup.
Despite the fact that government has increased the taxes on petroleum products, fuel prices have dropped by 38-40% in Pakistan within a span of a couple of months. Local manufacturers some how acted aloof to this  global change until recently when Pak Suzuki came with a good news of standardized prices across the country.  There is no freight charges on the purchase of any Suzuki vehicle. We should applause Pak Suzuki for this welcome gesture.

Now lets bring Toyota Indus and Honda Atlas in to the lime light. Just to get things started, Toyota Indus is charging 23,000 rupees as freight  in Rawalpindi / Islamabad and Peshawar as of today. It was 23,000 rupees when fuel price was at the peak and it is 23,000 when prices have dropped by a considerable percentage.  It is 20,500 rupees for most of the cities of Punjab including Lahore, Faisalabad and Multan. Honda Atlas competes with Toyota Indus in the similar fashion. The details of Honda Atlas's freight charges are listed below: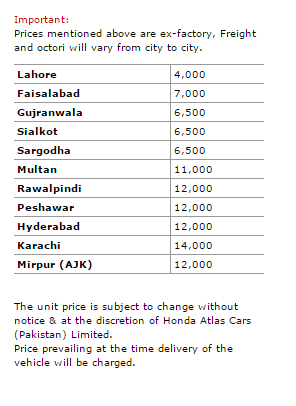 We understand that this also covers the insurance cost of transportation as well, but freight charges should have been reduced due to the global price reduction in petroleum prices.
Another interesting angle is the difference of freight charges between Honda Atlas and Toyota Indus. Toyota Indus charges 20,500 rupees from Karachi to Lahore while Honda Atlas charges 14,000 from Lahore to Karachi. The unchanged freight charges is just one example of how local manufacturers are hoodwinking a common man.
Honda, Toyota and new entrants like FAW should come out and tell the people that why theses prices have not been reduced despite the drastic reduction in fuel prices and we should spread the word and raise this issue on every forum available to us.