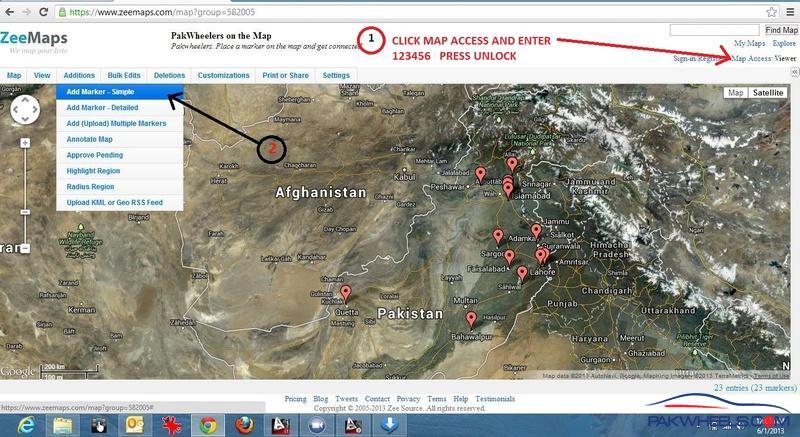 PakWheels On The Map – Connecting Members All Across The Globe
Over the years, PakWheels has grown into a very close knit community of its members who try to help each other in the times of needs. Keeping that in mind, I started this small initiative to gather all the PakWheels Members on a map, so when one PakWheels requires help of another PakWheeler in a situation of need, at a strange or new location, he/she can easily find the closest member on the map.
If you are looking for some member at a certain location/city, then you just have to zoom in and see if someone is there. Lets say for example, you live in Lahore and you need some help from a member in Karachi. Search the Map for Karachi and see who is there. There are several overseas members as well and always available for any type of help.
Members will be using their PW profile ID. You go back to PakWheels.com and reach out to that member via PM. You can still map yourself if even in case you don't have a PakWheels ID. There are several uses.  You are making a road trip. Search on the map along your route and meet members on your way or in case you need an emergency help en route.
You found a used car on PakWheels, but it's in different city. Look for any member who can go and have a look at the car for you personally. Or maybe you moved to a new city and need help. Check on the map if any member is there.  You can organize your local meet.
There can be countless uses for these markers. I was able to organize this with the help of this mapping service. Many members are already on the map.
It's very simple, click here to follow the link to PakWheels Map then follow the simple steps below:
Click on "MAP ACCESS" on the right side of your screen
Enter "123456" without quotation marks as the password/key and press UNLOCK
Click ADDITION on the top menu bar
Click ADD MARKER
Enter your PakWheels ID on(this is must)
You can enter location field by entering the direct name of your city like Lahore, Multan, etc.
The map will try to locate your city
Alternatively, you can click on the map link (in blue)
A confirmation window will open
Zoom into the map at your location and click
A red star will appear, which means you are good to go.
Upload your avatar in the Entry Field window and submit it (optional)
Press the Close button to close the Entry window (Do not click on the Submit Button again, otherwise a duplicate record will be created)
That's it. Wasn't that easy?
Note: You do not need to mention your exact address or pinpoint your exact location. Just select the city or nearest land mark.
(Click on below images to enlarge)
Navigating the Map.
You can zoom into any city and look for members there
Click View>Show List – complete details of all members registered on the map till date will appear in alphabetical order
Click on any member name and the map will jump to that member's location on the map
The marked maps will work on your phones as well.