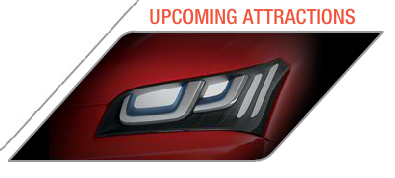 Maruti Suzuki teases 2014 Jimny concept
Suzuki Jimny is quite popular as a small SUV capable of reaching the same heights as Toyota Land Cruiser, Mitsubishi Pajero and Nissan Patrol, but under a good driver. It is the choice of a lot of Pakistanis who enter rallies, etc.
But its price doesn't justify its capability even than it has been popular however, the category D of the recent Jhal Magsi rally had only 1.3 Jimnys which speaks alot about it.
Now though, it is time for the world to embrace an all-new Jimny, but don't get too much excited as, Maruti Suzuki announced that it will be showcased at Delhi Auto Expo and than subsequently, Maruti Suzuki furnished few teaser pictures of what the Jimny will sort of look like on their website, and it does look very interesting.
The grille and head lamps clearly indicate a futuristic styling has been given to the Jimny while same theme is carried over at the back with L-Shaped tail lights and start shaped wheels.
This though has been showcased by Maruti Suzuki however, we can expect the same model to be marketed in Pakistan with minor difference but given the fact that Pak Suzuki's product life-cycle spans over a period hundreds and thousands of years, so I don't think you should get all excited for this.