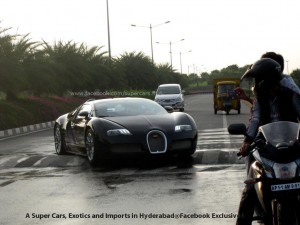 Bugatti Veyron nightmare is a speed braker in India
There are cars, than there's sports cars than super cars, than exotics and than the hyper cars category where Veyron comes in however, there's one thing in common between all these categorized cars is that they scratch alot at speed bumps, pot holes etc, especially there nose.
Many aftermarket specialists have been making nose-lift systems where the cars heights is raised enough to pass over a speed bump by the system however, no such system is made by any maker nor even by Bugatti themselves even at the price tag which makes it the most expensive car ever.
This is a pity because, as the adjacent image (coming from Supercars in Hyderabad, via Indian Autos Blog) shows, the hypercar could really uses such a system. As you can see, they Veyron can become extremely difficult to drive, if you encounter a speed bump such as the one in the picture.
The embarrassing moment took place in India, where Bugatti is currently showcasing the Veyron across the country. We'll mention that the hypercar comes with a standard ground clearance (it also has lower values for the go-fast modes) of 12.4 cm (4.9 inches).
Pictures via (Supercars in Hyderabad, via Indian Autos Blog)