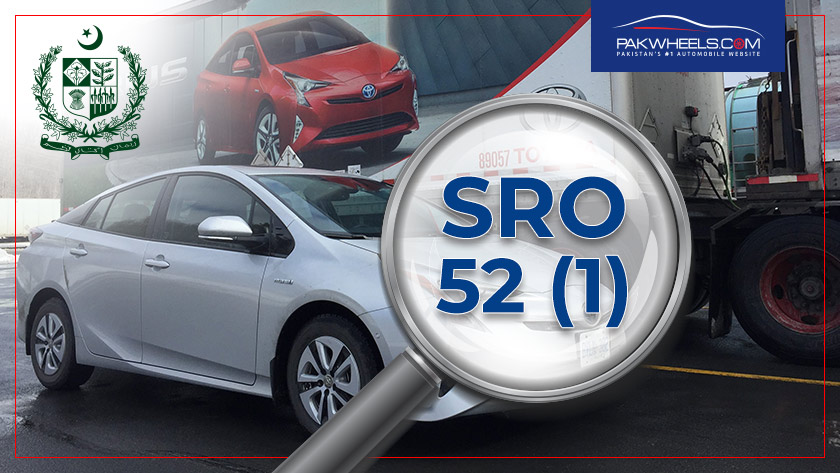 On Tuesday, 15th January 2019, the Economic Coordination Committee (ECC) has approved the new foreign policy on import of cars, only if the payment is made in foreign currency by the sender himself.
Following the trade deficit in the country, the Federal Government declared the new SRO 52 (1) 2019, with amendments in the Import Policy. From now, the duty and taxes, on imported used vehicles under personal baggage, gift scheme or transfer of residence, will be paid out of foreign exchange arranged by overseas Pakistani or local recipient showing the conversion of foreign remittance to local currency through bank encashment certificate.
Previously, the above-mentioned schemes were misused by the dealers, who used to import cars for commercial purposes. These amendments can be positive news for the upcoming and already existing automakers, as the auto sales in the country are on a continuous decline.
Have a look at the new SRO 52 (1) 2019: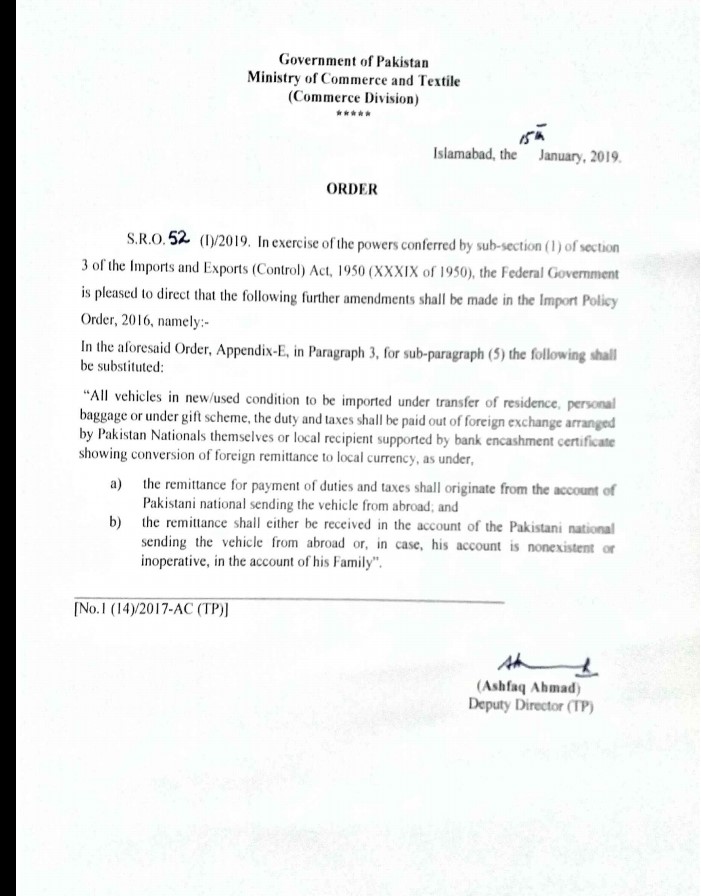 History of Car Import Policy:
Same as this new SRO 52, the SRO 1067 was also issued in October 2017. After the issuance of SRO, it was presumed by many local used car importers that the government banned the import of used car in the country. But, government rebutted the argument and asserted that the SRO was issued to curb the trade deficit and to stop the misuse of import car schemes like baggage, gift, and transfer of residence, which were made to give a sigh of relief to overseas Pakistanis and were not introduced to serve commercial purposes, government claimed.
The three schemes are:
Personal Baggage Scheme
Gift Scheme
Transfer of Residence
Personal Baggage Scheme and Transfer of Residence: Under the Baggage and Transfer of Residence schemes, non-resident Pakistanis (Pakistani Nationals) can bring cars into the country. It is pertinent to mention here that the people who are importing cars think that vehicles coming through these schemes are duty-free. However, this is not the case; one has to pay the customs duty.
Gift Scheme: Under this scheme, overseas Pakistani can gift a car to his blood relation in Pakistan.
Stay tuned to PakWheels.com for all the latest updates.