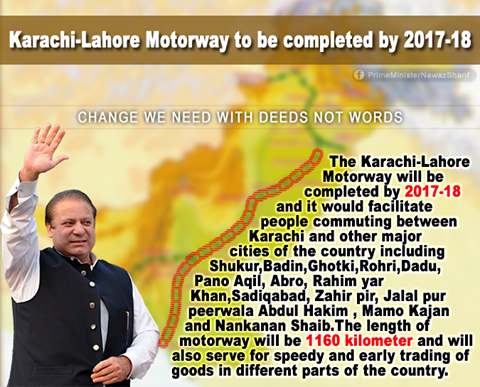 The Prime Minister of Pakistan, Nawaz Sharif announced on December 30, 2014 that the work on Karachi-Lahore Motorway will begin soon while addressing to the audience at an award ceremony of national Highway and Motorway Police in Islamabad while adding that more motorway projects will be started soon.
Today, amidst political and law & order tension in Karachi, Nawaz Sharif left for Karachi to lay the foundation stone of Karachi-Lahore Motorway.
The Karachi-Lahore Motorway is actually a series of motorways that will substantially decrease the travel time and driving stress for travelers who make the Karachi-Lahore rounds trips frequently.
Currently, the time it takes to reach from Karachi to Lahore is around 18 hours and some 1300+ kilometers depending on the route. The Karachi-Lahore Motorway will not only reduce the travel time by at least 4 hours but also it will reduce the distance between the cities by at least 150 kilometers.
According to sources, the Prime Minister has reached Karachi to inaugurate the work for Karachi-Lahore Motorway was received by CM Sindh, Qaim Ali Shah. In few hours, the PM will lay the foundation stone for Karachi-Lahore Motorway and mark the starting of work on the project.
If the timeline is followed, the work on Karachi-Lahore Motorway will complete by 2017-18.