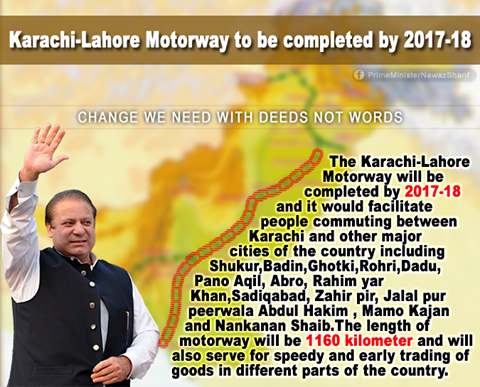 ISLAMABAD: Work on Lahore-Karachi Motorway to start shortly, announced PM Nawaz Sharif on Tuesday.
The announcement came at the annual awards ceremony of National Highways & Motorway Police in Islamabad where PM also said that more Motorway projects would be initiated after this.
The PM showed his delight while commenting on the fact that the performance of NH&MP is being appreciated at an international level and expressed his desire that he wants the Motorway Police to be as friendly as possible to the people. He added that continuous efforts are being made to make the highways safe at school level by educating the children at early age about road safety and hazards. Also, different programmes are being implemented to increase awareness about highway and road safety for the general public as well.
In order to further boost the motivation and efficiency of the police officers and employees of Motorway Police, the PM announced a 20% increase in their salaries and instructed Zulfiqar Cheema, IG – NH&MP to ensure that the recruitment and staffing is done on need and merit basis only.
Nawaz Sharif commended Zulfiqar Cheema on his performance and dedication to Motorway Police.
Zulfiqar Cheema, on the occasion, highlighted the performance and achievements of his department and commented that Motorway Police is a role model for all the public sector institutions.
via Express Tribune