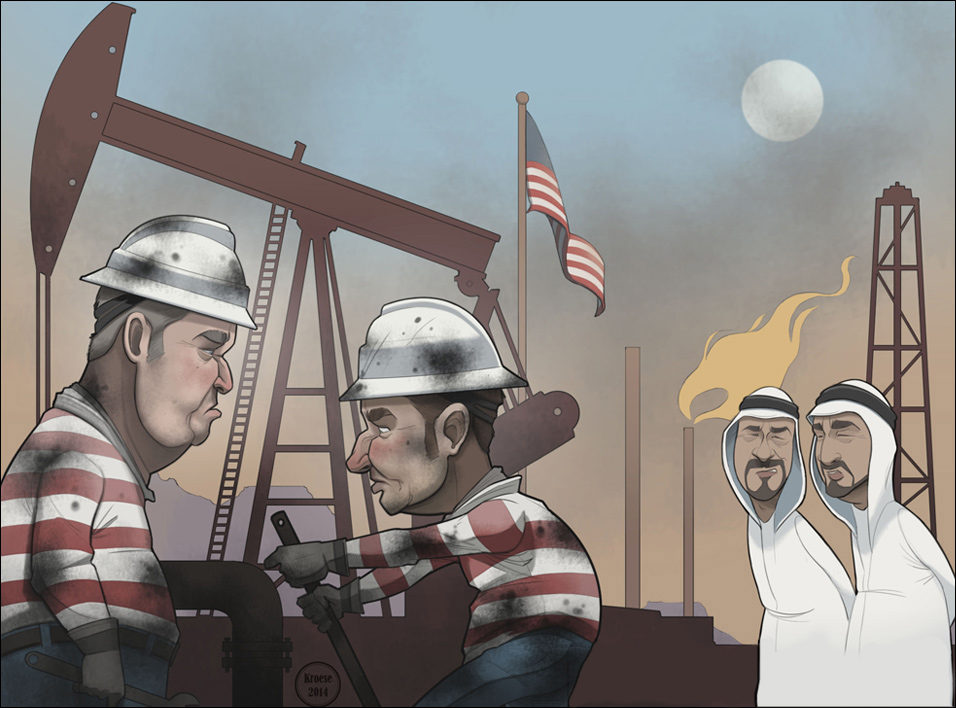 Sheikh vs Shale – Saudi Oil Sheikhs go up against the American Shale Oilmen
Recent drop in oil prices has really overwhelmed me along with the entire nation as a shot of adrenalin to motorists. Different people have different hypotheses to explain the rationale for oil prices drop. Some say it's because of PTI Dharna, some say it's because of government's relief to common man, while other say it's because of market forces, but the international oil prices revealed that it's all about "Sheikh vs. Shale" which is changing the global dynamics of oil economy and has brought the oil price to $55 a barrel.
The official charter of OPEC is "stabilization of prices in international oil markets" but unfortunately or politically it has failed to do an effective job. From June to December this year, price per barrel of oil has dropped from $115 and now stands close to $58. But the motorists of Pakistan have witnessed only a 15% reduction in fuel prices against 45% reduction in international crude oil petrol price.
Pakistan is going to save 600 billion rupees on the collapsing oil prices. The government only transferred a small part of it to the people while saved a major chunk for reducing the budget deficit.
The 40% price drop in the international oil prices is partly due to the sluggish world economy, which is consuming less oil than markets had anticipated, and partly because OPEC is adamant. Although the economy and OPEC are to be blamed, but the main culprits are the oilmen of United States of America. Over the past few years, when price was hovering around $110 a barrel, they have set about extracting oil from previously considered unviable sources of shale formations. Perhaps around 20,000 new wells have been drilled since 2010, more than ten times Saudi Arabia's tally. All this development has boosted America's oil production by a third, to nearly 9mil barrels a day (b/d). That is just 1mil b/d short of Saudi Arabia's output and hence the gala between the shale-men and the Sheikhs has skewed the world from a shortage of oil to a major surplus.
Shale gas is a type of natural gas that is found trapped within shale formations. In USA, which is the leading gas consuming country, shale gas is gradually becoming an important available source of natural gas. Since 2000, shale gas production has increased by 30% in USA. The government's Energy Information Administration predicts that by 2035, 46% of the United States' natural gas supply will come from shale gas. Some analysts expect that the shale gas will greatly expand worldwide energy supply. China is estimated to have the world's largest shale gas reserves.
Saudi Arabia – OPEC's most influential member and the world's largest oil exporter, could provision global oil prices by cutting back its own production, but there is little sign it wants to do this perhaps to put the US's burgeoning shale oil and gas industry under pressure.
Though Saudi Arabia needs oil prices to be around $85 in the longer term as per projections but keep in mind that it has deep pockets with a reserve fund of some $700bn – which helps it withstand the lower prices for and an extended time.
Along with Saudi Arabia, other Gulf producers such as the United Arab Emirates and Kuwait also have collective considerable foreign currency reserves, which mean that they could run deficits through oil for several years if necessary. While Iran, Russia, Nigeria, and Venezuela do not have the financial muscle to withstand in this situation. For example, Venezuela needs oil prices to stay at around $125 per barrel to support its social programs as the country's economy majorly depends on oil exports.
Another reason of the price drop is the war in Syria and Iraq, which enabled ISIS to capture oil wells. Through rough estimates, ISIS is selling about $3mil a day through black market and undercutting market oil prices by selling the oil at a significant discount of around $30-60 a barrel.
By not restricting oil production, Saudi Arabia is hurting the U.S., not just ISIS. Saudi Arabia is essentially trying to test the ability of the U.S. shale oil industry, a major rival, to withstand the price drop.
As per Jadwa – a leading investment bank of Saudi Arabia and NBC, price assumption in Saudi Arabia's budget for 2015 has been reduced for the first time since 2009 and oil price estimates are in a range of $55 to $63.
So the economics of oil industry is changing and America's shale is an unpretentious rival to Saudi Arabia as the world's leader in oil exports. Let's see how the Sheikh vs Shale contest benefits the oil and gas markets globally.