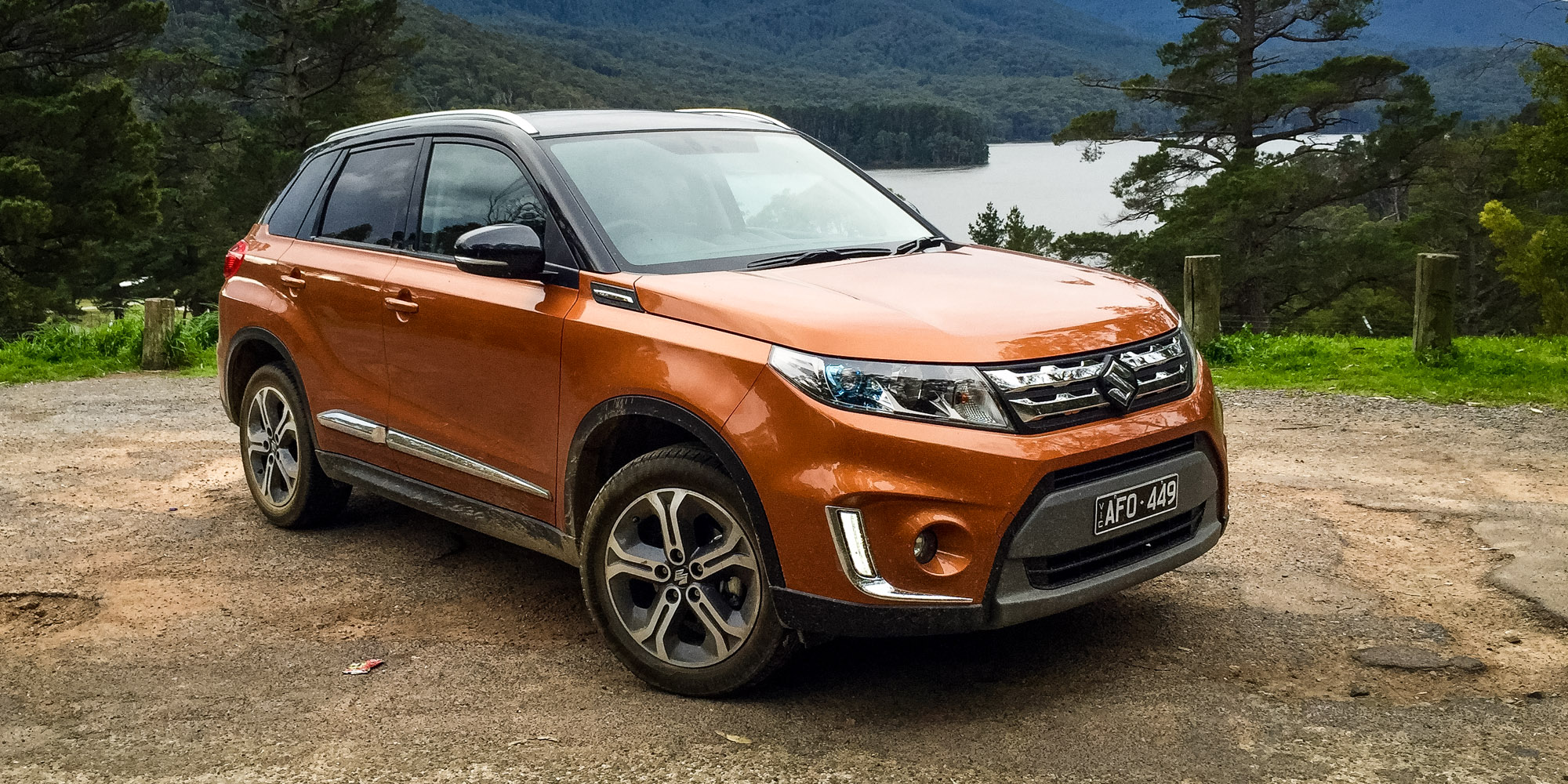 The New Auto Policy in Pakistan looks quite lucrative and interesting to the companies who would like to start their operations in the country. In the past year or so, we heard numerous encouraging news about companies showing interest in assembling cars for Pakistani automobile market, like recently we reported about French Automaker Renault to Invest in Pakistan. BMW and AUDI, which are currently represented by their authorized dealerships, are also showing willingness to expand their presence in the country by further increasing their model line-up.  All this has created a ripple effect in the current automobile sector and the BIG THREE: Toyota, Suzuki and Honda will surely be on their toes to keep holding their fort and market share, which has already been shaken up by the import of used cars in Pakistan. Overall, for a buyer this is a good sign, as it will increase the competitions and buyers will have more choices when buying automobiles.
In the last decade or so, the crossover segment is getting increasingly popular. Every car brand is bringing their version of crossover. In recent years, even in Pakistan, the crossover vehicles are getting great attention. The prime example is in the shape of Vezel, which is a self-import. The popularity pushed Honda Atlas to launch HR-V but it seems that the sales of this model didn't get traction and people are still more interested in buying a Vezel instead, reason being more value for money and extra features available in Vezel. Now recently Audi Pakistan announced to launch a lower-end crossover Q2 in Pakistan. Buyers are showing interest in these small crossovers and it seems that the crossover segment will get populated more and more over time. Although the new auto policy of Pakistan is a good sign for the buyers and consumers, the existing car assemblers in the country are not very pleased about it. It seems like Pak Suzuki has felt that it's better to act or lose it altogether. This is evident from the recent news item that appeared on PakWheels went viral in a few hours. A PakWheels source confirmed that first batch of Suzuki Vitara, which is a small crossover has Reached Port Qasim.
Vitara is Suzuki's answer to small crossover segment, which arrived first in 1988. Since then, the model saw evolutionary and revolutionary changes spread over four generations. Well, Suzuki's name is mostly associated with small Kei cars but in fact Suzuki's interest in a small off-road vehicle date backs to 1970's when the company launched all-time favorite "Jimmy". Over the years, Suzuki tried its level best to come up with improved and fun little vehicle. The current Suzuki Vitara looks simple and take clues from the previous generation as far as the exterior is concerned. The crossover looks sporty, agile and rugged. In certain perspective, it looks more like a hatchback lifted up from ground, increased ground clearance with bigger wheels and fender flares. In fact, most of the crossovers have same phenomena as they are based on a car or hatchback platforms. Every country where Suzuki launched Vitara, is very well praised among its competition. Dimension-wise Suzuki Vitara is 4175mm [Vezel 4295] long , 1775 mm [Vezel 1770] wide, while 1610 mm [Vezel 1605] high with a wheelbase of 2500 mm [Vezel 2610] and ground clearance of 185mm [Vezel 185].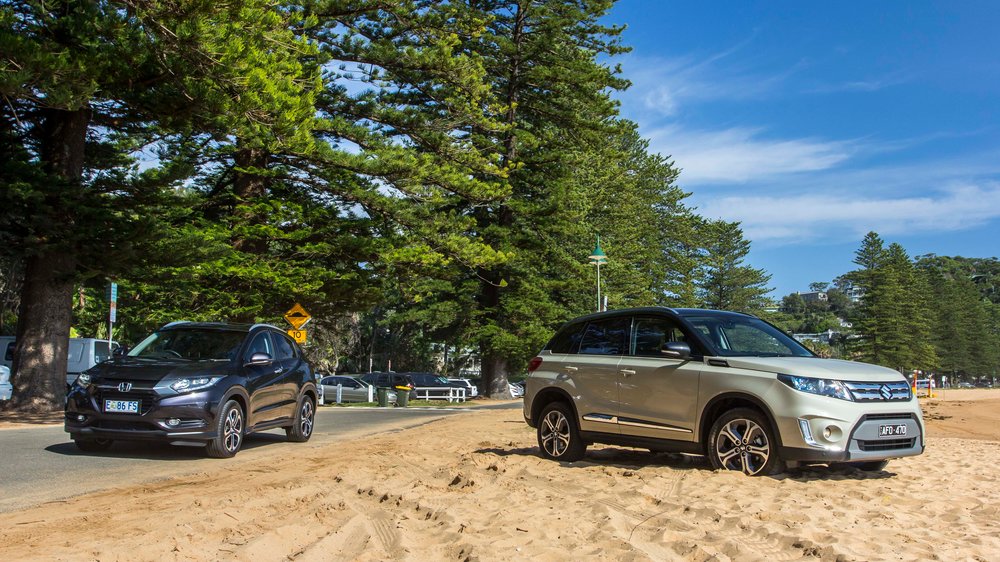 Internationally Suzuki Vitara is available with petrol as well as diesel engines. Vitara engine options are M16A a 118hp 1.6L naturally aspirated engine with 156 NM of torque @4,400 RPM or a new 1.4L turbocharged engine known as 1.4L Booster-Jet coded as K14C-DITC. The Booster-Jet is direct injection engine and produces 138hp and impressive torque figures of 220NM @ RPM from 1500 to 4000. The third is 1.6L engine D16AA, diesel engine with 118hp and 330NM of torque. All three engines are available as front-wheel-drive or "ALLGRIP" Suzuki trade name for the all-wheel drive system. Suzuki also offers 5 speed manual or 6 speed automatic on all engine variants of Vitara. Suzuki offers the 1.4L engine for top of the line variant as Vitara S. All variants of Vitara are equipped with Tilt and telescopic adjustable Rack & Pinion steering system, while the rear disc and front ventilated discs are standard as well. As far as the suspension is concerned, Vitara's complete lineup gets Macpherson Strut with Coil at front while Torsion Beam with coil spring in the rear suspension assembly. Vitara gets standard 17″ alloy wheels with wheel profile of 215/550.
The new Suzuki Vitara has a fuel tank capacity of 47 liters and both engines have good fuel consumption figures. The 1.4L has combined figures of 5.5 l/100km. On the other hand, the 1.6L returns 5.3L/100km combined for manual while 5.5L/100 for automatic.
Looking at the engine options, it is safe to assume that diesel will not be an engine for Pakistani market. We can expect either of the two petrol engines or maybe both options. In UK, the 1.4L variant of this vehicle, which is Vitara S, is still top of the line, with manual transmission and ALLGRIP and it starts at £ 21,749, while a fully loaded Vitara S wih ALLGRIP and automatic transmission sits at £ 23,099. On the other hand, the 1.6L engine variant is available with a number of trims depending on packages options /features with base price as £ 14,749 for front wheel drive and 1.6 fully loaded ALLGRIP with all bells and whistles is tagged at £ 22,899. Looking at the price difference, it seems like Pak Suzuki might bring the 1.6 variant with a certain package to remain below 3 million PKR mark. The spy images we saw shows "ALLGRIP" badge on the rear hatch, which confirms that a 4 wheel drive version will be available. But it is very early to say if Pakistani buyers will be offered Vitara with both petrol engine options.
There are some rumors that Pak Suzuki will price Vitara around 3.2-3.5 million which also indicates that we might see certainly  a nicely equipped  version.   Please keep in mind that currently Suzuki assemble Vitara exclusively at  city of Esztergom in Hungary and it is exported to more than 70 countries worldwide.
If you jump into interior, its typical Suzuki. Everything looks simple and straight forward. The materials used, its fit and finish are not luxurious but not bad either. Depending upon the trim/ variant the interior is loaded with long list of features. While many features are pertinent to a certain variant/ trim in 1.6L Vitara and comes with price difference, the 1.4L Vitara S comes almost with everything standard. This is one of the reason there is major price difference between a base 1.6 and 1.4 Vitara S.
I will share  detail features for top of the line Vitara S with my readers so that we see what Suzuki can offer. The features which are on Vitara S are also available on 1.6L Vitara but on top of the line 1.6L trim/ variant while those are standard on 1.4L Version. If Pak Suzuki introduces Vitara S, we might see almost same number of features as available on the international variant.  Vitara S comes equipped with standard 4WD. Push button start with Auto Star/Stop as a standard feature, which stops the engine when the car stops on RED Light waiting, resulting in better fuel economy and eliminates unnecessary idling. Tire pressure monitoring system "TPMS" which reflects a certain tyre pressure in each of the wheels, is also part of Vitara S. In Europe, Vitara S comes standard with 7″ touchscreen panel compatible with android auto/apple car play. Vitara S is equipped with 4 speakers and 2 tweeters, and Bluetooth connectivity is standard feature and full cellphone connectivity and control via steering wheel mounted buttons, is available. Although European Vitara S comes standard with navigation link, we are not sure whether or not we will be getting the same head unit/navigation system with local maps. But as the vehicle is CBU and imported the way it is, if 1.4L Vitara is offered at-least we will get a 7″ display; let's hope so.
Apart from above the Suzuki Vitara is equipped with single zone automatic climate control unit with pollen filter. On safety front, Suzuki didn't compromise anything on any model. On European crash testing agency Euro-NCAP, Vitara scored 5 star crash rating. All variants of Vitara come standard with immobilize as well as front, side, curtain and knee air bags. Anti-lock braking system ABS, Electronic Brake Distribution, Brake Assist System, Electronic Stability Control, Traction Control, Hill Hold Assist [same as Civic X hill start assist] are standard, while Hill Descent Control is also standard on ALLGRIP models. Radar based cruise control is also a standard feature on 1.4L Vitara S. Keyless entry is standard on 1.4L version as well as LED headlights with auto leveling, LED daytime running lights , rain sensing wipers, electric folding mirrors. The Vitara S also gets leather seating surface and panoramic roof as standard. Overall on technological front, top of the line Vitara is well equipped and one step ahead from competition.
At this time it's not clear whether or not we will get a 1.4L version, which is full of features as standard. I did some investigation on my own, to see what we might be getting. The spied pictures from Port Qasim show Vitara with aluminum alloy wheels and the body-color side view mirrors. I compared Vitara available in various countries to see how one can differentiate between a 1.4L and 1.6L version. There are two visible exterior features, which differentiate them from one another. The 1.4L version gets Satin silver door mirrors and Black color alloy wheels. So the pictures we have for now do not show these two exterior features, which make us to believe that Pak Suzuki will be introducing a 1.6L variant. Except the base model, all other 1.6L and 1.4L variants of Vitara overseas get standard rear privacy glass. The one we saw at Port Qasim is not with that. Considering the prevailing law regarding tints in Pakistan, we shouldn't expect Pak Suzuki to launch a model of Suzuki Vitara with privacy windows.
According to PakWheels sources the official unveiling of Vitara by Pak Suzuki is probably just around the corner. Just to keep our hopes high, as I mentioned earlier, the features which are standard on 1.4L Vitara S are also available on 1.6L Vitara but once you select the top tier model. I hope Pak Suzuki will offer its buyer, the vehicle with most possible features and equipment and will not try to sell a less-featured vehicle with extraordinary pricing. I believe the built quality of the Vitara will be way better than locally assembled vehicles, the reason being it's going to be CBU. I am sure that a well-equipped Vitara with a well-planned price and proper sales and marketing strategy will definitely attract a lot of buyers. Kizashi was failure, we all wish Pak Suzuki that the release of Vitara brings good things not only to them but also for the potential customers of Vitara in Pakistan.
Red- 1.4L Vitara S , Blue-1.6L Vitara
 1.4L Vitara S Gallery:
 1.6L Vitara Gallery: